The early bird may get the worm—but this winter, it's the last-minute theatergoer who will score the cheapest seats. This January marks the return of 20at20, a special ticket deal that rewards those who wait with discounted tickets to some of the hottest off-Broadway shows.
The Imbible: A Spirited History of Drinking 
Taking place now through February 10, 20at20 offers $20 tickets to select off-Broadway shows 20 minutes before curtain time. Theatergoers wanting to take advantage of the promotion should simply head to the theater box office 20 minutes before the show begins and mention 20at20 to purchase their discounted tickets.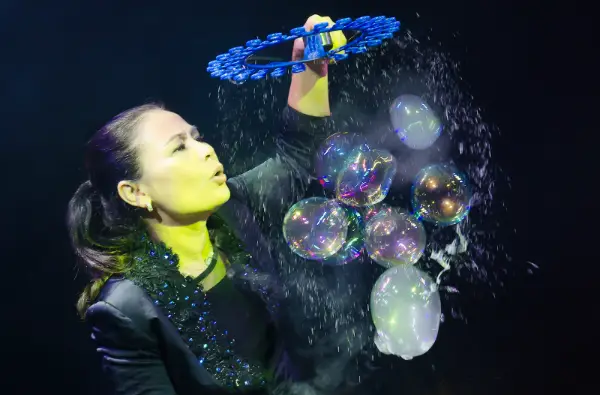 Gazillion Bubble Show. Image: Kyle Froman.
This winter's 20at20 promotion includes tickets to a wide range of off-Broadway shows, from the Harry Potter-themed Puffs to long-running hits like STOMP, Naked Boys Singing!, and Perfect Crime. For those wanting some more offbeat fare, check out the awe-inspiring Gazillion Bubble Show, or take a tipsier trip to the theater with Imbible: A Spirited of Drinking and its offshoot Day Drinking: The Brunch Musical, which combine comedy with cocktails for a unique theatrical experience.
Jersey Boys.
20at20 offers one of the cheapest chances to catch the hilarious Avenue Q before the Tony Award-winning musical ends its 15-year run April 28. Theatergoers can also pay far below Broadway prices for the Four Seasons musical Jersey Boys, which is now playing at New World Stages after a decade-long Broadway run. Other musical theater offerings for 20at20 include the multigenerational Sistas: The Musical, the Ethel Merman/Book of Mormon crossover The Book of Merman, and This One's for the Girls, which celebrates women's history through popular song. NEWSical the Musical features more current subject matter, meanwhile, using music to make a mockery of today's headlines.
For more information on the 20at20 promotion and the participating shows, visit 20at20.com.