The Best Steakhouses in Midtown
April 16, 2015 - by Troy Segal
Midtown Manhattan is a carnivore's delight. Some of the best steak joints in town are set here, some in prominent places, others cunningly hidden on side streets. Here are our picks for the prime spots for USDA prime.
Benjamin Steakhouse 52 E. 41st St., 212-297-9177 benjaminsteakhouse.com
In between the parquet floor, vaulted ceiling and expansive, gilt-trimmed fireplace, you might be forgiven for mistaking this place for a turn-of-the-20th-century mogul's library. J. P. Morgan would've felt right at home perusing the menu, with its rib eyes, extra heavy cut chops and jumbo baked potatoes—and because robber barons don't like to be kept waiting, the steak's still sizzling when it's served. Should you have non-carnivorous cravings, the menu includes a fair amount of seafood, including lobster, shrimp or crabmeat cocktail.
Morton's The Steakhouse, 551 Fifth Ave., 212-972-3315 mortons.com/newyork
Morton's manages a perfect balancing act between classic and contemporary. That's symbolized both by the recent revamp of its dining room, now garbed in cosmopolitan colors of black and gray (clubby, but in an updated way), and by the ever-evolving culinary offerings. Among appetizers you'll find good old shellfish platters and oysters Rockefeller, but also an Ahi tuna tower and tuna tacos. There are menus for soy- or gluten-sensitive diners, and imaginative takes on surf 'n' turf items (i.e., short ribs and sea scallops). Plus, every traditional cut of beef, vegetable side dish, and dessert that's ever adorned a steakhouse bill of fare—all served in copious portions, of course.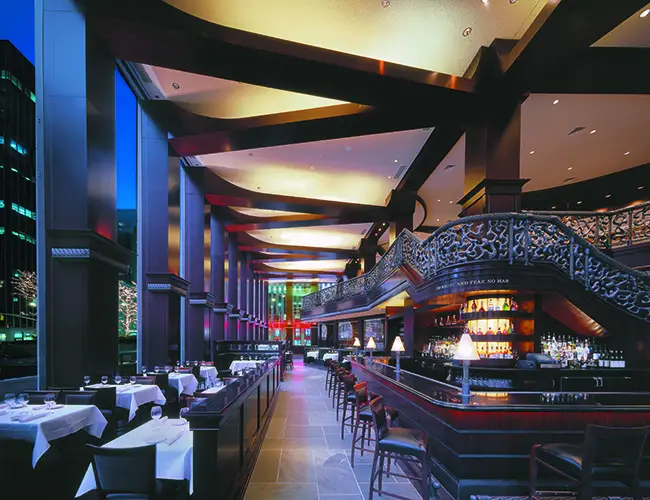 Del Frisco's Double Eagle Steak House 1221 Sixth Ave., 212-575-5129 delfriscos.com
The phrase "nothing succeeds like excess" could've been coined for Del Frisco's. Set in the lobby of a Sixth Ave. skyscraper, its double-storied dining room is a place of wood columns, winding staircases, balconies, a back-lit bar, massive artworks and exposed wine cellars. Bid restraint goodbye, when faced with mains include a Wagyu long-bone steak and veal cuts you don't often see, like a Tomahawk chop and a Porterhouse. But it's the famed, ultra-rich sides that steal the show: Chateau potatoes mashed with bacon and mounds of butter, king crab gnocchi, and cauliflower and Brie au gratin, to name just a few.
New York Yankees Steakhouse, 7 W. 51st St., 646.307.7910, nyysteak.com
Two great American pastimes come together at this Yankees-themed steakhouse. Peruse the blow-ups of Bronx Bombers past and present while lounging in a blue-hued seat and chowing down on the signature 27 oz. long-bone ribeye; the rib—which extends from the meat and resembles a baseball bat—can be "branded" with a particular name or message. With advance notice, they'll personalize the menu too.
Ben & Jack's Steak House 255 Fifth Ave., 212-532-7600 benandjackssteakhouse.com
Style-wise, they keep things simple at Ben & Jack's, a family-run place owned by a quartet of Albanian-born brothers and cousins: plain wood floor, wood chairs, white tablecloths—all the better to concentrate on the cuisine. Steak-wise, the Porterhouse's the thing (for two, three or four), accompanied by intriguing appetizers (i.e., Canadian bacon) and sides (like the German potato, a shared dish of boiled potatoes, bacon and onion). The menu is also streaked with a sizeable number of Italian dishes.
Bobby Van's, 135 W. 50th St., 212-957-5050 bobbyvans.com
When it comes to the right digs for digging into serious meat, nothing beats that traditional, men's club look. Bobby Van's offers a handsome Belle Époque-like setting, with saucer-like alabaster chandeliers casting a warm glow over the dark-wood paneling, planked and stone floors, mirrors and elongated bar (you can eat there, or at a white cloth-covered table in the dining room). A sirloin's throw from the Theatre District and Radio City Music Hall, it offers a three-course prix fix—perfect for getting you to the show on time.
Staghorn Steak House, 315 W. 36th St., 212-239-4390 staghornsteakhouse.com
Well-situated before a game at Madison Square Garden or after a confab at the Javits Convention Center, this bi-level beef palace—its spartan-chic décor adorned with steer sculptures and pioneer-themed artifacts—sticks to the classic apps, mains and sides. But watch for the little luxury touches throughout, like a choice between four- or six- boned lamb chops, and the option of truffle oil in your creamed spinach.
Looking for Free Group Planning Services?
Get free advice on planning your group's trip to New York.
RESTAURANTS

Vida Verde brings the tastes, colors, sounds, and scents of ...

THEATER

Gaston Leroux's famous period thriller is now one of Broadwa...

SHOPPING

DataVision is redefining retail with their new, fully intera...

SIGHTSEEING

In addition to 360-degree views from Midtown Manhattan, the ...