Coming to the Brooklyn Museum on February 14, African Arts—Global Conversations presents a selection from the museum's archive in a bold new way. This museum-wide exhibition will recontextualize the often overlooked traditions of African art and find resonance across cultures by pairing African art with work from other contexts.
"Art has many histories, and the story of art cannot be told without Africa," said Kristen Windmuller-Luna, Sills Family Consulting Curator, African Arts, in a press release. The exhibition will explore how art historians and institutions have often excised African art from the conversation. Presented along with art and artifacts will be art history textbooks that present a Euro-centric worldview and relegate African art to the footnotes.


Kuba artist, Mask. (Mwaash AMbooy) late 19th or early 20th century. Rawhide, paint fibers, textile, cowrie shells, glass, monkey pelt, feathers.
Modernist artists like Pablo Picasso, whose work will appear in the exhibition, famously co-opted African imagery in his work. Exhibition organizers seek to examine this tradition and will present art objects like a Fang mask alongside a Picasso painting, inviting visitors to evaluate Modernist uses of African art and the Western biases that inform them.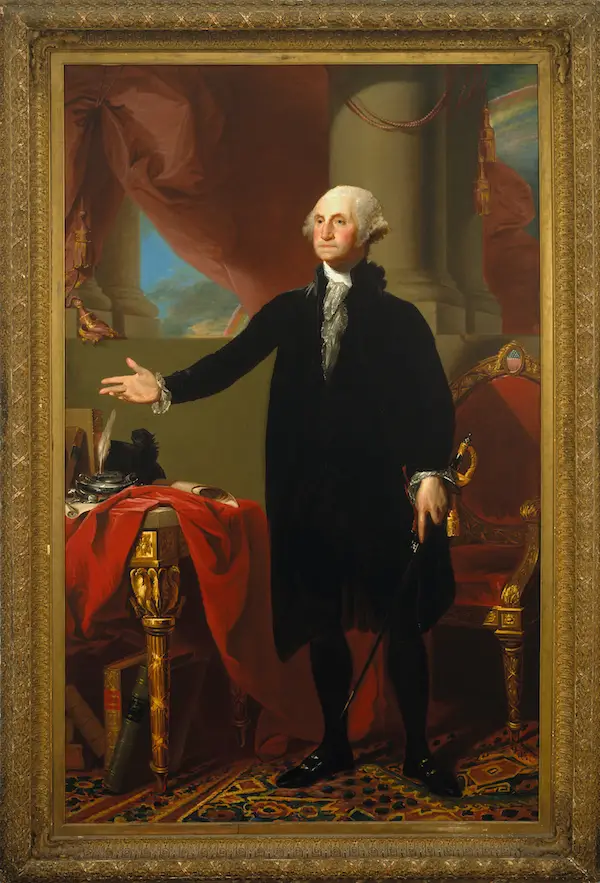 Gilbert Stuart, American (1755-1828) George Washington, 1796. Oil on canvas.
In addition to exploring artistic traditions in Africa, the exhibition will also present work from artistic movements in other regions. In fact, this exhibition will not appear in a single gallery but throughout the museum's sections on European Art, Arts of the Americas, American Art, Ancient Egyptian Art, and Arts of Asia. Paired works will identify common themes across cultures, including depictions of important leaders. In the Luce Center for American Art, for example, visitors can see a mask of Wóót, the founder of the Kuba people, next to a portrait of President George Washington by Gilbert Stuart. Other thematic highlights will be Crossroads: Orthodox Ethiopia and Catholic Italy, identifying the symbol of the cross in both traditions, and Iconoclasm, which pairs Egyptian and Kongo works of art.
This exhibition will draw on Brooklyn Museum's extensive collection of African art, which represents thousands of years of history. The oldest object in the exhibition, in fact, dates to 2300 BCE. The museum has a long tradition of showcasing art from Africa and educating visitors about its aesthetic, cultural, and historical significance. Objects included in African Arts—Global Conversations will be a unique Kuba sculpture honoring a community leader from the eighteenth century, as well as Ethiopian Orthodox crosses from the fourteenth through sixteenth centuries. Works by contemporary African artists will also be on display.
---
Brooklyn Museum is located at 200 Eastern Parkway. For tickets and more, call 718-501-6354 or visit brooklynmuseum.org.