When it comes to culture, New York is hard to beat. From art to history to literature, the city's institutions are packed with exhibits that provoke, intrigue, and entertain. Read on for our picks for the can't-miss shows of the season.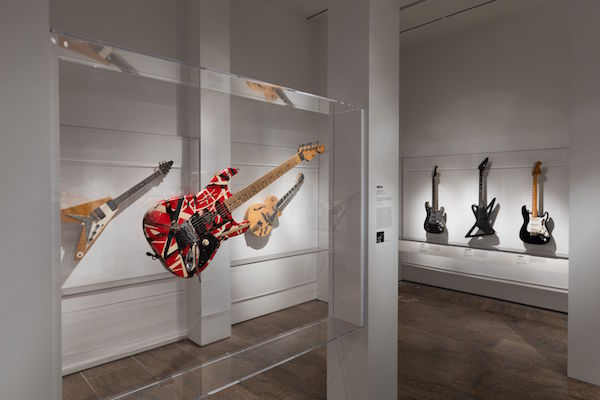 Eddie Van Halen's 1975 "Frankenstein" guitar can be seen from both sides in the exhibit's Guitar Gods section. Image courtesy the Metropolitan Museum of Art.
When you see the sheer volume (some 130) of mind-blowing instruments that have been played by a broad cross-section of iconic musicians, all tucked into one space, you'll understand why the sprawling Metropolitan Museum of Art is the appropriate place for the new show, Play It Loud: Instruments of Rock & Roll. It's the first time a music exhibit of this magnitude has been presented, with guitars alone including the white Fender that Jimi Hendrix played at Woodstock, Prince's 1993 "Love Symbol" guitar, and one of Pete Townshend's smashed Gibsons encased in Lucite.
Installation view of Too Fast to Live, Too Young to Die: Punk Graphics, 1976-1986 at the Museum of Arts and Design. Photo by Jenna Bascom.
More than 40 years after punk exploded onto the music scenes of New York and London, its impact on the larger culture is still being felt. Too Fast to Live, Too Young to Die: Punk Graphics 1976-1986 at the Museum of Arts and Design explores the visual language of a rebellious scene through hundreds of its most memorable graphics, from striking remixes to the DIY zines and flyers that challenged the commercial slickness of the mainstream media.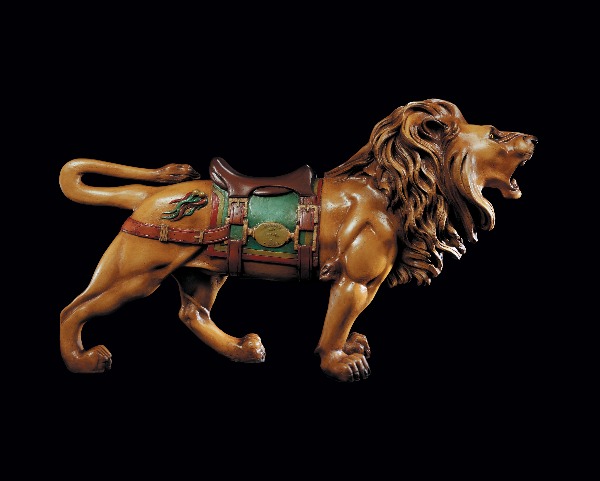 Carousel Lion, Marcus Charles Illions (1865/71–1949), Brooklyn, New York, 1910, paint on wood with glass eyes, 51 x 84 x 20. Collection American Folk Art Museum, New York, gift of Jacqueline Loewe Fowler from the Mary Lawrence and Walter Youree Collection, Oregon. Photo by Paul Foster.
Folk art may seem like something that flourishes best in isolated areas, but it's been a vibrant tradition in the heart of New York City for centuries. In fact, many objects associated with the heartland were originally manufactured by artisans here. A new show at the American Folk Art Museum, Made in New York City: The Business of Folk Art, runs from advertising figures made on Canal Street to weathervanes forged in the Bronx to carousel animals carved on Coney Island to show how NYC was the center of it all.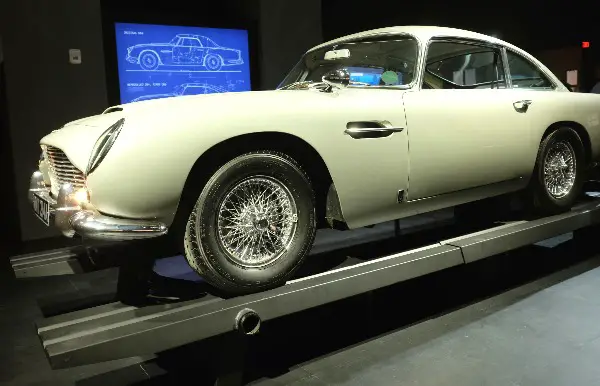 You can experience the world of history's most famous spy at 007 x SPYSCAPE: Driven, a brand-new exhibition inside SPYSCAPE , New York's spy museum. This immersive exhibition brings you into the Bond universe with sets, props, and insights about the creation of the ageless secret agent. Among the highlights: an Aston Martin DB5, the lab of Quartermaster (or Q), M16's gadget master, concept art from Oscar-winning production designer Sir Ken Adams, and an exploration of 2012 Bond film Skyfall's unforgettable final scene.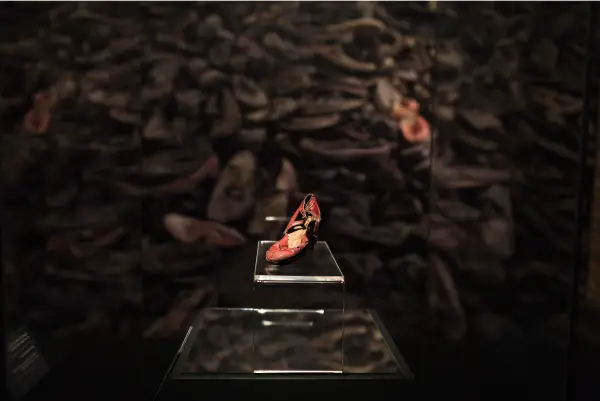 Woman's Dress Shoe, unknown deportee. Collection of the Auschwitz-Birkenau State Museum, Oswiecim, Poland. ©Musealia.
The most significant site of the Holocaust, Auschwitz was not a single entity, but a complex of 48 concentration, forced labor, and extermination camps, at which 1 million Jews—and thousands of others—were murdered. Auschwitz. Not long ago. Not far away., a new exhibition at the Museum of Jewish Heritage—A Living Memorial to the Holocaust, explores the legacy of history's deadliest mass murder site. More than 700 original objects and 400 photographs are on display, many for the first time in North America.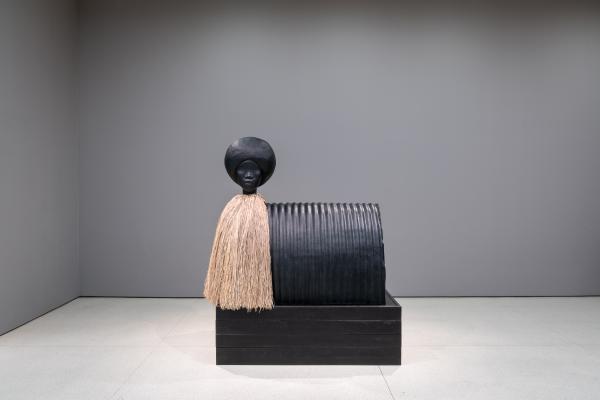 Simone Leigh, Sentinel, 2019. Bronze and raffia. Courtesy the artist and Luhring Augustine, New York. Installation view: The Hugo Boss Prize 2018: Simone Leigh, Loophole of Retreat, Solomon R. Guggenheim Museum, New York, April 19–October 27,2019. Photo: David Heald © 2019 The Solomon R. Guggenheim Foundation.
The prestigious Hugo Boss Prize has been awarded to artist Simone Leigh for 2018. The award, given every other year, coincides with an exhibition that presents new work by the winner at the Solomon R. Guggenheim Museum. Leigh's Loophole of Retreat features new sculptures, a sound installation, and a video piece.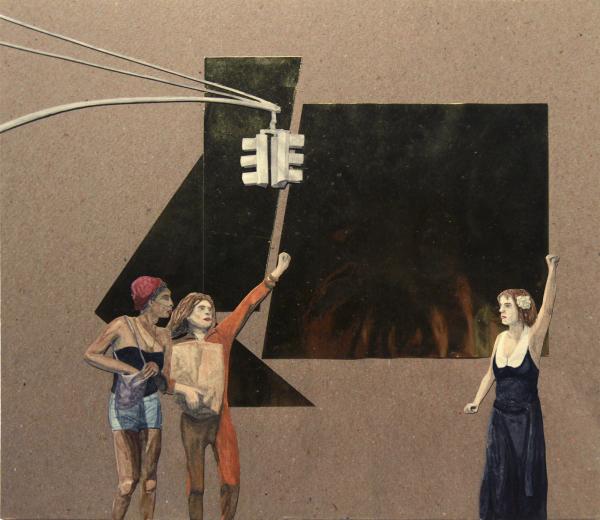 Tuesday Smillie (American, born 1981). S.T.A.R., 2012. Watercolor, collage on board, 9½ x 11 in. (24.1 x 27.9 cm). Courtesy of the artist. © Tuesday Smillie.
Brooklyn has become a tourist destination to rival Manhattan, complete with its own world-class institution: the Brooklyn Museum. Just 20 minutes from Manhattan you'll find rotating exhibitions like this summer's Nobody Promised You Tomorrow: Art 50 Years After Stonewall. This moving show features the work of 22 contemporary LGBTQ artists working in New York. Their paintings, drawings, sculpture, film, and installation comment on the LGBTQ rights movement, its early participants, its progress, and the human lives the movement represents.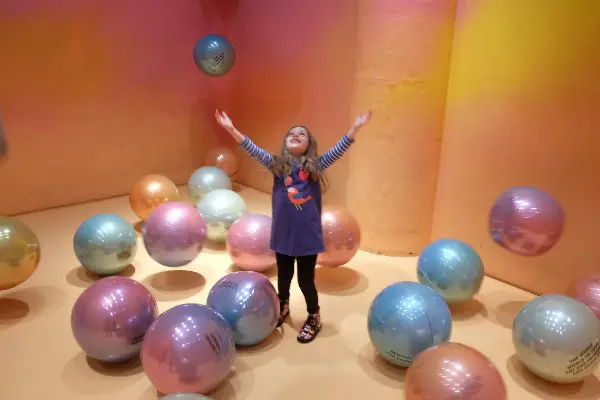 The collaboratively produced art experience Color Factory takes inspiration from the colors of the city, guiding visitors through 16 participatory installations. Highlights include a walkable infographic leading to your "secret color," a custom color ice cream scoop, a unique activity on color and human connection, a luminous dance floor, and Color Factory's signature ball room. Put on your favorite hue and come in for color!