Even if your engagement with things British is limited to the doings of Harry and Meghan, visit the Metropolitan Museum of Art and head for The New British Galleries (opening March 2nd). There are the "Towers of Tea," i.e., two ten-foot high glass cases displaying teapots decorated with flowers; shaped like camels, elephants, and houses; made of silver, porcelain, and other materials. Two Chinese Export teapots show the British sense of whimsy with one side of each displaying a woman with her blouse closed while on the other side the blouse is (discretely) open. A crystal bowl for cooling wine glasses would be wonderful by itself here, but is even better inscribed "good things are difficult" in many languages.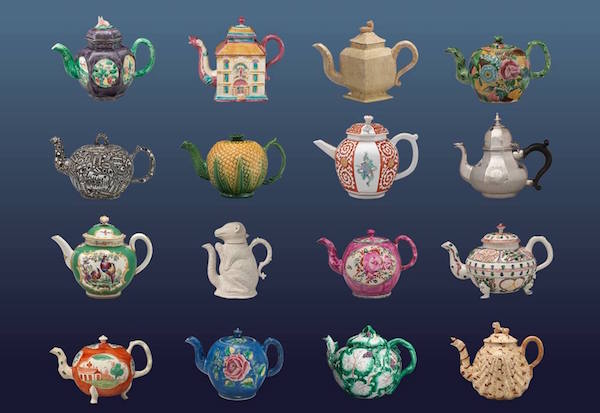 A tribute to British decorative arts, design, and sculpture made between 1500 and 1900, the new galleries include 700 objects that tell a detailed story of global Britain, especially interesting today when Great Britain is in a state of flux. London's flourishing economy encouraged the trading of foreign luxury goods and attracted countless artists and craftsmen from abroad. 
Shoe buckle c. 1750–75. Bequest of Alphonso T. Clearwater, 1933.
Visitors can climb a magnificent staircase from a 17th-century stately home, marveling at its carved details of nature. A group of sparkly 18th-century shoe buckles are delightful and more interesting when you learn that in 1792 the London buckle makers petitioned the King to protect them from inroads by the up-and-coming shoestring makers—a petition that failed.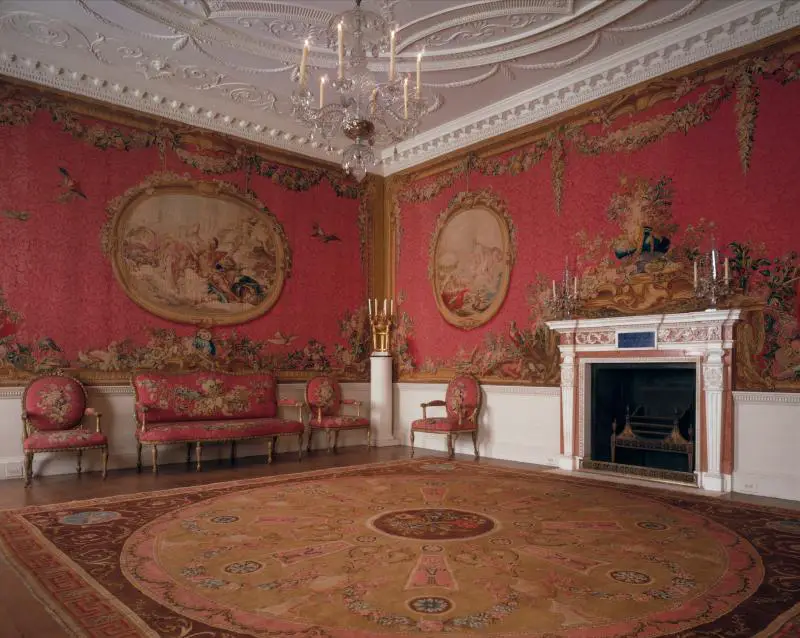 Photo courtesy of the Met. Room: gift of Samuel H. Kress Foundation, 1958.
There are three stupendous newly renovated 18th-century rooms from great houses enhanced with painted views of what visitors would have seen looking out the windows. The dazzling room from Croome Court (above), home of the 6th Earl of Coventry and designed by Robert Adam, has walls lined in a riot of pink and red Gobelins tapestry hung to look like wallpaper. Chairs displayed along the side have tapestry matching the walls.
Elsewhere a case holds baubles like snuffboxes, miniature cookware, and other delightful little objects. These helped lay the groundwork for the shopping mania that became incredibly popular in 18th-century London, where those with a taste for acquisition managed brilliantly without Amazon.
The New British Galleries, enhanced with a helpful timeline inlaid on the floor, combine history, technology, and artistry—making discovery a delight.
For more of things British, next fall the Met will feature Art at the Tudor Courts, a tribute to the worldliness of the era, with works by Florentine sculptors, German painters, Flemish weavers, European armorers, goldsmiths, and printers, as well as pieces by British artisans.
In May the Met's Costume Institute will present About Time: Fashion and Duration which will trace fashion from 1870 to the present with writer Virginia Woolf as the "ghost narrator." A group of black ensembles will run through the presentation proving that everything old is new again—and timeless. The exhibit will end with a section on the future of fashion.
As 2020 is the 150th anniversary of the Met, on March 30, Making The Met, 1870–2020 opens, featuring over 250 outstanding works of art of ranging from visitor favorites to fragile treasures rarely on view. Archival photographs, innovative digital features, and stories of both behind-the-scenes work and museum community outreach will enhance this experience.
Any time you visit the Met you can take advantage of a variety of one-hour tours, free with admission. Ask at the center Information Desk for details.
Give the Met some love—it is a vast treasure house of works to admire and enjoy.

British tea sets, courtesy the Met Museum.
The New British Galleries open at the Metropolitan Museum of Art on March 2. For more information, visit metmuseum.org.