The 5 Best Places to Eat Near Radio City Music Hall
January 18, 2017 - by Chelsey Grasso
Catching a show this winter at the Radio City Music Hall? Good call. And what always goes with a show? Dinner, of course. If you're looking for a hot restaurant in the area, make sure you try out one of these top-quality restaurants—all within walking distance of Radio City! From a Brazilian steak house to a Michelin star seafood restaurant, these are our top five picks, and we think they'll be yours too. Enjoy!
Where to Eat by Radio City: La Masseria (Midtown West)

La Masseria describes itself as "a farmhouse in the middle of Manhattan," and the restaurant's warm and inviting dining area (oversized iron sconces, burnished walls, and antique farm tools on display throughout) will have you enjoying the setting as much as you're enjoying the food. You can't order badly at La Masseria, with options like grilled aged prime rib-eye steak, grilled salmon fillet, and grilled jumbo prawns on the menu beside a plethora of pastas, salads, and appetizers. 235 W. 48th St., 212-582-2111, lamasserianyc.com
Where to Eat by Radio City: Heartland Brewery & Chophouse (Midtown West)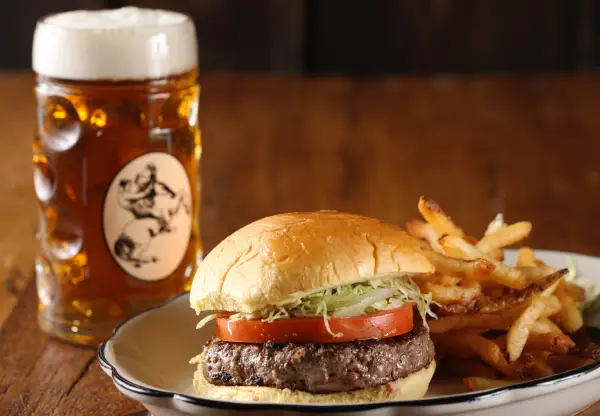 If you're looking for a casual dining experience, head over to Heartland Brewery & Chophouse, where the food is mouth-wateringly good and the brews are flowing. Whether you're craving a hearty burger or some Maui Fish Tacos, there's something on Heartland's menu that will appeal to your stomach. As for beers, the choice is just as eclectic. From pale ales and lagers to stouts and porters, Heartland Brewery brews their own for a series of fresh, handcrafted temptations. (Additional locations in Port Authority and the Empire State Building.) 127 W. 43rd St., 646-366-0235, heartlandbrewery.com
Where to Eat by Radio City: Le Bernardin (Midtown West)

Get some of New York City's freshest seafood at Le Bernardin, a three-star Michelin restaurant that currently ranks #24 on the World's 50 Best Restaurants guide. Start your dinner off with oysters, caviar, carpaccio, or sashimi before your main course. For entrees, the crusted red snapper, white tuna-Japanese Wagyu, and monkfish "fish & chips" are all crowd pleasers, and make sure you save some room for dessert, because the banana s'more, "tres leches," and "Black Forest" will be calling your name. The Equitable Bldg., 155 W. 51st St., 212-554-1515, le-bernardin.com
Where to Eat by Radio City: Fogo de Chão (Midtown West)
For a taste of Southern Brazil, Fogo de Chão offers a dining experience that you'll never forget. Who wants to pick just one meat to snack on when you can have them all? Fire roasted top sirloin, beef tenderloin, rib eye, top sirloin, bottom sirloin, and beef ribs are all sliced tableside during this gaucho inspired dining experience. Lamb, pork ribs, chicken, pork loin, and pork sausage are also available, along with a selection of smoked salmon, mango Chilean sea bass, jumbo shrimp cocktail, and shrimp skewers. 40 W. 53rd St., 212-969-9980, fogodechao.com
Where to Eat by Radio City: Del Frisco's Double Eagle Steak House (Midtown West)
The floor to ceiling windows and remarkable views of Sixth Avenue make Del Frisco's one of the most enticing restaurants in the entire city of Manhattan, and the food holds its own, too! A meat lover's dream, you'll find everything from filet mignon and bone-in filet to prime strip and prime porterhouse on the menu. As for sides, the shaved Brussels sprouts with smoked bacon, caramelized onions, and lemon, and the lobster macaroni & cheese are absolute musts. 1221 Ave. of the Americas (entrance on 49th St.), 212-575-5129, delfriscos.com
Looking for Free Group Planning Services?
Get free advice on planning your group's trip to New York.
RESTAURANTS

Multi-concept restaurant offering modern Japanese cuisine, a...

THEATER

In a heartbeat, 38 planes with 6,579 passengers were strand...

SHOPPING

Specializing in the great vineyards of California, France, A...

SIGHTSEEING

SPYSCAPE is the world's preeminent spy museum and experience...