If you're planning to spend your spring break in New York City, then you're sure to be in for a good time. No matter the season, NYC is always filled with plenty of things to do, from its rambunctious nightlife to its breathtaking observation decks to the world-famous Blue Man Group. Read on to get in a New York state of mind and figure out what exactly to do while you're in town for a New York City spring break.
Spring Break in NYC: Go on Tour

The best way to get your bearings in the city is to have somebody else explain them to you. Enjoy an entertaining tour with THE RIDE, which blends street entertainment and a tour on a state-of-the-art bus that's more like a moving theatre. New York's newest adventure is THE DOWNTOWN EXPERIENCE Powered By THE RIDE, which lets riders re-live iconic moments in New York history through the magic of TimeLooper Virtual Reality Headsets. You can also try out a hop-on and hop-off bus option with CitySights NY. If traveling around the city by ground doesn't sound appealing to you, New York Water Taxi regularly boards ferries that take passengers around the city's periphery. Still want to take things to the next level? Book an aerial tour with Helicopter Flight Services for the ride of your life.
Spring Break in NYC: Catch a Show
Starting March 31, Grammy-nominated songwriter Sara Bareilles joins the cast of Waitress.
Performers flock to New York City, which means that Broadway has the cream of the crop when it comes to casting for a new show. There are dozens of Broadway shows to choose between, from classics like Chicago to newbies like Waitress. Also, never to be underestimated, Off-Broadway shows also hold their own in the talent department (STOMP has been selling out shows at the Orpheum Theatre for decades). Insider tip: check out the TKTS Discount Booths on the day-of for up to 50% off show tickets.
Spring Break in NYC: Drink in the Views at One World Observatory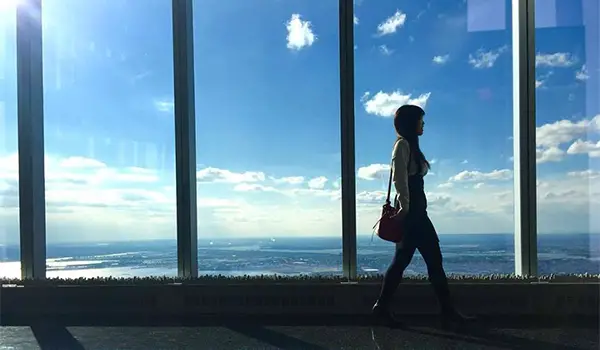 What good is the New York City skyline if you can't see it? Fortunately, Manhattan has multiple options when it comes to getting that perfect view of the world's capital. Whether you want to hop aboard the Sky Pod Elevator and take a ride up to the 100th floor of One World Observatory or keep things old school on top of the iconic Empire State Building Observation Deck, you have your pick. Top of the Rock should also be on your bucket list, known for its memorable views of Central Park and Midtown.
Spring Break in NYC: Blooming

Watching New York City's plant life coming into bloom is a magical experience, and it happens quickly, so you have to be on the lookout. Central Park makes for prime spring bloom scouting, as do the New York Botanical Garden and Brooklyn Botanic Garden. If winter just doesn't seem to be allowing for any early budding, you can always get your nature fill at one of the gardens' indoor conservatories, where you'll see tropical, dessert, and aquatic plants galore—not to mention the conservatories themselves are beautifully designed, with Victorian-style glasshouse artistry.
Spring Break in NYC: Go Bar Hopping
Just because the sun is setting doesn't mean that New York City is settling down. The nightlife keeps the party going until 4am, when alcohol must legally stop being served. Start the evening right with some fresh craft beers at the two-story Heartland Brewery on Fifth Avenue. For night owls, Gleason's Tavern is great for the late night theater crowd, serving up great bites and cocktails, open until 4am. If you'd like some elbow room and some prime tavern hospitality, Flatiron Hall and Houston Hallare two great picks. You can also play a round of skeeball (and get a free pizza!) at Crocodile Lounge before heading over to Barcade to finish off the night with some old-school arcade games.
Spring Break in NYC: Comedy

Gotham Comedy Club celebrates its 21st-year anniversary this year, and there's good reason it is worth a visit this spring. Famous comedians like Larry David, Wayne Brady, and Dane Cook have graced its stage, and the club continues to have fresh (and ridiculously hilarious) talent onstage every night. Book a table, grab your fellow Spring Breakers and prepare to laugh until your stomach hurts. Consider it an apt exercise for beach-body abs.
Spring Break in NYC: Shows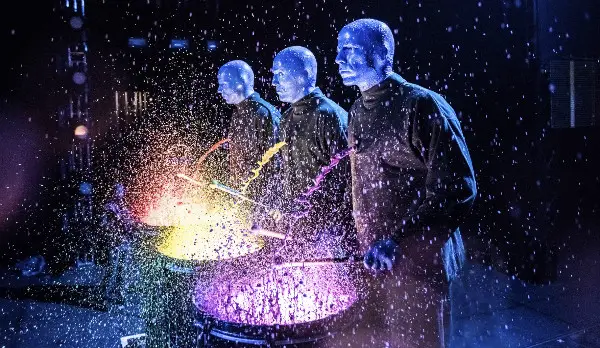 Image: Lindsey Best

No one said Spring Break was meant to be a quiet affair. Go big and take in the Blue Man Group at the East Village's Astor Place Theatre. Prepare yourself for strobe lights, flying objects, loud music (of course), and...toilet paper. Trust us. Cancun will seem like child's play compared to the antics of the Blue Man Group. Blue is the new tan.
Due to popular demand, Blue Man Group is announcing special additional performances for spring break at New York's Astor Place Theatre at 434 Lafayette St.

Added Blue Man Group performances for spring break include:
Monday, April 10: 2, 5 and 8 p.m.
Tuesday, April 11: 2, 5 and 8 p.m.
Wednesday, April 12: 2, 5 and 8 p.m.
Thursday, April 13: 2, 5 and 8 p.m.
Friday, April 14: 2, 5 and 8 p.m.
800-258-3626, blueman.com