Brazil sends the most visitors to the U.S. after Canada and the UK, which means New York is more than prepared for Portuguese-speaking guests and ready to welcome them. If you're here to shop, dine, watch a sporting event or simply explore, we've got the stores, restaurants, arenas, sports bars, and places to wander. Read on for New York's must-sees for visitors from Brazil.
Brazilian Visitors in NYC: Entertainment and Shopping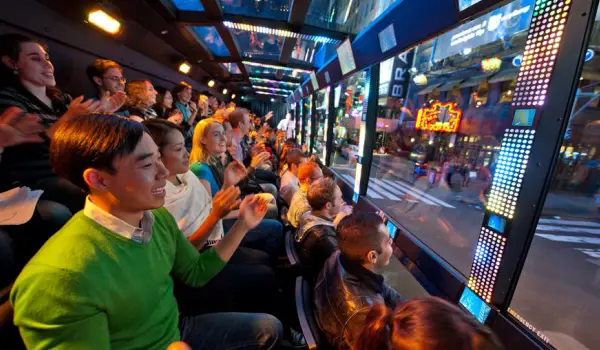 For a unique take on sightseeing, check out THE RIDE: a hybrid of entertainment and tour bus where the seats face outwards. The special effects mimic the subway (um, are you not on the bus to AVOID the subway?) and 40 plasma screens are there to dazzle.
Looking for a camcorder? Brazilians often buy everyday goods and appliances in the U.S. since they're much less expensive here, without the tax on imported goods you have at home in Brazil. Over at B&H, they have a comprehensive selection of all things electronic, from cameras to computers, as well as more obscure night-vision accessories and strobe lighting equipment. Even if you're not in need of electronics, the no-commission staff and buzzing scene are worthy of a visit. Best Buy has also has computers and accessories, as well as video games, TVs, and more.
Popular shopping spots include Macy's for reasonably priced designer goods, perfume and home appliances; Century 21 for deals on designer clothing; Louis Vuitton, for ultra-upscale handbags and clothing; and Diesel for jeans. Want the label but not the price tag? A Second Chance Designer Resale Boutique carries clothing and accessories by the likes of Louis Vuitton and Chanel, for a fraction of the original price.
The Brazilian-themed Buzios boutique has the kinds of things you'd buy in Brazil, like staples for the house, as well as Havaianas and flag-themed clothing. Rio Market in Astoria (Queens) has similar merchandise, with an emphasis on Brazilian groceries. Need a little something to nibble as you gaze in the shop windows? La Maison Du Chocolat has exquisite chocolate—but heart-stopping prices.


If you want to be fully immersed in Brazilian culture, hang out in Little Brazil, the name given to the stretch of stores and restaurants on West 46th St. (They're the hosts of Brazilian day, which takes place the Sunday of Labor Day weekend in September.) Many buildings display the green and yellow of the Brazilian flag.
Brazilian Visitors in NYC: Culture & History
MoMA (the Museum of Modern Art) has several Brazilian artists in the collection, including Lygia Clark, who was known primarily for her abstract art and had a retrospective here. At the Metropolitan Museum, you can see a Brazilian landscape by Frans Post, as well as other South American landscapes. If you've just seen/couldn't get tickets to Hamilton, wander on over to the Met's American Wing as well; the furniture collection is especially noteworthy. In 2016, you can see the world debut of 60 unusual Chinese ceramics from a Brazilian private collection. Global by Design: Chinese Ceramics from the R. Albuquerque Collection is on display through August 7, with 16th to 18th century masterpieces never publicly seen before.
Just a stroll away, check out the Neue Galerie off Fifth Avenue for a small but gorgeous collection of early twentieth-century German and Austrian art—and an excellent café. Nothing is so quintessentially American as being a Brazilian visitor looking at German art and then eating a Viennese pastry.
When your suitcase is full, and your brain needs to be engaged, the main branch of the New York Public Library has interesting exhibitions and some amazing Beaux-Arts spaces.
The Arte Capoeira Center offers capoeira and salsa classes. There's plenty more dance performances to enjoy for spring, 2016 in New York City. In May, the São Paulo Dance Company will be making its debut performances at the Joyce Theater in Chelsea. The program includes dances that explore the themes of impossible love, a look shared by two people, and the elements and the universe.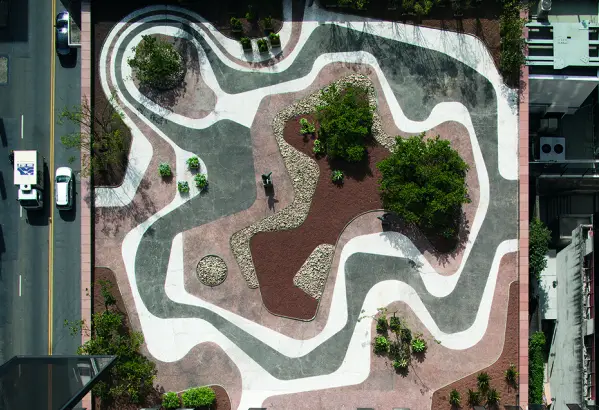 Mineral roof garden, Banco Safra headquarters, São Paulo, designed by Roberto Burle Marx, 1983. Photograph © Leonardo Finotti
From May 6 through September 18, 2016, the Jewish Museum will be hosting the exhibition Roberto Burle Marx: Brazilian Modernist, which looks at the work of the legendary landscape architect. On Thursday, May 12, 2016 at 7:30pm, Bang on a Can and the Jewish Museum will present Bang on a Can: Performance by Arto Lindsay.
Brazilian Visitors: Food and Drink
The evening is young and a brandy is calling your name. Or perhaps it's waning and it's actually a post-dinner port. In either case, head over to the very classy Brandy Library for an Armagnac, or dessert and a cognac.
If its loud and rowdy you're after, Smithfield NYC has a clientele who are there to watch football—but not the kind with footballs. It's soccer, pure and simple. They host a number of supporter clubs, but all are welcome. The Football Factory at Legends offers the chance to watch games live, as does Foxy John's, which adds baseball and American football into its mix, and serves up a tasty "American Fusion" menu with a great burger. Hang out at Miss Favela in Brooklyn, a botequim (Brazilian neighborhood bistro, but you knew that) for live music and a DJ, plus traditional Brazilian food like fish stew with onions and coconut milk. If you're lucky, one of the bars will be the place to watch the 2016 Summer Olympics in Rio.
Ah, dinnertime. For a Brazilian all-you-can eat experience that focuses on meat, meat, and more meat, Fogo de Chão's first churrascaria in New York City holds down a prime location near Times Square. Try the options inspired by Brazilian markets, such as kale and arugula salad and the charcutierie. Gaucho chefs expertly grill each of 16 cuts of meat and offer continuous tableside service.
At Ipanema, which focuses on the intersection of Brazilian and Portuguese cooking, you can try salted cod croquettes, sautéed shrimp in coconut sauce, and feijoada—the Brazilian national dish—black bean stew with several kinds of meat (but you knew that). The shrimp with garlic and white wine is good, or try the fried chicken with garlic, parsley, and yellow rice. (When you want a steak that's as American as can be, head over to Ben & Jack's Steakhouse, where you can indulge in the house's beloved Midwestern prime and Porterhouse cut, and some super-fresh seafood as well.)
Brazilian-born Marina Halpern and Pastry Chef Rachel Binder craft delicious multi-cultural baked goods with lots of Brazilian flair on the Upper East Side. Using natural, fresh, local ingredients, they churn out such delicacies as the Romeo and Juliet Babka—a fusion of guava and cheese, and the Coconut Cake—a Halpern family recipe that Binder refashioned using a Moroccan basbousa recipe as inspiration. A swing and a scattering of hanging teapots up the fun, as well as the coziness factor, at this chic Brazilian hideaway. 359 E. 68th St., padocabakery.com
---
Should you need help from the Brazilian Consulate, you can find it in midtown:
225 E. 41st St.
New York, NY 10017-6927
Email is the preferred means of contact, as phones are reserved for emergencies.
For visas: visa.novayork@itamaraty.gov.br
For general inquiries: cg.novayork@itamaraty.gov.br
917-777-7777