Navigating New York City is not as tricky as you might think. Our maps and neighborhood guide will help you get around. Manhattan is a manageable size, only 13.4 miles long and 2.3 miles wide at its widest. For much of the city, the streets run in a grid. "Avenues" run north and south while the "Streets" run east and west. For the gridded parts of the city, addresses get larger as you move east or west from the city's central dividing line, Fifth Avenue. Check out the maps below for Manhattan neighborhoods and quick overviews of what they're all about.


click to enlarge

New York City Subway Map

Courtesy of the Metropolitan Transportation Authority.



click to enlarge

Manhattan Bus Map

Courtesy of the Metropolitan Transportation Authority.



click to enlarge

New York City

New York City—known to many as the Capital of the World! Can you think of a place other than the Big Apple that has over 150 museums, 900 art galleries, 41 Broadway theatres, 125 Off-Broadway theatres, 150 experimental Off-Off-Broadway theatres, 18,000 restaurants, 2,000 bars and nightclubs, 30 department stores, 1,700 parks, 12,184 taxis, and 656 miles of subway track? And the list goes on!

---



click to enlarge
Chelsea

Chelsea, the area west of Fifth Avenue and north of 14th Street to about 30th Street, is known for tree-lined residential streets, chic nightlife and shopping options, and one of the world's most established LGBTQ+ communities. Read more...

---



click to enlarge
Chinatown

Since the late 1870s, Chinatown has been a pillar of downtown Manhattan. The main thoroughfare is Canal Street, with the neighborhood pressing up against Little Italy, the Lower East Side, SoHo, and Lower Manhattan. While many of those neighbors have gentrified, Chinatown endures as a testament to the strength of the immigrant spirit in New York. Read more...

---



click to enlarge
East Village

Located between Houston and 14th Streets, between the East River and Broadway, the East Village has long been known as New York's cutting-edge neighborhood. Coffee shops, thrift stores, eclectic restaurants, and performing spaces fill the area. Read more...

---



click to enlarge
East Harlem

This uptown end of the city spans 96th Street to 142nd Street, between the East and Harlem Rivers and Fifth Avenue. Largely diversified, "El Barrio" showcases its many cultures through art exhibitions, dance shows, and theatrical performances. Read more...

---



click to enlarge
Financial District

Home to the New York Stock Exchange, this neighborhood is the "Capital Capital" of the world. The southernmost part of Manhattan features glorious architecture, bustling business types, and key tourist attractions like One World Observatory and the 9/11 Museum. Read more...

---



click to enlarge
Greenwich Village

Cobblestone streets, tiny green parks, row houses, and intimate bistros coupled with late-night restaurants, chic bars, and boutique shopping create a neighborhood full of charm. Read more...

---



click to enlarge
Harlem

A longtime hub of African American culture, Central Harlem is bordered by East Harlem, home to large Puerto Rican and Mexican communities for decades, and by Washington Heights, a center for Dominican culture. The neighborhood is known for its vibrancy, including a wealth of historic sites, unique retailers, and cultural attractions like the Apollo Theater. Read more...

---



click to enlarge
Little Italy

Any foodie worth his sauce knows that no trip to New York is complete without a stroll down Mulberry Street between Spring and Canal Streets. This little piece of Italy features dozens of restaurants, authentic fare, sidewalk cafes, cozy nooks, private back gardens, romance, cappuccino, and gelato that you won't find outside Italia itself. Read more...

---



click to enlarge
Lower East Side

A gritty bohemia that attracts young scenesters with its funky boutiques, understated restaurants, and all-night vibe. Bordered by Houston Street, the Bowery, and the East River, the Lower East Side once attracted many Jewish immigrants, and legendary Katz's still serve up heaping portions of pastrami on rye. Read more...

---



click to enlarge
Manhattan

The most densely populated of the five boroughs, Manhattan is the core of New York City, finally bouncing back after some quieter times during the pandemic. The close proximity of diverse neighborhoods make this the ultimate walking destination, with samples of all the world available under the umbrella of New York City's unique pulse.

---



click to enlarge
Midtown East

Midtown East starts on Fifth Avenue and continues to the East River, running up and down from East 34th Street to 59th Street. From Grand Central to the Art Deco masterpiece Chrysler Building to the new SUMMIT One Vanderbilt, there is tons to explore. Read more...

---



click to enlarge
Midtown West

This neighborhood includes the Garment District, Herald Square, Hell's Kitchen, Penn Station, and the city's newest neighborhood, Hudson Yards. The area has as authentic a New York City feel as you'll find. Read more...

---



click to enlarge
Morningside Heights

Columbia University students and young families have taken over this area known for its gorgeous Gothic architecture. Coffee shops and plenty of green space complete this picture of a college town in the middle of New York City.

---



click to enlarge
SoHo

SoHo, named for the area South of Houston Street, was formerly a commercial area. Desire for larger, cheaper, less run-of-the-mill spaces turned this neighborhood into renovated loft-style apartment buildings, with trendy bistros and shops following close behind. Read more...

---



click to enlarge
Theater District/Times Square

Times Square, the "Crossroads of the World," is a non-stop adventure. In addition to all the theaters, restaurants, movie houses, and megastores, people—both native and visiting—crowd the safe streets at all hours of the day. Read more...

---



click to enlarge
Tribeca

Named for the TRIangle BElow CAnal formed by Canal Street, Broadway, and West Street, this posh neighborhood embodies nouveaux chic. Formerly known for warehouses and industrial spaces, expansive, open-space, high-ceilinged apartments are now met with some of the finest cuisine in New York. Read more...

---



click to enlarge
Upper East Side

High society defines this posh neighborhood. Private-school students, complete in plaid skirts and polo shirts, can be found crowding the streets in classy cliques. Expensive art galleries, an avenue full of museums, and gourmet food shops complete the refined setting. Read more...

---



click to enlarge
Upper West Side

Less pretentious than the Upper East Side, the Upper West Side mixes restored brownstones with modern high-rise apartment complexes. Ethnic restaurants and dance studios complement European bistros and brand-name megastores. Read more...
CITY MAP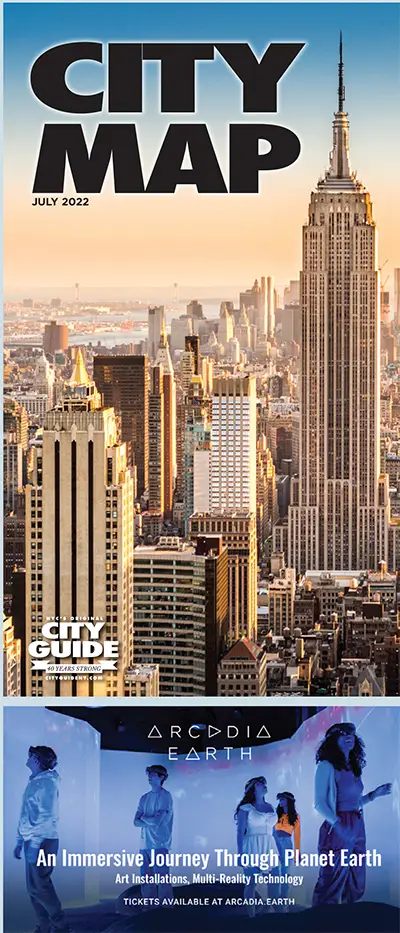 City Map by City Guide is available for free at tourist kiosks and hotel front desks all through the city. The map is updated frequently; the current version is for summer and fall of 2022.