Shakespeare wrote, "All the world's a stage," but New York is the world's stage. Home to 40 Broadway theatres and hundreds of Off- and Off-Off Broadway houses, the city boasts more musicals, dramas, comedies, and theatrical events in a single day than anywhere else on the planet.
New York theatre is also a magnet for celebrities, both onstage and off. Actors from television and films make a beeline to New York just to add Broadway to their resumes. For a primer on what to expect and how to get tickets, read on for doing theater right on your visit to New York City.
How to Do New York Theater: Quick Facts
The Theatre District—called Broadway as a catchall—falls within the following boundaries: West 40th to West 54th Street between Sixth and Eighth Avenues. This area is situated right alongside Times Square and Hell's Kitchen. Huge attractions like Rockefeller Center are also a short walk away.
Two current Broadway theatres fall outside the geography of the Theatre District. The Al Hirschfeld is slightly west of Eighth Avenue, and the Vivian Beaumont is part of Lincoln Center's arts complex on the Upper West Side.


Broadway's biggest theatre at 1,935 seats is the Gershwin Theatre, which has been home to Wicked since 2003. The smallest theatre is the Helen Hayes with 597 seats. To be considered a Broadway house, a theatre must have 500 seats minimum.
As a rule, a theatre with less than 499 seats and more than 99 seats is considered Off-Broadway. These houses can be located anywhere in Manhattan as well as Queens and Brooklyn (the most famous is the Brooklyn Academy of Music, aka BAM). About half of all Off-Broadway theatres are commercial or "for-profit." Popular Off-Broadway shows include Avenue Q and Drunk Shakespeare.
NYC's mega theatres are The Beacon (2,829 seats), The Theater at Madison Square Garden (2,000 seats), and Radio City Music Hall (at 5,933 seats, the preferred site for the Tony Awards in June). While these are considered event venues, they do host theatrical productions. The annual Christmas Spectacular featuring the Radio City Rockettes, for example, brings world-class dancing and music to Radio City Music Hall each holiday season.
Radio City Music Hall
A theatre with fewer than 100 seats falls into the Off-Off-Broadway category, and very few are commercial. Like Off-Broadway, Off-Off-Broadway houses can be located anywhere in the city.
On 42nd Street, Theatre Row is home to several Off- and Off-Off-Broadway theatres. It stretches from Ninth to Eleventh Aves.
A variety of theatre festivals are held throughout the year, both Off- and Off-Off-Broadway. Many showcase new works from the U.S. and abroad. Some are mainstream theatre and several span standup comedy, dance, concerts, burlesque, and the like. Frigid New York, for example, lists six or seven festivals annually. Summer months are by far the most popular for theatre festivals, which is perfect for Pride visitors. Summer theatre festivals include everything from the Lincoln Center Festival and the Public Theater's free Shakespeare in the Park to FringeNYC, a multi-arts blowout with 200+ events taking place in August.
How to Do New York Theater: Tickets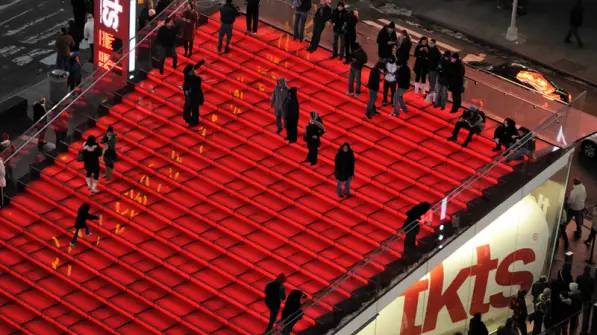 TKTS Times Square. Image: Cargo Collective
To ensure getting tickets to a show you absolutely do not want to miss, it's best to reserve them ahead of time. If you're less picky about which show you see, or if you're on a budget, go for one of the discount options below.
Premium Tickets. For long-running shows that sell out in advance like The Lion King, Wicked, and The Book of Mormon, book your seats as far out as possible. The same is true for a new show with big buzz or a production featuring one or more major stars. Insider Tip: If price is no object, or if you've budgeted as much as $400+ per ticket for a specific Broadway show, VIP arrangements can usually be made at the last minute through your hotel's concierge.
Discounted Tickets to Broadway and Off-Broadway. You can purchase these seats (25 to 50% off) the day of the performance at TKTS booths, the most famous being in the heart of Times Square. There are less popular satellite booths at South Street Seaport and Downtown Brooklyn. All accept credit cards, cash, travelers checks, or TDF gift certificates and vouchers. If you qualify, you can join TDF (Theatre Development Fund—sponsor of TKTS) as an "out-of-towner," which makes you eligible to buy theater tickets up to three weeks in advance. You can also download a free TKTS App for updated show info.
Most Broadway theatres offer "student rush" or lottery tickets, providing same-day access to shows at deeply discounted prices. Even the mighty Hamilton offers $10 lottery seats, if you get lucky. Check online for individual show policies.
Read our thorough guide on discount theater tickets here.
How to Do New York Theater: Helpful Tips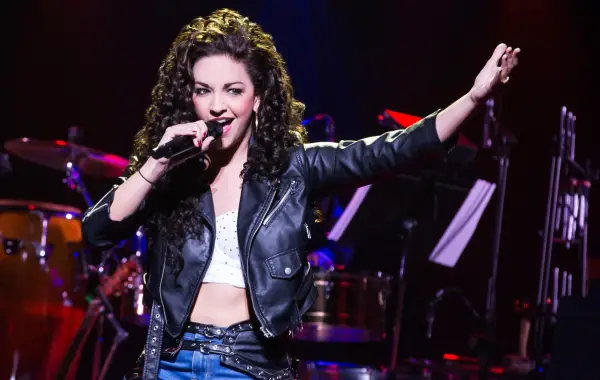 On Your Feet! Image: Matthew Murphy
Basic terms. A musical denotes a play with song-and-dance numbers throughout. In a play, the actors perform dialogue and don't typically sing or dance. Plays fall into two categories: comedy (funny) and drama (serious). A revival is a production that has played on a Broadway stage during a former time. An adaptation is a play or musical that started its life as a book or film. Other productions start on foreign stages; you'll often see that a play began its run on the West End, the Theatre District of London.
If your English is so-so, steer away from dialogue-heavy plays and the rapid-fire rap in musicals like Hamilton. Go for a musical that's familiar, whether from film or a touring company. Chicago, Jersey Boys, School of Rock, and The Phantom of the Opera will likely be the most satisfying for English learners. Look for dance-heavy musicals as well. Off-Broadway spectacles like Blue Man Group and Gazillion Bubble Show are less language-intensive and more visual.
Finally, don't forget autographs! Following Broadway shows, the cast will sign programs at the stage door. The bigger the star, the bigger the crowd, so be wary of pushy fans around you while you extend your program for a signature. For Off- and Off-Off-Broadway, they will often meet-and-greet in the lobby. Make sure to have a pen ready!