The list of things to do in New York in December is long and varied. From perennial favorites like the lighting of the Rockefeller Christmas Tree to the Holiday Train Show at The New York Botanical Garden, it's a magical time of year to be in NYC! Spend December 2019 perusing the holiday windows, catching the Radio City Christmas Spectacular, and shopping the many Christmas markets that this famed city has to offer. (Updated for 2019.)
The Big Event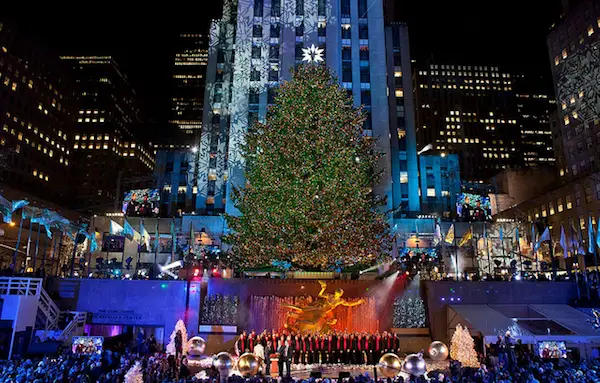 Photograph: Anthony Quintano/Flickr.
(12/4-1/17/20) The Rockefeller Center Christmas Tree Lighting takes place on Wednesday, December 4th, and you can appreciate its majestic beauty throughout December and into January. The towering tree in Rockefeller Center is a global symbol of the holiday spirit. This year's show will include performances by Gwen Stefani, John Legend, Idina Menzel, and more. rockefellercenter.com
PLUS
Click here for more information on Ice Skating NYC.
(12/2) Winter's Eve Lincoln Square. New York's largest holiday festival, Winter's Eve at Lincoln Square, features free entertainment, family fun, outdoor food tastings and more, and begins with the Upper West Side's tree lighting ceremony at Dante Park. The event takes place from 5:30pm - 9:00pm (rain or shine!) in public spaces, in select indoor venues and along the sidewalks of Lincoln Square, the gateway to the Upper West Side, from The Shops at Columbus Circle to 70th Street - in and around Broadway. Rock icon Ronnie Spector & The Ronettes will be performing!
(11/21-1/5) Bronx Zoo Holiday Lights. Highlights will include The Ice Jubilee (Ice Bar, Ice Throne & Ice Slide, December 21 to 31), nightly ice carving demonstrations, an Ice Carving Competition (December 28) , carolers, characters, and train rides and a lantern safari.
(12/5) Bryant Park Winter Village's Tree Lighting and Skate-tacular. Each year, skaters do a performance of "The Lights Before Christmas," an original story about the Light family, a group of characters made out of light. New Yorkers (the skaters) show Star, the youngest member of the family, how to shine. 6pm. 
(12/16) 11th Annual Latke Festival at the Brooklyn Museum. The Latke Festival is a charity event organized by Great Performances Catering that celebrates the best and most creative potato pancakes in the city. All net proceeds benefit The Sylvia Center, a nonprofit dedicated to teaching healthy eating habits to children and their families, with programs in New York City and at Katchkie Farm in Kinderhook, NY. 6-8:30pm.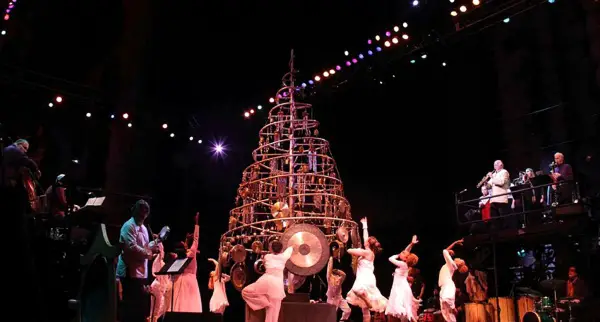 (12/21) Paul Winter's 40th Annual Winter Solstice Celebration takes advantage of the acoustics of the world's largest cathedral, St. John the Divine on the Upper West Side. This favorite city multimedia event will this year feature the 10-member Paul Winter Consort, gospel singer Theresa Thomason, and the 25 dancers and drummers of the Forces of Nature Dance Theatre. There are four performances over three days. Highlights will include Noel Paul Stookey performing the Peter, Paul and Mary classic "Wedding Song (There Is Love)."
(12/22-12/30) Annual Lighting of the World's Largest Hanukah Menorah. This whopping 32-foot-high, two-ton menorah is set up at Grand Army Plaza in midtown (Fifth Avenue and 59th Street), with lightings for the nights of Hanukah December 2nd through 10th. It remains lit through Jan. 1.
(12/24) Christmas Eve Services at St. Patrick's Cathedral. 5:30pm and *midnight. (*Free, but tickets required.) 
(12/28) Kwanzaa Celebration: Regeneration at the Apollo Theater, 2pm and 7:30pm. Featuring Abdel Salaam's Forces of Nature Dance Theatre. Since 2006, the Apollo has established an annual show to celebrate this holiday tradition on one day of the Kwanzaa holiday. The Apollo's celebration is a joyful evening of dance and music honoring the principles of Kwanzaa—family, community, and culture.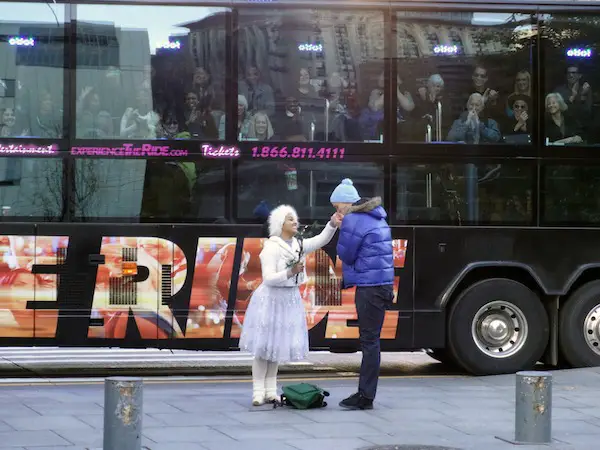 (11/14-1/5/20) THE RIDE returns to turn the streets of New York into a stage. You'll cruise in comfort in a patented $1.5 million traveling theater. Technology galore and floor-to-ceiling glass with side-facing VIP seating provide perfect views to dazzling holiday performances you'll find along a 4.2-mile journey through Manhattan. Original seasonal music, videos, and hilarious hosts complete the experience, definitely one to remember. Use City Guide's coupon here and save $10!
Things to Do in New York in December: Exhibits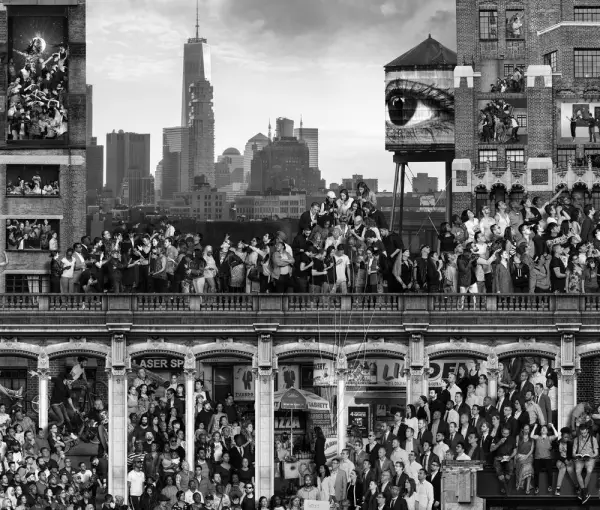 JR (French, born 1983). The Chronicles of New York City, 2018–19 (detail). Dimensions variable. © JR-ART.NET.
(Through 5/3/2020) JR is a consummate 21st-century artist. As a young man, he began taking pictures of his fellow street-artist friends and posting them around his native France. Later, his photography projects expanded in scope and deepened in tone without losing their populist flair. Now, this celebrated artist will receive the first major North American retrospective of his work, JR: Chronicles at the Brooklyn Museum. The exhibition, named after the artist's new mural of New York City, debuted in October. The mural itself, The Chronicles of New York City, portrays over one thousand New Yorkers that the artist interviewed and photographed in summer of 2018. It will be displayed in the Great Hall of the museum. brooklynmuseum.org
PLUS
(Now-1/5/20) Experience the past, present, and future of fashion all at once at the Brooklyn Museum. Pierre Cardin: Future Fashion celebrates the French designer who embodied the Space Age and futuristic concepts in his designs. A living legend at 97, this is the first retrospective of Cardin's work hosted in New York for 40 years. It holds over 170 objects, dynamically displayed, collected from the Pierre Cardin archive, including recent work that feels every bit as vital as Cardin's historic designs. The show also shows how Cardin designed outside the realm of fashion, crafting "couture furniture," lighting, and even cars. Don't miss the fashion that literally lights up, arranged in the exhibit's back room. brooklynmuseum.org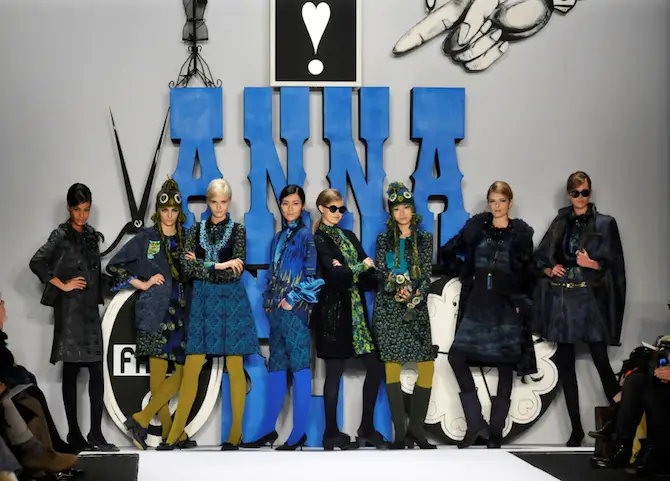 Photograph by Thomas Lau, courtesy of Anna Sui.
(Now-2/23/2020) The World of Anna Sui celebrates one of the country's top designers at the Museum of Arts and Design . The 75 fashion looks on display in this exhibition will showcase Anna Sui's decades-long career, beginning with the groundbreaking fashion show in 1991 that introduced the world to her one-of-a-kind eclectic aesthetic.  
(Now-1/5/20) Verdi: Creating Otello and Falstaff—Highlights from the Ricordi Archive at the Morgan Library & Museum. After Aida in 1871, except for occasional projects, Giuseppe Verdi (1813–1901), Italy's pre-eminent composer, retired from opera at the age of 58. This, however, did not prevent constant pleas from his publisher, Giulio Ricordi (1840–1912), and his future librettist, Arrigo Boito (1842–1918), for the maestro to return to the operatic stage. Reluctantly coaxed out of retirement, Verdi composed what would become the crowning achievements of his career: Otello, premiered in 1887 and Falstaff, in 1893. This exhibition, based on The Enterprise of Opera--Verdi, Boito, Ricordi created by Bertelsmann/Ricordi and curated by Gabriele Dotto is the first in the United States to present rare documents and artifacts from Milan's Ricordi Archive and will offer visitors insight into the production of these two operas as well as the complex enterprise of bringing an opera to life. Set designs, costumes from Milan's Teatro alla Scala, autograph manuscripts, contracts, publications, publicity, video excerpts from recent productions, and other objects in many media will permit visitors to experience the tremendous collaborative efforts behind an operatic production.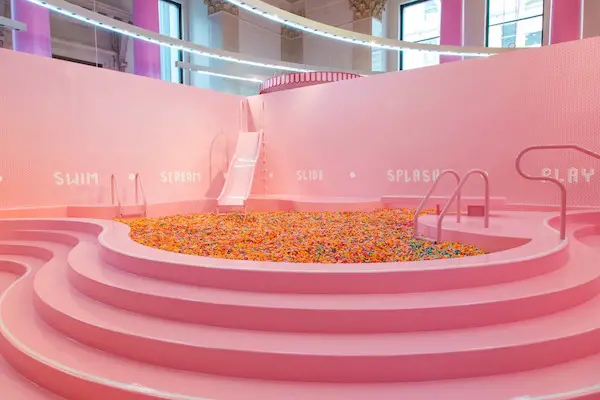 (Ongoing) The popular pop-up the Museum of Ice Cream returns. Tickets start at $39.
(Through 1/5/20) Implicit Tensions: Mapplethorpe Now at The Solomon R. Guggenheim Museum. Robert Mapplethorpe, one of the most critically acclaimed and controversial American artists of the late 20th century, is represented in great depth in the Guggenheim's collection. In 1993 the museum received a generous gift of approximately two hundred photographs and unique objects from the Robert Mapplethorpe Foundation, creating one of the most comprehensive public repositories in the world of this important artist's work. In 2019, 30 years after the artist's death, the Guggenheim will celebrate the sustained legacy of his work with a yearlong exhibition in two sequential parts in the museum's Mapplethorpe Gallery on Tower Level 4.
(Ongoing) The most significant site of the Holocaust, Auschwitz was not a single entity, but a complex of 48 concentration, forced labor, and extermination camps, at which 1 million Jews—and tens of thousands of others—were murdered. Auschwitz. Not long ago. Not far away., a new exhibition at the Museum of Jewish Heritage—A Living Memorial to the Holocaust, explores the legacy of history's deadliest mass murder site. More than 700 original objects and 400 photographs are on display, many for the first time in North America. Among the artifacts: personal possessions, fragments of a barrack, a gas mask used by the SS, and an original German-made Model 2 freight wagon used for the deportation of Jews to the ghettos and extermination camps in occupied Poland. 
(Ongoing) Faith and Empire at the Rubin Museum. Religion has influenced and empowered countless political leaders throughout history, and Tibetan Buddhism is no exception. "Faith and Empire: Art and Politics in Tibetan Buddhism" is the first exhibition of its kind to explore Tibetan Buddhism's dynamic political role in the empires of Asia from the 7th to the early 20th century. Artwork highlights include a set of 8th-century gilt-silver drinking vessels from the Tibetan Empire; an early 13th-century wrathful icon made of silk and ornamented with tiny seed pearls; a 4 ½-foot-tall 680-pound gilt-bronze bodhisattva from the early 15th-century Ming court; and a 19th-century 8-feet-wide Mongolian depiction of the final battle against the heretics and nonbelievers. The exhibition is arranged chronologically, beginning with the Tibetan Empire in the 7th century, and includes sections on the Tangut kingdom of Xixia, the Mongol Empire, the Chinese Ming dynasty, the rule of the Dalai Lamas, and the Manchu Qing dynasty.
(Permanent) The Jim Henson Exhibition at the Museum of the Moving Image celebrates the life and legacy of the famed Muppet creator, exploring both his prolific career and the enduring effect his work has on pop culture to this day. Visitors can expect to learn more about the creation of such beloved works as The Muppet Show, Sesame Street, Fraggle Rock, The Dark Crystal, and Labryinth, as well as to discover the cutting-edge experimental works Henson made throughout his career.


(Permanent) The Museum of the City of New York presents NY at Its Core. Ten years in the making, New York at Its Core presents the compelling story of New York's rise from a striving Dutch village to today's "Capital of the World." The exhibition captures the human energy that drove New York to become a city like no other and a subject of fascination the world over. Entertaining, inspiring, important, and at times bemusing, New York City "big personalities," including Alexander Hamilton, Walt Whitman, Boss Tweed, Emma Goldman, JP Morgan, Fiorello La Guardia, Jane Jacobs, Jay-Z, and dozens more, parade through the exhibition.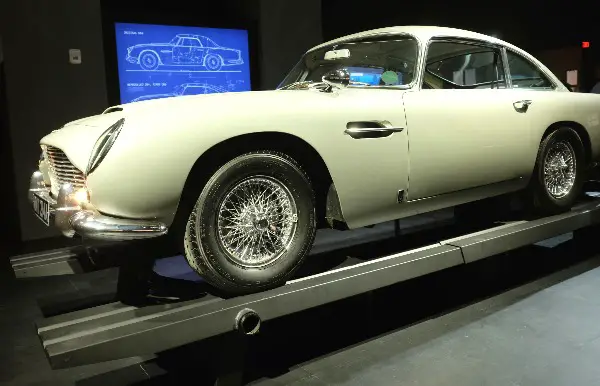 (Ongoing) You can experience the world of history's most famous spy at Driven: 007 x SPYSCAPE, a new exhibition inside New York's spy museum, SPYSCAPE. This immersive exhibition brings you into the Bond universe with sets, props, and insights about the creation of the ageless secret agent. Among the highlights: an Aston Martin DB5, the lab of Quartermaster (or Q), M16's gadget master, concept art from Oscar-winning production designer Sir Ken Adams, and an exploration of 2012 Bond film Skyfall's unforgettable final scene.
Things to Do in New York in December: Comedy
(12/5) Dan Perlman: Live Recording at Union Hall. 7pm & 9:30pm
(12/6-12/7) Tom Papa at Gotham Comedy Club.
(12/13-12/14) Jeff Dye at Gotham Comedy Club.
(12/13) Jerry Seinfeld at the Beacon Theatre, two shows.
(12/26-12/31) Sandra Bernhard presents Sandy's Holiday Extravaganza: A Decade of Madness and Mayhem at Joe's Pub. She's back for the 10th year in a row, where she'll weave her year-end tapestry, kick out the old, ring in the new and prepare you for 2020.  Along with the Sandyland Squad Band, she'll lift you up and soothe your frazzled holiday nerves.
Things to Do in New York in December: Kids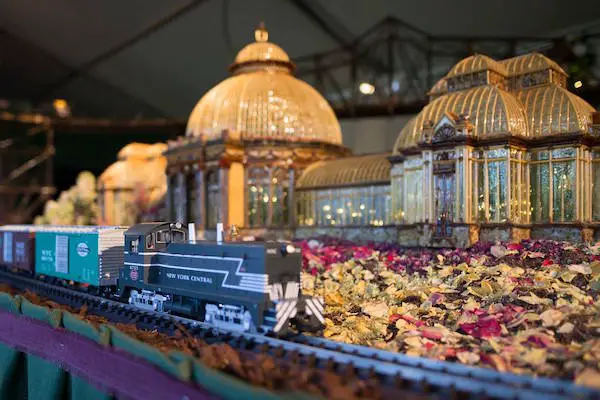 (11/23-1/26/20) The Holiday Train Show at The New York Botanical Garden. Enchanting model trains zip through a display of 150 landmarks, each re-created with bark, leaves, and other natural materials—all under the twinkling glow of the Enid A. Haupt Conservatory. Marvel at G-scale locomotives humming along among familiar sights such as the Brooklyn Bridge, Statue of Liberty, and Rockefeller Center on nearly a half-mile of track. 
PLUS
(12/7, 12/14) Lunch with Santa Cruise aboard Spirit of New York.  Enjoy a wonderful buffet and spend some scenic quality time with Santa. Boards 11:30am, sails noon-2pm.  From $64.90 pp.
(12/14) The NYRR Jingle Bell Jog at Prospect Park. "A Holiday Gift Wrapped as a Race": this festive family favorite is more than just a road race, it's also a celebration and a fundraiser for NYRR's youth programs. Not only does your entry fee snag you a holiday souvenir and post-race hot chocolate, the proceeds from this race fund youth running programs in schools all over the city! Give the Gift of Running Your race entry goes to support our youth programs year round. An additional $25 donation helps put new running shoes on deserving kids' feet, and further provides them with the access they need to run. With the additional $25 donation, donors will get a fun gift. You can donate at check out, or during bib pickup. Proceeds from the Jingle Bell Jog benefit NYRR's Youth Programs, which provide running programs and events for more than 250,000 children in schools across the United States.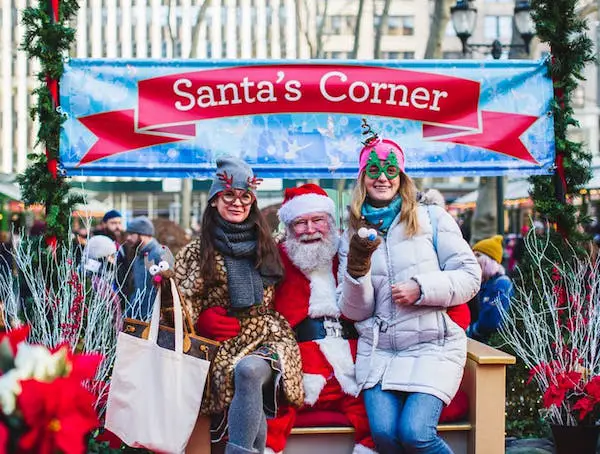 (12/14) Santa's Corner at Bryant Park. Santa will be stopping by Bank of America Winter Village at Bryant Park for photos! Bring your cameras, or you can download images. 1pm-3pm. 
Things to Do in New York in December: Food, Music & Nightlife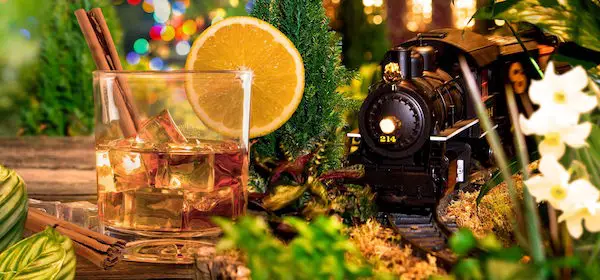 (12/7, 12/14, 12/20, 12/21, 12/27, 12/28; 1/3, 1/4, 1/11, 1/18) Bar Car Nights at New York Botanical Garden. On these nights exclusively for adults 21 and over, the wintry landscape of NYBG sets the scene for festive outdoor adventures, with an after-dark viewing of the Holiday Train Show® as the centerpiece. Sip a cocktail as you journey through a series of station stops, including pop-up acts featuring some of NYC's favorite street performers.
PLUS
(11/30, 12/1) A Pentatonix Christmas Tour at Radio City Music Hall.
(12/2) The Holiday Music of Mark Hayes and Pepper Choplin at Carnegie Hall. 
(12/2) Darlene Love: Love for the Holidays Show takes place at Sony Hall. 
(12/2) Cher: Here We Go Again Tour at Madison Square Garden. 
(12/2, 12/3, 12/5, 12/6) Bob Dylan and His Band at the Beacon Theatre. 
(12/6) Glitterbox NYC with Jellybean Benitez, Simon Dunmore, and Eli Escobar at House of Yes.
(12/6) She and Him: Christmas Party at Kings Theatre. 
(12/7) Rock n Roll Hall of Famer Denny Laine, founder of the Moody Blues, performs at Iridium. Denny and The Moody Wing Band will be performing "The Magnificent Moodies" album and the classic "Band On The Run albums in their entirety.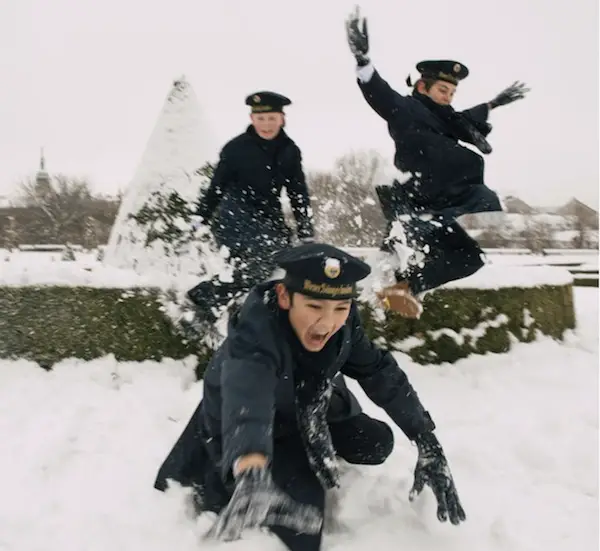 (12/8) Vienna Boys Choir: Christmas in Vienna at Carnegie Hall. 
(12/9-1/5) Chris Botti's 15th Annual Holiday Residency at the Blue Note Jazz Club.
(12/11) Billy Joel at Madison Square Garden. 
(12/11) Idina Menzel at Carnegie Hall. 
(12/11) Linda Lavin with Billy Stritch: No More Blues! at Birdland Jazz Club.
(12/12) Make Spirits Bright! Christmas with David Jeremiah at the Beacon Theatre. 
(12/12-12/29) 'Twas the Night Before Christmas, by Cirque du Soleil.
(12/13) Z100's Jingle Ball at Madison Square Garden with Taylor Swift, the Jonas Brothers, Camila Cabello, Halsey, 5SOS, Niall Horan, Lizzo, Dan + Shay, Monsta X, Lewis Capaldi, and Fletcher.
(12/13-12/14) New York Gay Men's Chorus presents its Annual Holiday Extravaganza concert at Skirball Center. With selections of everyone's favorites and important traditions all our own, this evening of sparkling entertainment shines with the powerful sound of nearly 300 voices. 8pm.
(12/13) Agnostic Front/Sick of It All at Black Thorn 51 in Queens.
(12/14) Los Lobos perform at the New York Society for Ethical Culture.
(12/14) Harry and the Potters' 10th Annual Yule Ball at The Bell House. All ages. 5:30pm.
(12/15) Mariah: All I Want for Christmas Is You Tour stops at Madison Square Garden. 
(12/15-1/4) Met Opera presents The Magic Flute.  A beloved holiday tradition continues as Mozart's delightful fairy tale returns in the Met's abridged, English-language version for families, perfect for younger audiences, with no intermission and a running time of less than two hours. Lothar Koenigs conducts a dynamic cast of standout Mozarteans in Julie Taymor's magical production, an enduring Met classic with its eye-popping puppetry and stunning visuals.
(12/16) Enjoy an evening of StarTalk Live with Neil DeGrasse Tyson at Town Hall. 
(12/16, 12/18, 12/19) Andrea Bocelli at Madison Square Garden. 
(12/17) Irish Tenors Christmas at Brooklyn Academy of Music. 
(12/18) Hot for the Holidays with Khalid, H.E.R., Aija, Kiana Lede, Layton Greene, The Bonfyre at Barclays Center. 
(12/18) Garrison Keillor's Prairie Home Companion Christmas Show at The Town Hall. The cast of "A Prairie Home Companion" reunites for a Christmas show all about coming together during these politically divisive times. The Royal Academy of Actors, Tim Russell and Sue Scott, join with the Guy's All-Star Shoe Band, sound effects wizard Fred Newman, writer/host Garrison Keillor, and vocalist Heather Masse to bring you the show you've been missing on your radio dial ever since Keillor's retirement in 2016. Expect witty scripts, parody songs, sweet duets, and of course, the latest News from Lake Wobegon.
(12/20) The Puss n Boots Christmas Extravaganza at the Music Hall of Williamsburg.
(12/20) A$AP Ferg: Floor Seats Tour at Terminal 5. 
(12/22-12/29) Yo La Tengo : Eight Nights of Hanukkah at Bowery Ballroom.
(12/26) WWE Live Holiday Tour at Madison Square Garden.
(12/28-12/31) Phish 2019-2020 NEW YEAR'S RUN at Madison Square Garden.
(12/30-12/31) Macy Gray for two performances, including New Year's Eve, at The Iridium.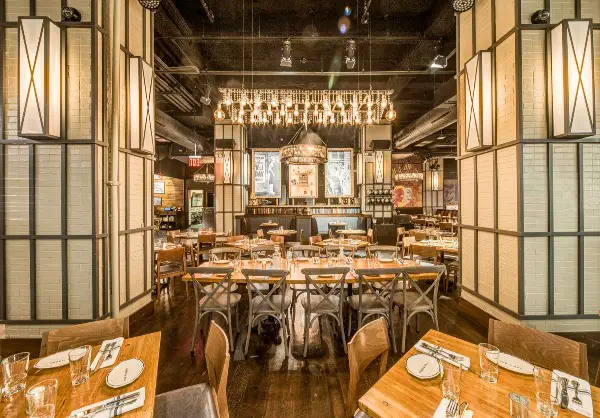 (12/31) Celebrate New Year's Eve at Times Square favorite The Ribbon! The night includes an open bar, a four-course dinner, dancing with DJ Nick Russo, and an escort to nearby Times Square to watch the ball drop. The perfect spot to ring in 2020!
(12/31) New Year's Eve with The Strokes & Mac DeMarco at Barclays Center.
(12/31) New Year's Eve with Kaskade at Terminal 5. Open Bar, 21+.
(12/31) Annaleigh Ashford on New Year's Eve at 54 Below.
(12/31) New Year's Eve at The Oyster House. Enjoy a four hour premium open bar with stunning harbor views, fireworks at midnight, celebratory cocktails created by house mixologists, hors d'oeuvres, a midnight Champagne toast, and our famous NYE late night pizza and dessert bar. Open bar. 9pm-1am. $110. 
Do It for the Gram: 24 Instagrammable Exhibits in NYC
Things to Do in New York in December: Sightseeing/Markets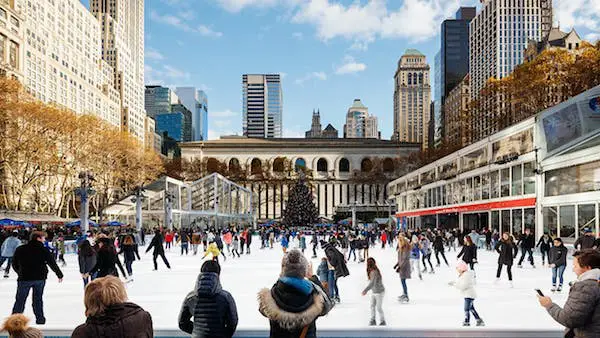 Colin Miller.
(10/31-1/5/20) Bryant Park's Winter Village returns. Ice skating, shopping, hot chocolate and other tasty treats, and more! 
(11/21-1/5) Bronx Zoo Holiday Lights. Highlights will include The Ice Jubilee (Ice Bar, Ice Throne & Ice Slide (December 21 to 31) , nightly ice carving demonstrations , an Ice Carving Competition (December 28), carolers, characters, train rides and lantern safari, and more.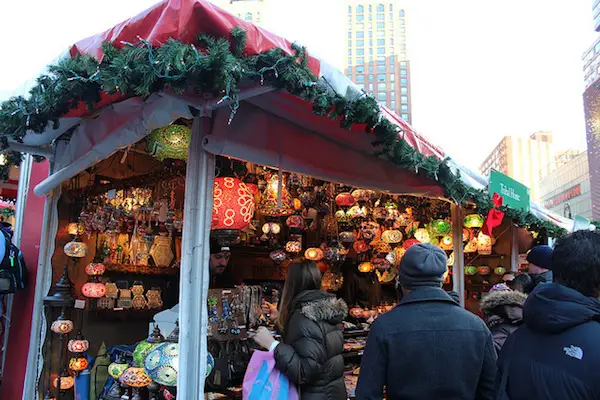 Union Square Market. Photo: flickr/Shinya Suzuki.
(11/21-12/24) Union Square's Holiday Market. urbanspacenyc.com
(11/18-12/24) The Grand Central Holiday Fair returns to Grand Central Terminal with 40+ artisans in Vanderbilt Hall selling art and home goods; holiday-themed items; bath and body products; toys; and clothing and accessories for men, women, and children. The Holiday Fair is open Monday through Friday, 10am-8pm, until 7pm Saturdays, and 11am-6pm Sundays. Closed Thanksgiving and open 10am-6pm on Christmas Eve.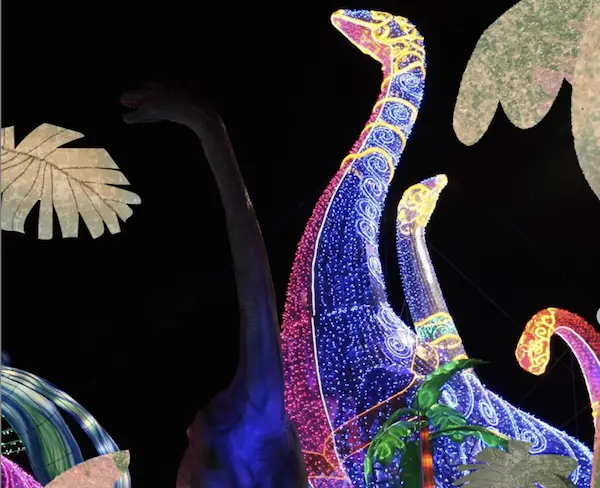 (11/23-1/5) LuminoCity Festival at Randall's Island is a Iight festival/immersive art experience spanning 16 acres with three theme parks: Winter Fantasy, Wild Adventure, and Sweet Dream, highlighted with over 23 sets of larger-than-life light art displays, a holiday night market and four special themed nights featuring live performances and interactive programming, starting with a All-Day Cosplay event on 11/30.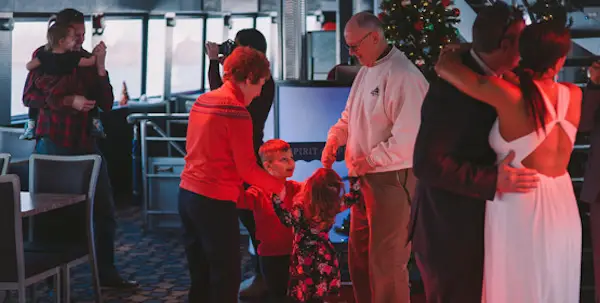 Throughout December, Spirit of New York offers a series of Jingle Bells Lunch and Holiday Lights Dinner cruises, departing from Chelsea Piers. Jingle Bell Lunch Cruises sail from noon-2pm, from $67.90 per person; their Holiday Lights Dinner Cruise sails from 7pm-9:30pm, from $119.90 per person. spiritofnewyork.com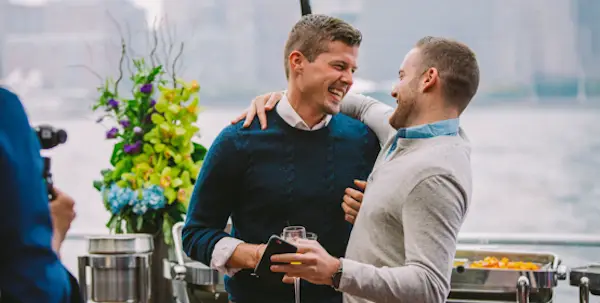 Throughout December, Bateaux New York offers a Holiday Lights Dinner Cruise, sailing from 7pm-10pm. Includes a three course dinner, an acoustic quartet and piano performance, and panoramic views. There is also a Christmas Eve Dinner Cruise, from 7pm-10pm, From $149.90. Grab the gang for the Holiday Bottomless Mimosa Brunch on Sundays, starting at $94.90.  Ring in the new year with their New Year's Eve Cruise, from 9pm-1am, starting at $599.90. bateauxnewyork.com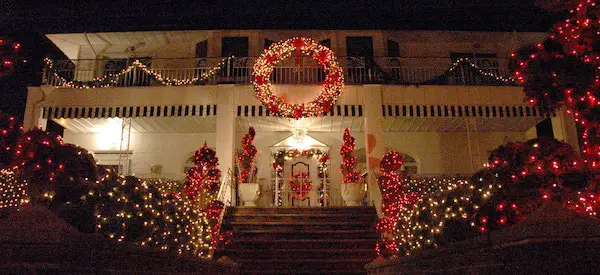 Throughout month of December, check out A Slice of Brooklyn's Holiday Lights Tour, which goes through Dyker Heights, Brooklyn, a neighborhood full of eye-popping displays. Offered every day except Christmas Day. Stock up on holiday treats and gifts on A Slice of Brooklyn's Chocolate Tour as well, offered every Monday, Wednesday, and Friday. 
Things to Do in New York in December: Shows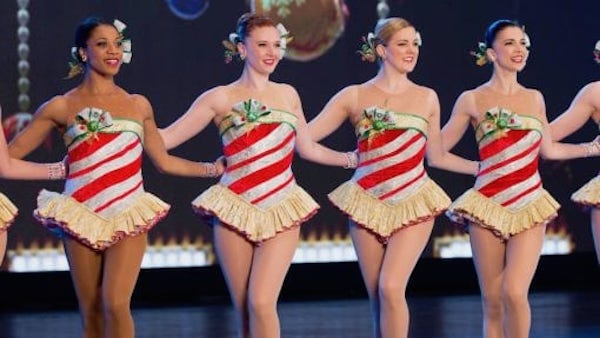 (11/8-1/5/20) Christmas Spectacular Starring the Radio City Rockettes® returns to dazzle for another holiday season! The 90-minute show features more than 140 performers and an original musical score and combines singing, dancing, and humor with traditional scenes.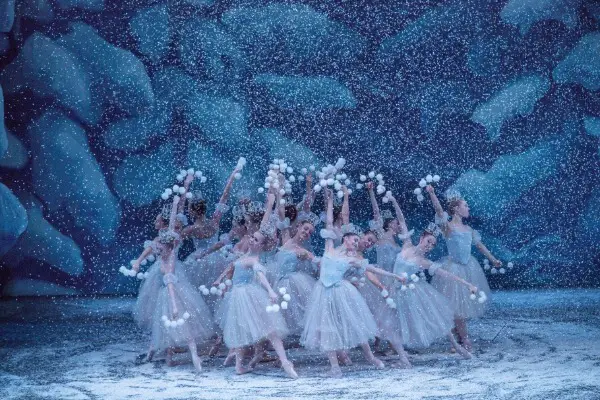 Photo credit: © Paul Kolnik
(11/29-1/5 ) Tchaikovsky's beloved melodies transport viewers to a world where mischievous mice besiege a battalion of toy soldiers, and an onstage blizzard leads to an enchanted Land of Sweets. George Balanchine's The Nutcracker at nycballet.com.
Things to Do in New York in December: Ongoing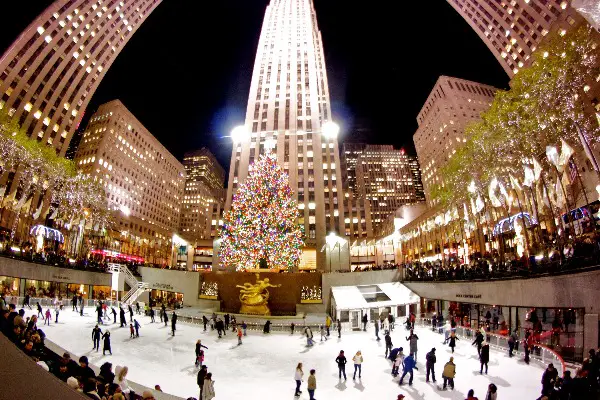 The iconic Rockefeller Center Ice Skating Rink, now in its 82nd year, is the most famous patch of ice in the world. Take advantage of a package deal, like Apres Skate (appetizers and drinks) or a Starlight Skate on the night's last session.
Things to Do in New York in December: New Year's Eve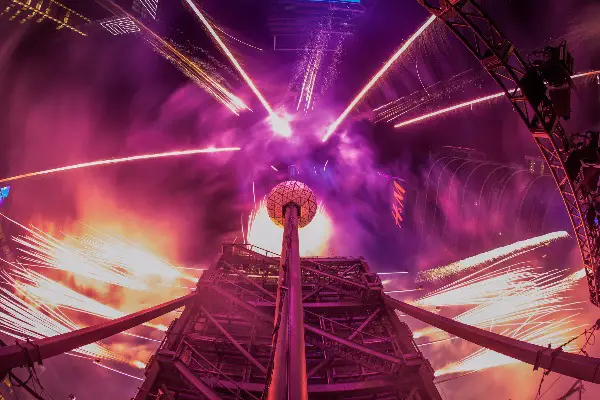 Image: Anthony Quintano/Flickr.

(12/31) There is no minute of the year quite as exciting as 11:59pm on December 31st in Times Square. The Times Square New Year's Eve Celebration and Ball Drop is easily the most famous NYE celebration in the world. A million people join together to celebrate this event, and over a billion people will watch it on television. If you're planning to go, dress warmly, bring something to eat, and be sure to get there early (before 5pm). Times Square is the most famous destination, although the sheer number of participants can make it a bit of a headache (you need to get there hours early and there's no alcohol allowed). There are many, many alternatives. 

(12/31) Ring in the New Year with Spirit of New York New Year's Eve Fireworks Dinner Cruise.
(12/31) NYRR Midnight Run 2019. Kick off the New Year at the Midnight Run! Join the fun and celebrate with music and dancing (starting at 10pm) as 2019 comes to a close. With a countdown to midnight beginning at 11:59 p.m., the four-mile run will begin on the stroke of midnight, as will a spectacular fireworks display to light up the night and the start of 2020. nyrr.org
(12/31) St. John the Divine's New Year's Eve Concert for Peace. Founded by Leonard Bernstein in 1984, the annual New Year's Eve Concert for Peace is a signature Cathedral event, gathering old friends and new for more than a quarter of a century. The music, the candles, and the spirit of peace send audiences out into the chill January night with renewed hope for the world we share. Harry Smith hosts special guests Paul Winter, Janet Pittman, Jason Robert Brown, and David Briggs. 7pm. General admission free tickets required. 
Make sure to check out our favorite 10 Seasonal Pop Up Holiday Bars in NYC.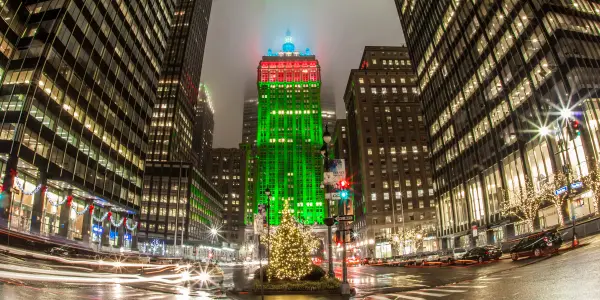 Image: Anthony Quintano/Flickr.
New York Weather in December
Winter solstice in New York takes place on December 21st, 2019, but the last three weeks of autumn leading up to the season change tend to be pretty brisk. Days have gotten short, with the 21st roughly coinciding with the longest night of the year. Lows average around 32 degrees Fahrenheit, with average highs around 43. You can expect some outlier days, warmer or colder, with extremes of weather (wind, snow, sleet, freezing rain) becoming more likely as the month goes on. You will want to pack your heaviest jacket, as well as gloves, hats, scarves, and maybe a (stylish) pair of boots, too. A white Christmas? The chance for an inch of snowfall on December 25th is exactly 10%.