The list of things to do in New York in December is long and varied. From perennial favorites like the lighting of the Rockefeller Christmas Tree to the Holiday Train Show at The New York Botanical Garden, it's a magical time of year to be in NYC! (Updated for 2018.)
The Big Event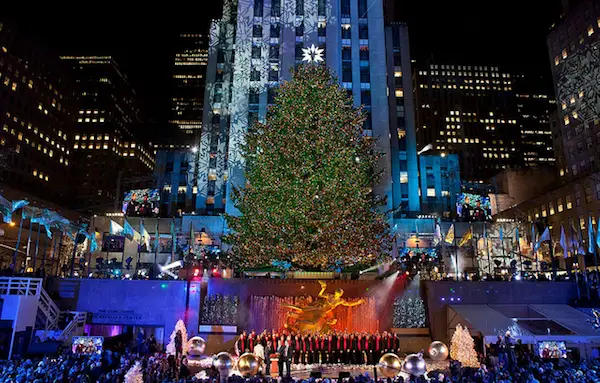 (11/28-1/7/19) The Rockefeller Center Christmas Tree Lighting for 2018 takes place on Nov. 28th, but you can appreciate its majestic beauty throughout December. The towering tree in Rockefeller Center is a global symbol of the holiday spirit. rockefellercenter.com
(12/2-12/10) Annual Lighting of the World's Largest Hanukah Menorah. This whopping 32-foot-high, two-ton menorah is set up at Grand Army Plaza in midtown (Fifth Avenue and 59th Street), with lightings for the nights of Hanukah December 2nd through 10th. It remains lit through Jan. 1.
(12/3) Latke Festival at Brooklyn Museum. Now in its 10th year, the Latke Festival is a charity event organized by Great Performances Catering that celebrates the best and most creative potato pancakes in our city. All net proceeds benefited The Sylvia Center, a nonprofit dedicated to teaching healthy eating habits to children and their families, with programs in New York City and at Katchkie Farm in Kinderhook, NY. 6:30pm-8:30pm.
(12/4) For Bryant Park Winter Village's Tree Lighting and Skate-tacular this year, actor Alan Cumming will be in charge of festivities, with ice skating performances by Olympian skaters Johnny Weir, Kaetlyn Osmond, Megan Duhamel, Eric Radford and Jeremy Abbott. Each year, skaters do a performance of "The Lights Before Christmas," an original story about the Light family, a group of characters made out of light. New Yorkers (the skaters) show Star, the youngest member of the family, how to shine. 6pm.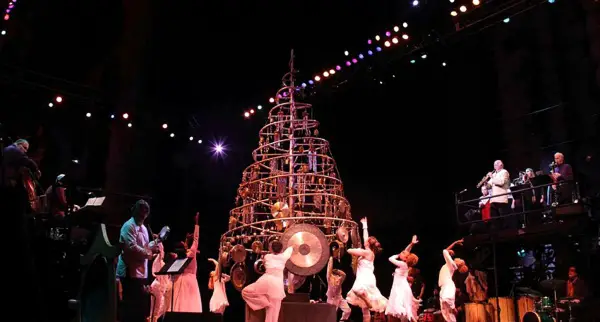 (12/20-22) Paul Winter's 39th Annual Winter Solstice Celebration takes advantage of the acoustics of the world's largest cathedral, St. John the Divine's on the Upper West Side. This favorite city multimedia event will this year feature the 10-member Paul Winter Consort, gospel singer Theresa Thomason, and the 25 dancers and drummers of the Forces of Nature Dance Theatre. There are four performances over three days.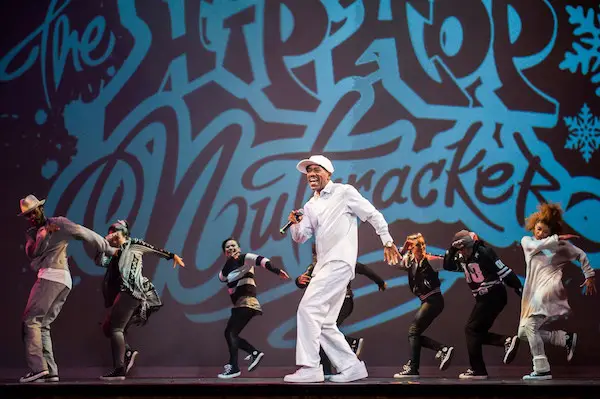 (12/23) The Hip Hop Nutcracker at Brooklyn's Kings Theatre. Celebrate the holiday season with NJPAC's very own holiday smash—an urban dance retelling of the timeless fairy tale, featuring rap legend Kurtis Blow as special guest MC. The Hip Hop Nutcracker resets Tchaikovsky's classic score to explosive hip-hop choreography courtesy of Jennifer Weber. A dozen all-star dancers—plus a DJ, a violinist, and awesome digital scenery—bring the traditional Nutcracker story to new life, but with a distinctly urban twist. This evening-length show celebrates love, community and the magic of the holiday season. Doors open, 5pm, show, 6pm.
(12/24) Christmas Eve Services at St. Patrick's Cathedral 5:30pm and *midnight. (*Free, but tickets required.)
(12/29) Kwanzaa Celebration: Regeneration at the Apollo Theater, 2pm and 7:30pm. Featuring Abdel Salaam's Forces of Nature Dance Theatre. Since 2006, the Apollo has established an annual show to celebrate this holiday tradition on one day of the Kwanzaa holiday. The Apollo's celebration is a joyful evening of dance and music honoring the principles of Kwanzaa—family, community, and culture.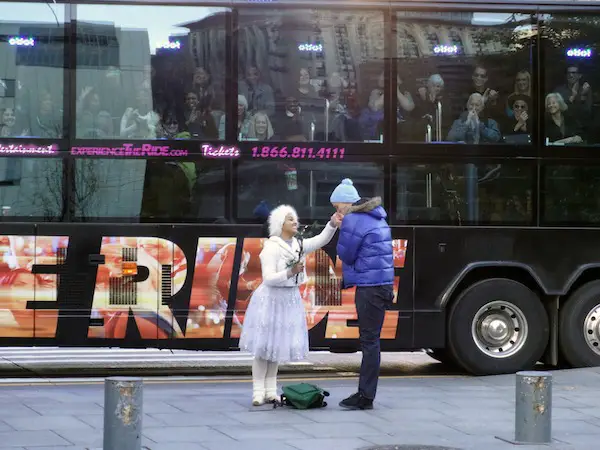 (Ongoing) THE RIDE returns to turn the streets of New York into a stage. You'll cruise in comfort in a patented $1.5 million travelling theater. Technology galore and floor-to-ceiling glass with side-facing VIP seating provide perfect views to dazzling holiday performances you'll find along a 4.2-mile journey through Manhattan. Original seasonal music, videos, and hilarious hosts complete the experience, definitely one to remember. 234 W. 42nd St. (btw. Seventh & Eighth Aves.), 212-221-0853, theridenyc.com Now through 1/6, Use City Guide's coupon here and save $20!!
Things to Do in New York in December: Exhibits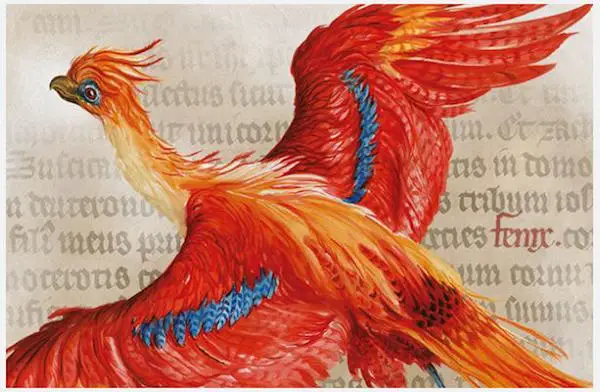 (Now-1/27/19) Harry Potter: A History of Magic arrives at the New-York Historical Society. In celebration of the 20th anniversary of the U.S. publication of J.K. Rowling's Harry Potter and the Sorcerer's Stone, New-York Historical will display illustrator Brian Selznick's artwork, which will appear on the covers of the Harry Potter series to be published by Scholastic later this year. Also on view to the public for the first time will be Mary GrandPré's illustrations created for Scholastic's original editions of the novels. Costumes and set models from Harry Potter and the Cursed Child, which opened on Broadway in April, will be showcased in the exhibition. A long list of events will take place in conjunction with the exhibit, including trivia night, talks, an adult costume party, and more. nyhistory.org
PLUS
(11/23-12/31) The first-ever WinterFest at the Brooklyn Museum will feature a wide variety of attractions including a Vinopolis Wine Tasting Experience, a beer garden, an enchanted tree maze, and Santa Land, where the little ones can pose for photos, enjoy story time and snacks, an interactive chocolate dome, a giant snowglobe, a spectacular menorah, food, beverages, and more.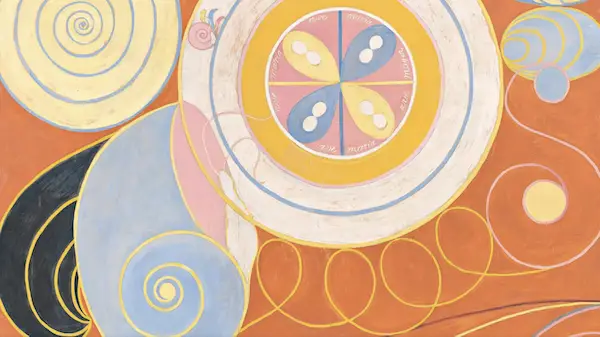 Group IV, the Ten Largest, No. 3, Youth, 1907, from Untitled Series. Photo: Albin Dahlström, Moderna Museet, Stockholm
(Now-2/3/19) Before abstract art was a speck in Kandinsky's eye, the painter Hilma af Klint (1862-1944) was pioneering non-representational painting in Sweden. A spiritualist who claimed to communicate with the dead, af Klint worked in near-obscurity, forbidding her paintings to receive public exposure until 20 years after her passing. Discover Hilma af Klint, a woman before her time, at the new Solomon R. Guggenheim Museum exhibition Hilma af Klint: Paintings for the Future. Over 170 of af Klint's non-figurative paintings are on display, richly colored and often staggering in scale. Many pieces play with geometry and floral shapes that seem to swim across the canvas. As af Klint worked on her series The Paintings for the Temple, she envisioned a spiral temple as their eventual home. She got her wish over a century later with this eye-opening exhibition at the Guggenheim.


(Now-1/6/19) Delacroix at the Metropolitan Museum of Art. This is the first comprehensive U.S. retrospective of the work of French artist Eugene Delacroix (1798-1863). The Met has teamed up with The Louvre, showcasing in chronological order some 150 pieces, including paintings, drawings, manuscripts, and prints.
(Now-3/31/19) Andy Warhol—From A to B and Back Again at The Whitney. This exhibition—the first Warhol retrospective organized by a U.S. institution since 1989—reconsiders the work of one of the most inventive, influential, and important American artists. Building on a wealth of new materials, research and scholarship that has emerged since the artist's untimely death in 1987, this exhibition reveals new complexities about the Warhol we think we know, and introduces a Warhol for the 21st century.

(Now-6/23/19) A City for Corduroy: Don Freeman's New York, now open at the Museum of the City of New York, presents the gamut of Freeman's New York work, from his lively and humane depictions of ordinary New Yorkers and the city in the 1930s, to his illustrated scenes of the Broadway backstage, to his children's books inspired by the city, including not just the beloved children's Corduroy books but also Pet of the Met and Hattie the Backstage Bat. The exhibition features drawings, paintings, publications, and prints, as well as the artist's original studies and sketches of Corduroy and other characters.
(Now-2/3/19) Even over a century after his birth, Dutch artist M.C. Escher (1898-1972) continues to astound. Catch more than 200 of Escher's mind-bending works at Escher: The Exhibition & Experience in Brooklyn's Industry City. Exploring the intersection of art, mathematics, science, and poetry, the exhibition will feature interactive immersive experiences that bring the artist's optical illusions to life. eschernyc.com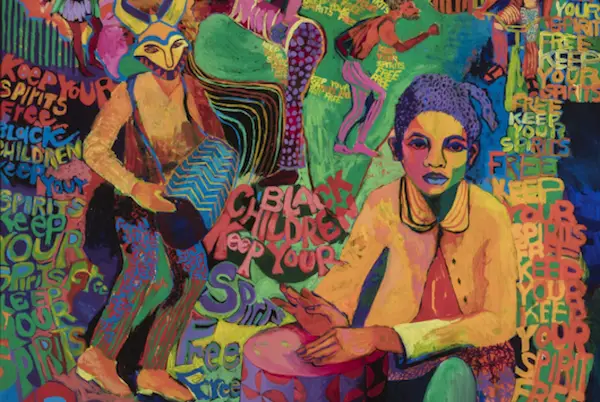 Carolyn Lawrence, Black Children Keep Your Spirits Free. The exhibition, which opens September 14, presents a wide range of painting, photography, and sculpture from over 60 artists on the fourth and fifth floors of the museum. Photo by Michael Tropea.
(Now-2/3/19) Soul of a Nation: Art in the Age of Black Power Proponents of Black Power had no better advocates than the artists among their ranks. Painters, sculptors, and performance artists rose up during this era to make protest art that spoke to the black experience in America and critiqued the white establishment that resisted them. Soul of a Nation: Art in the Age of Black Power at the Brooklyn Museum features over 150 works of art inspired by this vital sociopolitical movement.
(Now-12/9) Rivers and Torrents: Oil Sketches from the Thaw Collection at the Morgan Library. Even advanced painters struggle to capture moving water in their work. The play of light on the ripples, the wind on the surface, the current moving it all along—it's one of the many reasons we're all captivated by Monet's Water Lilies. See the work of other artists from the 19th century onward through oil studies of Rivers and Torrents. Click here for more about exhibits at Morgan Library.
(Permanent) The Jim Henson Exhibition at the Museum of the Moving Image will celebrate the life and legacy of the famed Muppet creator, exploring both his prolific career and the enduring effect his work has on pop culture to this day. Visitors can expect to learn more about the creation of such beloved works as The Muppet Show, Sesame Street, Fraggle Rock, The Dark Crystal, and Labryinth, as well as to discover the cutting-edge experimental works Henson made throughout his career.
(Permanent)
The Museum of the City of New York
presents
NY at Its Core
.
Ten years in the making,
New York at Its Core
presents the compelling story of New York's rise from a striving Dutch village to today's "Capital of the World." The exhibition captures the human energy that drove New York to become a city like no other and a subject of fascination the world over. Entertaining, inspiring, important, and at times bemusing, New York City "big personalities," including Alexander Hamilton, Walt Whitman, Boss Tweed, Emma Goldman, JP Morgan, Fiorello La Guardia, Jane Jacobs, Jay-Z, and dozens more, parade through the exhibition
.
Things to Do in New York in December: Comedy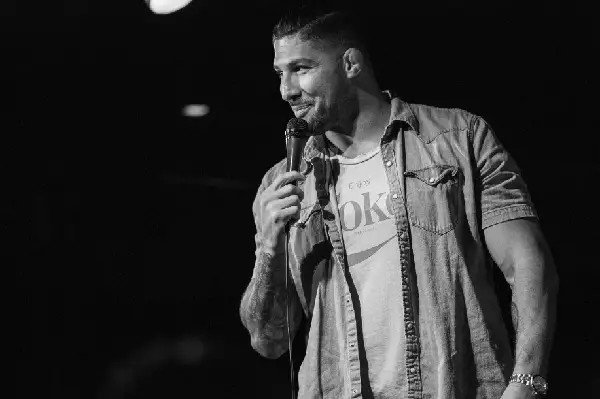 (12/1) Brendan Schaub at Gotham Comedy Club.
PLUS
(12/1-12/2) Netflix Special The Vagabond with Mo Amer at Carolines.
(12/7-12/8) Tom Papa at Gotham Comedy Club.
(12/13-12/16) SNL's Jay Pharoah at Carolines.
(12/14-12/15) Roy Wood, Jr. at Gotham Comedy Club.
(12/21-12/22) Chris DiStefano at Gotham Comedy Club.
(12/22) Todd Barry at City Winery The Loft.
(12/24) A Very Jewish Christmas at Gotham Comedy Club.
(12/31) Snoop Dogg at Terminal 5.
Things to Do in New York in December: Kids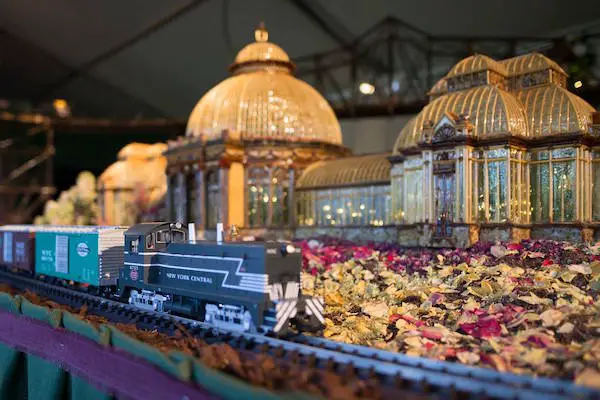 (11/17-1/21/19) The Holiday Train Show at The New York Botanical Garden. Enchanting model trains zip through a display of 150 landmarks, each re-created with bark, leaves, and other natural materials—all under the twinkling glow of the Enid A. Haupt Conservatory. Marvel at G-scale locomotives humming along among familiar sights such as the Brooklyn Bridge, Statue of Liberty, and Rockefeller Center on nearly a half-mile of track.
PLUS
(12/1) The NYRR Jingle Bell Jog at Prospect Park. "A Holiday Gift Wrapped as a Race": This festive family favorite is more than just a road race, it's also a celebration and a fundraiser for NYRR's youth programs. Not only does your entry fee snag you a holiday souvenir and post-race hot chocolate, the proceeds from this race fund youth running programs in schools all over the city! Give the Gift of Running Your race entry goes to support our youth programs year round. An additional $25 donation helps put new running shoes on deserving kids' feet, and further provides them with the access they need to run. With the additional $25 donation, donors will get a fun gift. You can donate at check out, or during bib pickup. Proceeds from the Jingle Bell Jog benefit NYRR's Youth Programs, which provide running programs and events for more than 250,000 children in schools across the United States.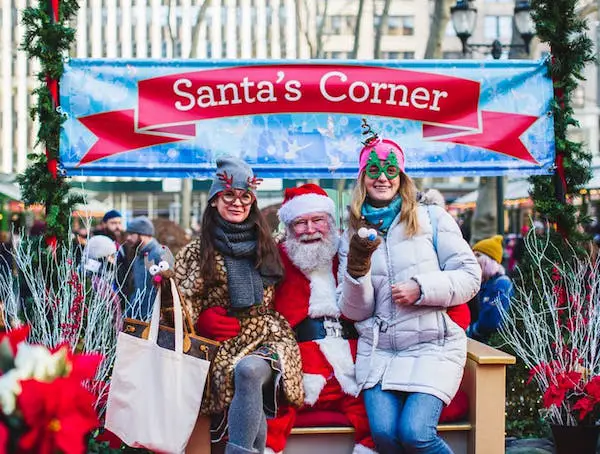 (12/16-12/18) Santa's Corner at Bryant Park. Santa will be stopping by Bank of America Winter Village at Bryant Park for photos! Bring your cameras, or you can download images. 1pm-3pm.
(12/27) Harlem Globetrotters at Barclays Center.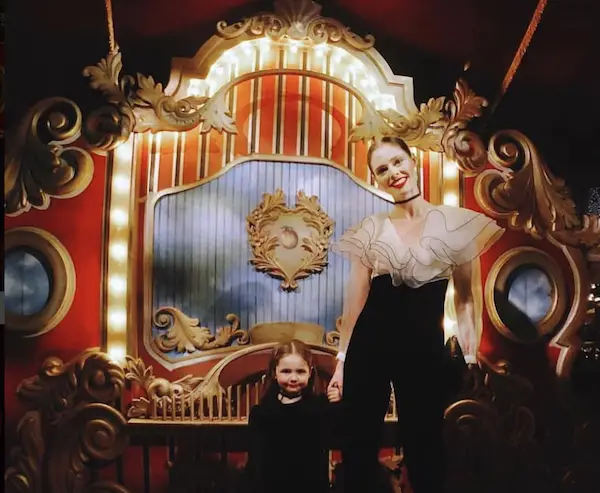 (Now-1/27/2019) Big Apple Circus at Lincoln Center's Damrosch Park is back, and while it's still appealing for kids, it's gotten a makeover, making a concerted effort to appeal to young and old alike, with a selection of high end cocktails now on sale, a VIP tent, new performers, and more. bigapplecircus.com
Things to Do in New York in December: Music & Nightlife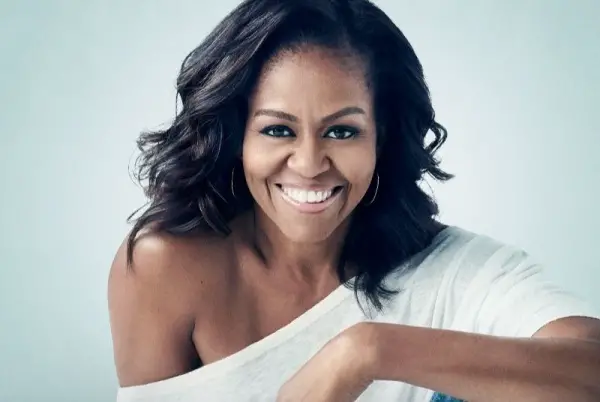 (12/1, 12/19) An Intimate Conversation with Michelle Obama at Barclays Center. Michelle Obama's live U.S. book tour is in support of her highly anticipated memoir, BECOMING. The events will feature conversations between Mrs. Obama and a selection of to-be-announced moderators, reflective of the extraordinary stories shared in the wide-ranging chapters of her deeply personal book. Attendees will hear firsthand Mrs. Obama's intimate reflections on the experiences and events, both public and private, that have shaped her, from her childhood on the South Side of Chicago to her years as an executive balancing the demands of motherhood and work, to her years spent at the most famous address in the world.
PLUS
(12/4) Rufus Wainwright at Beacon Theater.
(12/4) WhiskyFest at the New York Marriott Marquis. Meet the whisky distillers, master blenders, and other whisky experts who will be in attendance. This is your chance to taste from a selection of single malt and blended Scotch, Irish, bourbon, rye, Tennessee, Japanese, Canadian, and craft-distilled whiskies, all assembled in one Grand Ballroom. High-end rum, cognac, and other spirits will be available as well.
(12/7) iHeartRadio Jingle Ball with Cardi B, Shawn Mendes, Camila Cabello, and more, at Madison Square Garden.
(12/7) Friday Night Live: A Chanukah Extravaganza with Peter Yarrow at The Temple Emanu-El (FREE). Reservations required.
(12/8) Cyndi Lauper at the Beacon Theater.
(12/9) Crooner Maxwell at the Beacon Theater.
(12/10-12/11) Mumford & Sons with Maggie Rogers at Madison Square Garden.
(12/12-12/13) Andrea Bocelli performs at Madison Square Garden.
(12/16-12/1) Los Lobos at City Winery.
(12/14-12/15) Manchester Orchestra & The Front Bottoms at Brooklyn Steel.
(12/16) Vienna Boys Choir at Carnegie Hall.
(12/14-12/16) Gay Men's Chorus Comfort & Joy at Skirball Center for the Performing Arts
(12/16) Noel Nights: Rufus and Martha Wainwright and Family and Friends at The Town Hall.
(12/18) Cat Power at Brooklyn Steel.
(12/19) Billy Joel at Madison Square Garden.
(12/1, 12/7-12/8, 12/21-12/22, 12/28-12/29, 1/5, 1/9) In tandem with The New York Botanical Garden's Train Show, grab a friend or date for Bar Car Nights, On these nights exclusively for adults 21 and over, the wintry landscape of NYBG sets the scene for festive outdoor adventures, with an after-dark viewing of the expanded Holiday Train Show as the centerpiece. Sip a cocktail as you journey through a series of station stops, including pop-up acts featuring some of NYC's favorite street performers. 7pm-10:30pmpm.
(12/27-12/30) Thursday at Music Hall of Williamsburg.
(12/29) Dar Williams: Christians, Pagans, and Other Hipsters at The Bell House.
(12/28-12/31) Phish ring in the new year at Madison Square Garden.
(12/28) A Gay Show for All People: Holiday Spectacular at The Bell House. With Aaron Jackson, Josh Sharp, Jaboukie Young-White, Naomi Ekperigin, Nathan Lee Graham, Pat Regan, Amy Jo Jackson, Erin Markey, Sydnee Washington, Henry Koperski and His Straights. 8pm.
(12/31) House of Yes New Year's Eve Celebrations . Twice is nice! Get all gussied up for Prohibition Disco, a Roaring Twenties-themed party starting at 9pm. Period-appropriate dress is encouraged, and musical guests will include Kidnap, Kat Cunning, Mira Fahrenheit, and Mike Swells. The invite also promises burlesque broads, a makeup station, and women of ill repute. New New Year's Eve, on the other hand, is expected to be a very 21st-century party, with luxury cuddle puddles and body art. There will also be living sculptures, dancing, and a healing lounge. houseofyes.org 21+
(12/31) New Year's Eve with Chris Botti at Sony Hall.
(12/31) David Guetta at Brooklyn Warehouse. Two-time Grammy award winner David Guetta will bring down the house for the new year. It's set to be an EDM extravaganza for ages 18 and up, thrown by Light & Life. A range of tickets, including VIP tables, are available and going fast. $109-199. 9pm. Location TBD, tixr.com
Read about 10 Concerts to Ring in the Holidays here!
Read more about Seasonal Holiday Bars in NYC here!
Color Factory, Candytopia, Sugar and Spice, and more! Do It for the Gram: NYC's Most Instagrammable Exhibits!
Things to Do in New York in December: Sightseeing/Markets
(Now-3/3/19) Bank of America Winter Village at Bryant Park is back! Ice skating, shopping, hot chocolate and other tasty treats, and more! wintervillage.org
(Through 12/24) The Grand Central Holiday Fair is open from Monday, November 12 through Sunday, Christmas Eve, with Grand Central Terminal hosting 40 artisans in Vanderbilt Hall selling art and home goods; holiday-themed items; bath and body products; toys; and clothing and accessories for men, women, and children. The Holiday Fair is open Monday through Friday, 10am-8pm, until 7pm Saturdays, and 11am-6pm Sundays. Closed Thanksgiving and open 10am-6pm on Christmas Eve.
For more on holiday markets in NYC, click here.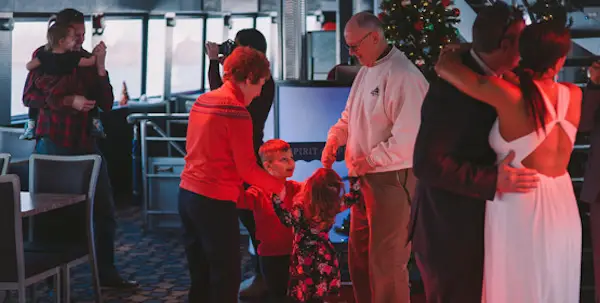 (12/1-12/28) Spirit of New York offers a series of December Holiday Lights, Christmas Eve Lunch and Dinner cruises, departing from Chelsea Piers. Jingle Bell Lunch Cruises sail from noon-2pm, from $64.90 per person; their Holiday Lights Dinner Cruise sails from 7pm-9:30pm, from $119.90 per person. spiritofnewyork.com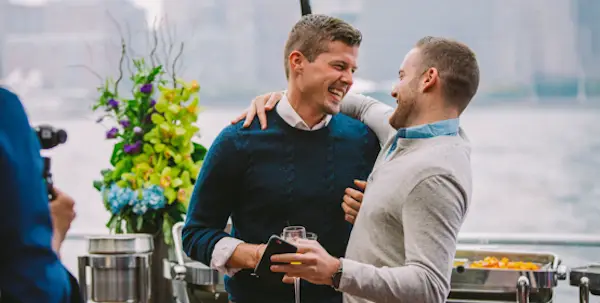 (12/1-1/1) Bateaux New York offers Holiday Lights Dinner Cruise, sailing from 7pm-10pm. Includes a three course dinner, an acoustic quartet and piano performance, and panoramic views. From $149.90. Grab the gang for the Holiday Bottomless Mimosa Brunch, starting at $94.90. Ring in the new year with their New Year's Eve Cruise, from 9pm-1am, starting at $599.90. bateauxnewyork.com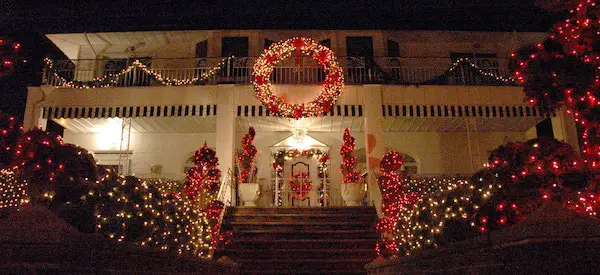 Throughout month of December, check out A Slice of Brooklyn's Holiday Lights Tour, which goes through Dyker Heights, Brooklyn, a neighborhood full of eye-popping displays. Offered every day except Christmas Day. Stock up on holiday treats and gifts on A Slice of Brooklyn's Chocolate Tour as well, offered every Monday, Wednesday, and Friday.
Things to Do in New York in December: Shows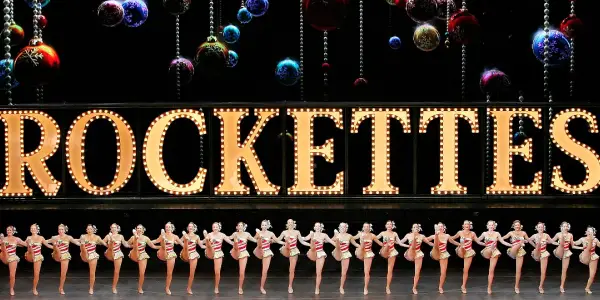 (11/9-1/1/19) The NYC perennial holiday favorite Christmas Spectacular Starring The Radio City Rockettes® returns. Fan favorites include "New York at Christmas," where the Rockettes® board a real double-decker bus, and the high-energy tap number "Twelve Days of Christmas." Of course, beloved classics like "The Parade of the Wooden Soldiers" and "The Living Nativity" will also be back. rockettes.com/christmas
Photo credit: © Paul Kolnik
(11/23-12/30) Dreams come to life when Tschaikovsky's iconic melodies begin to play. As the clock chimes midnight, a brave young girl turns the tide in a battle between toy soldiers and mischievous mice, and a blizzard of ballerinas reveal a wonderful world of confection. This holiday season, be swept away by the magic of George Balanchine's The Nutcracker®, performed by the world-renowned New York City Ballet. The New York Times says, "Balanchine's classic production felt like coming home." David H. Koch Theater, 20 Lincoln Center, nycballet.com/nutcracker
Things to Do in New York in December: Ongoing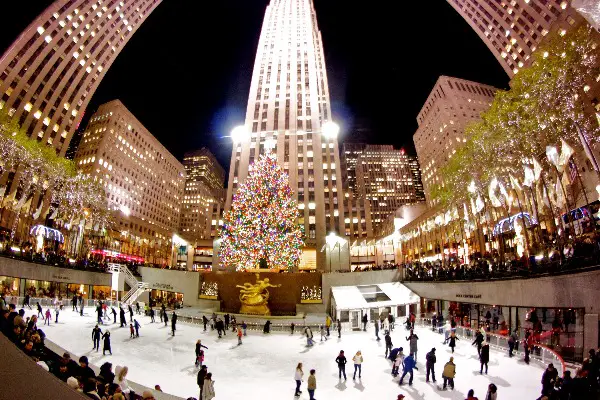 The iconic Rockefeller Center Ice Skating Rink, now in its 82nd year, is the most famous patch of ice in the world. Take advantage of a package deal, like Apres Skate (appetizers and drinks) or a Starlight Skate on the night's last session.
Things to Do in New York in December: New Year's Eve

December 31st, 2018. New Year's Eve is New York's biggest celebration. Times Square is the most famous destination, although the sheer number of participants can make it a bit of a headache (you need to get there hours early and there's no alcohol allowed). There are many, many alternatives.
(12/30-1/1) Spirit of New York is offering a 20% discount on their New Years Eve Family Lunch (from $52.90) Eve of the Eve Dinner Cruises (from $111.90), or New Years Eve Fireworks Cruise, from $279.90 per person, 10pm-1am. New Year's Day Lunch and Dinner cruises also available, $59.90-$104.90 All ages welcome, bar, 21+. For discount, must book by 11/15. spiritofnewyork.com
(12/31) NYRR Midnight Run 2018 Kick off the New Year at the Midnight Run! Join the fun and celebrate with music and dancing (starting at 10:00 p.m.) as 2017 comes to a close. With a countdown to midnight beginning at 11:59 p.m., the four-mile run will begin on the stroke of midnight, as will a spectacular fireworks display to light up the night and the start of 2018. nyrr.org
(12/31) St. John the Divine's New Year's Eve Concert for Peace. Founded by Leonard Bernstein in 1984, the annual New Year's Eve Concert for Peace is a signature Cathedral event, gathering old friends and new for more than a quarter of a century. The music, the candles, and the spirit of peace send audiences out into the chill January night with renewed hope for the world we share. With guests With guests Judy Collins, Jason Robert Brown, Paul Winter, and host Harry Smith. 7pm. General admission free, tickets required.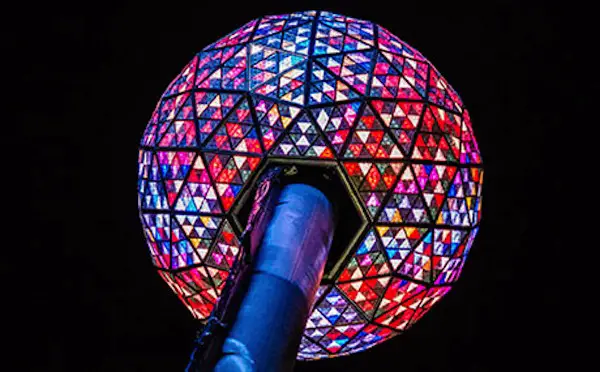 (12/31) The clock will strike midnight, the ball will drop, kisses will be exchanged, and the promise of a New Year will light up the night sky. If there's any town that can be trusted to get New Year's right, it's New York City, where the Times Square New Year's Eve Celebration and Ball Drop provides a focal point for the entire world. Get there hours early if you want to be close to the center of the action as the city counts down to 2018. newyearseve.nyc
Every year, at 11:59pm on December 31st, people from all over the world are focused on the Times Square New Year's Eve Ball. Millions of voices unite to count down the final seconds of the old year and celebrate the beginning of the new. Now you can get up close and personal with the Times Square New Year's Eve Ball at Ripley's Believe It or Not—Times Square any day of the year! Press the button yourself and ring in the New Year. A home to rare artifacts and thrilling interactive exhibits, Ripley's is for anyone who wants to immerse themselves in the unexpected and the unbelievable.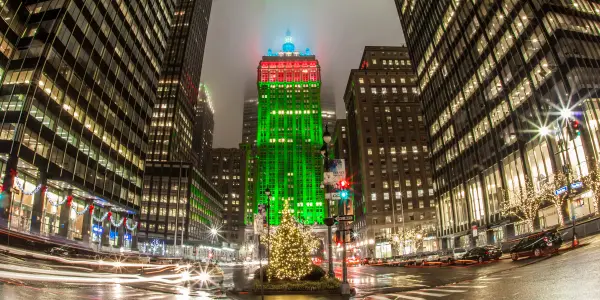 Image: Anthony Quintano/Flickr
New York Weather in December
Winter solstice in New York takes place on December 21st, 2018, but the last three weeks of autumn leading up to the season change tend to be pretty brisk. Days have gotten short, with the 21st roughly coinciding with the longest night of the year. Lows average around 32 degrees Fahrenheit, with average highs around 43. You can expect some outlier days, warmer or colder, with extremes of weather (wind, snow, sleet, freezing rain) becoming more likely as the month goes on. You will want to pack your heaviest jacket, as well as gloves, hats, scarves, and maybe a (stylish) pair of boots, too. A white Christmas? The chance for an inch of snowfall on December 25th is exactly 10%.