Things to Do in New York in December
October 20, 2017 - by City Guide News Desk
The list of things to do in New York in December is long and varied. From perennial favorites like the lighting of the Rockefeller Christmas Tree to the Holiday Train Show at the New York Botanical Garden, it's a magical time of year to be in NYC. (Updated for 2017.)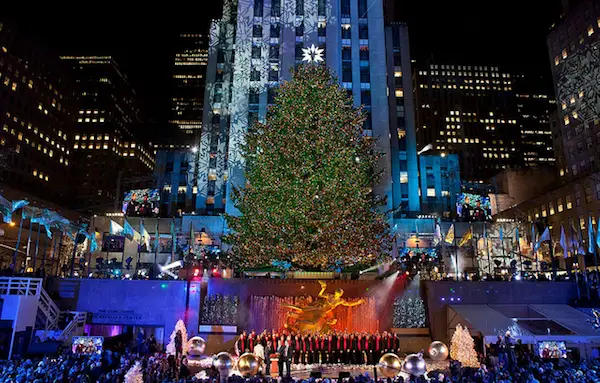 (11/29-1/7/18) The Rockefeller Center Christmas Tree Lighting for 2017 takes place on Nov. 29th, but you can appreciate its majestic beauty throughout December. The towering tree in Rockefeller Center is a global symbol of the holiday spirit. rockefellercenter.com
(12/12-12/19) Annual Lighting of the World's Largest Hanukah Menorah. This whopping 32-foot-high, two-ton menorah is set up at Grand Army Plaza in midtown (Fifth Avenue and 59th Street). It will remain lit through Jan 1.
(12/24) Christmas Eve Services at St. Patrick's Cathedral 5:30pm and *midnight. (*Free, but tickets required.)
(12/30) Kwanzaa Celebration: Regeneration at the Apollo Theater, 2pm and 7:30pm. Featuring Abdel Salaam's Forces of Nature Dance Theatre. Since 2006, the Apollo has established an annual show to celebrate this holiday tradition on one day of the Kwanzaa holiday. The Apollo's celebration is a joyful evening of dance and music honoring the principles of Kwanzaa—family, community, and culture.
Things to Do in New York in December: Exhibits
(Now-1/21/18) Soulful Creatures: Animal Mummies in Ancient Egypt at Brooklyn Museum. In the ancient burial ground at Saqqara, Egypt, one animal cemetery alone has yielded over four million individual ibis mummies. And the nearby dog cemetery contained over seven million mummies, with countless others found throughout Egypt. This unusual aspect of ancient Egyptian culture and religion—the mummification of animals—has remained largely a mystery. Soulful Creatures: Animal Mummies in Ancient Egypt explores the religious purpose of these mummies, how they were made, and why there are so many. Drawn from our renowned collection, the exhibition features choice examples from among the many millions of mummies of birds, cats, dogs, snakes, and other animals preserved from at least thirty-one different cemeteries throughout Egypt. Animals were central to the ancient Egyptian worldview. Most animals had connections to a particular deity. After death, mummified animals' souls could carry a message to a god. Yet not all animal mummies are what they seem. Scientific investigation of the mummies reveals that the corruption in the animal cemeteries that some contemporaneous texts allege was all too real. CT scans displayed in the exhibition uncover the empty wrappings, double mummies, and misleading packaging among some of the mummies that the priests sold to worshippers.
(11/13-2/12/18) Michelangelo: Divine Draftsman & Designer at the Metropolitan Museum of Art. Michelangelo Buonarroti (1475–1564) is the subject of this once-in-a-lifetime exhibition. During his long life, Michelangelo was celebrated for the excellence of his disegno, the power of drawing and invention. This exhibition will present approximately 150 of his drawings, three of his marble sculptures, his earliest painting, his wood architectural model for a chapel vault, and complementary works by other artists for comparison and context. Among the extraordinary international loans are the complete series of masterpiece drawings he created for his friend Tommaso de' Cavalieri and a monumental cartoon for his last fresco in the Vatican Palace.
(Now-1/7/18) The photographs in the new exhibit American Visionary: John F. Kennedy's Life and Times at the New-York Historical Society convey the sensation you've seen them before: JFK in the White House, his kids joyfully playing nearby; JFK with wife Jackie at an event, both of them elegant and assured (in truth, many images here have only rarely been shown). It's part of the famous Kennedy allure, conveying a world that's simultaneously approachable, glittering, and rarefied. This well-curated exhibition charts JFK's trajectory as a politician, as well as the cultural and historical pulse of the times, when photojournalism was at an apex. It's a wonderful opportunity to observe a world both familiar and lost, and to reflect on where the country was—and is.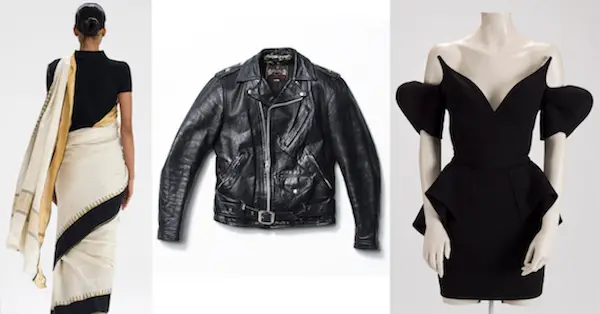 (Now-1/28/18) Items: Is Fashion Modern? at MoMA explores the present, past—and sometimes the future—of 111 items of clothing and accessories that have had a strong impact on the world in the 20th and 21st centuries—and continue to hold currency today. Among them are pieces as well-known and transformative as the Levi's 501s, the Breton shirt, and the Little Black Dress, and as ancient and culturally charged as the sari, the pearl necklace, the kippah, and the keffiyeh. Items will also invite some designers, engineers, and manufacturers to respond to some of these indispensable items with pioneering materials, approaches, and techniques—extending this conversation into the near and distant futures, and connecting the history of these garments with their present recombination and use.
(Now-1/7/18) Magnificent Gems: Medieval Treasures at the Morgan Library & Museum. The treasure bindings on view include star sapphires, diamonds, emeralds, pearls, and garnets, alongside illuminated manuscripts and printed books that depict two-dimensional representations of these precious materials. Among the exhibition highlights will be the ninth-century Lindau Gospels, one of the two finest Carolingian jeweled bindings in the world, and the thirteenth-century Berthold Sacramentary, the most luxurious German manuscript of its time.
(Permanent) The New-York Historical Society's Fourth Floor Renovation, now complete, includes a brand new Tiffany Lamps Gallery, in addition to the opening of its Women's History Center.
(Permanent) The Jim Henson Exhibition at the Museum of the Moving Image will celebrate the life and legacy of the famed Muppet creator, exploring both his prolific career and the enduring effect his work has on pop culture to this day. Visitors can expect to learn more about the creation of such beloved works as The Muppet Show, Sesame Street, Fraggle Rock, The Dark Crystal, and Labryinth, as well as to discover the cutting-edge experimental works Henson made throughout his career.
(now-12/3) Drones: Is the Sky the Limit? at Intrepid Sea, Air & Space Museum is the first major museum exhibition on pilotless aircraft to open in the U.S. The large-scale exhibition, located in a huge, custom-designed pavilion, will reveal the history of drone technology, from its WWI origins to its current applications in solving complex humanitarian challenges. The exhibition will include a mix of small and large scale drones, including Volantis, the world's first flying dress, designed and worn by Lady Gaga. intrepidmuseum.org. Use this coupon and take $5 off!
(Permanent)
The Museum of the City of New York
presents
NY at Its Core
.
Ten years in the making,
New York at Its Core
presents the compelling story of New York's rise from a striving Dutch village to today's "Capital of the World." The exhibition captures the human energy that drove New York to become a city like no other and a subject of fascination the world over. Entertaining, inspiring, important, and at times bemusing, New York City "big personalities," including Alexander Hamilton, Walt Whitman, Boss Tweed, Emma Goldman, JP Morgan, Fiorello La Guardia, Jane Jacobs, Jay-Z, and dozens more, parade through the exhibition
.
Things to Do in New York in December: Comedy
(12/6-12/8) Chris Rock: The Total Blackout Tour 2017 at The Theater at Madison Square Garden.
(12/9) Chris Rock at Barclays Center.
(12/1-12/3) Adam Ray at Gotham Comedy Club.
(12/8-12/9) Roy Wood Jr. at Gotham Comedy Club.
(12/9) Jackie Mason at B.B. King Blues Club & Grill. Jackie Mason is regarded as one of the greatest stand up comics of all time. Mason combines political satire, insightful observations on the foibles of modern life, and impeccable timing to create material that leaves audiences laughing until they cry and critics raving show after show.
(12/22-12/23) Robert Kelly at Gotham Comedy Club.
(12/24) A Very Jewish Christmas at Gotham Comedy Club.
Things to Do in New York in December: Kids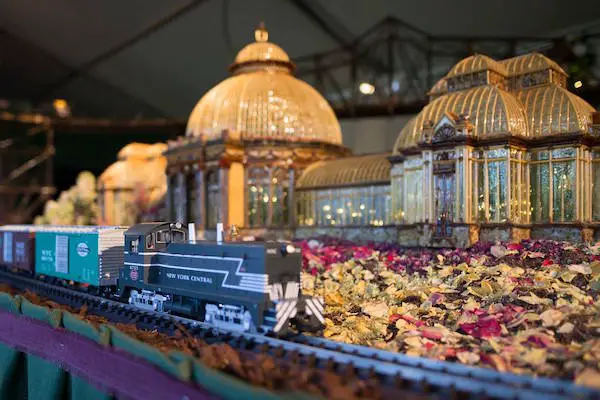 (11/22-1/15/18) The Holiday Train Show at New York Botanical Garden. Enchanting model trains zip through a display of 150 landmarks, each re-created with bark, leaves, and other natural materials—all under the twinkling glow of the Enid A. Haupt Conservatory. Marvel at G-scale locomotives humming along among familiar sights such as the Brooklyn Bridge, Statue of Liberty, and Rockefeller Center on nearly a half-mile of track.
PLUS
(12/2) NYRR Jingle Bell Jog at Prospect Park. "A Holiday Gift Wrapped as a Race": This festive family favorite is more than just a road race, it's also a celebration and a fundraiser for NYRR's youth programs. Not only does your entry fee snag you a holiday souvenir and post-race hot chocolate, the proceeds from this race fund youth running programs in schools all over the city! Give the Gift of Running Your race entry goes to support our youth programs year round. An additional $25 donation helps us put new running shoes on deserving kids' feet, and further provides them with the access they need to run. With the additional $25 donation, donors will get a fun gift. You can donate at check out, or during bib pickup. Proceeds from the Jingle Bell Jog benefit NYRR's Youth Programs, which provide running programs and events for more than 215,000 children in schools across the United States.
(12/6-12/7) Disney Tim Burton's The Nightmare Before Christmas at Barclays Center. Pumpkin King Danny Elfman is coming to Brooklyn on December 6 & 7 to perform his legendary role of Jack Skellington in a very special screening, with the music performed live by a full orchestra and choir, of Disney's timeless holiday classic, "TIM BURTON'S THE NIGHTMARE BEFORE CHRISTMAS." Elfman will be joined by other original cast members, including Catherine O'Hara (Sally) and Ken Page (Oogie Boogie), who will all sing live during the movie.
(10/27-2/25/18) It's all aboard for the New-York Historical Society's Holiday Express: Trains and Toys from the Jerni Collection. The beloved annual exhibit features 300+ pieces from the Jerni Collection and will transform the space into a magical wonderland. Interactive elements, including a crawl-through spaces leadig to a pop-up semisphere, allow children to get an up-close-and-personal view of the displays, harking back to the feel of early 20th century toy departments.
(12/9) Lunch with Santa onboard the Spirit of New York. Treat the little ones to a special lunch with Santa! Departs from Chelsea Piers. Boards 11:30pm, sails noon-2pm. $59.90 per adult, $35.95 per child. For reservations, visit spiritofnewyork.com.
Things to Do in New York in December: Music & Nightlife
(12/21-12/23, 1/6/18) A Darlene Love Christmas: Love for the Holidays at B.B. King Blues Club & Grill. Her Billboard hits include: "He's A Rebel," "The Boy I'm Gonna Marry,""Wait `Til My Bobby Gets Home," "He's Sure the Boy I Love" and the #1 holiday classic "Christmas Baby Please Come Home," a song that she performed annually with Paul Shaffer and the CBS Symphony Orchestra on "The Late Show With David Letterman" for some 29 years before David retired.
PLUS
(12/3) Vienna Boys Choir: Christmas in Vienna at Carnegie Hall.
(12/1-12/2, 12/8-12/9, 12/22-12/23, 12/29, 12/30, 1/6, 1/13) In tandem with the New York Botanical Garden's Train Show, grab a friend or date for Bar Car Nights, On these nights exclusively for adults 21 and over, the wintry landscape of NYBG sets the scene for festive outdoor adventures, with an after-dark viewing of the expanded Holiday Train Show® as the centerpiece. Sip a cocktail as you journey through a series of station stops, including pop-up acts featuring some of NYC's favorite street performers. 7pm-10:30pmpm.
(12/1) Go 90s with the Fresh Kids of Bel Air at (Le) Poisson Rouge.
(12/1, 12/5, 12/7, 12/8) Norma at the Metropolitan Opera.
(12/1-12/3) Paula West Quintet at Dizzy's Club Coca Cola.
(12/1-12/2) Steve Miller, Jimmie Vaughan & Charlie Musselwhite: The Blues Triangle at the Rose Theater. Renowned blues-rock guitarist, singer/songwriter, and 2016 Rock and Roll Hall of Fame inductee Steve Miller returns to Rose Theater for a journey through the Blues Triangle. Having learned his first chords at age five from his godfather Les Paul, how to play lead guitar from T-Bone Walker at age nine, and then working with the best bluesmen in Chicago — Muddy Waters, Howlin' Wolf, Buddy Guy, James Cotton, and Paul Butterfield — Miller has a serious affinity for the blues. In this program, he will explore music from three essential blues hubs: Memphis, Texas, and Chicago.
(12/2-12/3) St. Vincent at Kings Theatre.
(12/2) Deer Tick at Brooklyn Steel.
(12/2) Southside Johnny & the Asbury Jukes at B.B. King Blues Club & Grill.
(12/5-12/12) Christine Pedi: Snow Bizness at Feinstein's/54 Below.
(12/7) Gary Numan + Me Not You at Brooklyn Steel.
(12/4, 12/7, 12/9) The Magic Flute at Metropolitan Opera.
(12/9) Ana Gasteyer: Holiday Tipple at Schimmel Center.
(12/9) A Night at the Museum Sleepover for Grown-Ups at the American Museum of Natural History.
(12/10) The TEN Tenors Home for the Holidays at Kupferberg Center. 3pm.
(12/11) Betty Holiday Concert w/special guest Gloria Steinem (& other guests) at City Winery.
(12/11-1/7/18) Chris Botti 13th Annual Residency at Blue Note Jazz Club.
(12/20-12/21) Ronnie Spector's Best Christmas Party Ever at City Winery.
(12/30) Pointer Sisters at B.B. King Blues Club & Grill.
(12/30-12/31) They Might Be Giants at the Music Hall of Williamsburg.
(12/31) Caissie Levy gives a special New Year's Eve Magic performance at Feinstein's / 54 Below.
Things to Do in New York in December: Sightseeing/Markets
(10/28-3/4/18) Bryant Park's Winter Village stays open with lots of great gift ideas for last minute shoppers. wintervillage.org
(Through 12/24) Union Square's Holiday Market runs through Dec. 24. urbanspacenyc.com
(Through 12/24) The Grand Central Holiday Fair is open from Monday, November 13 through Sunday, Christmas Eve, with Grand Central Terminal hosting 40 artisans in Vanderbilt Hall selling art and home goods; holiday-themed items; bath and body products; toys; and clothing and accessories for men, women, and children. The Holiday Fair is open Monday through Friday, 10am-8pm, until 7pm Saturdays, and 11am-6pm Sundays. Closed Thanksgiving and open 10am-6pm on Christmas Eve.
For more on holiday markets in NYC, click here.
(12/1-12/28) Spirit of New York offers a series of December Holiday Lunch and Dinner cruises, departing from Chelsea Piers. Jingle Bell Lunch Cruises sail from noon-2pm, from $59.90 per person; their Holiday Lights Dinner Cruise sails from 7pm-9:30pm, from $104.90 per person. spiritofnewyork.com.
(12/1-1/1) Bateaux New York offers Holiday Lights Dinner Cruise, sailing from 7pm-10pm. Includes a three course dinner, an acoustic quartet and piano performance, and panoramic views. From $144.90. bateauxnewyork.com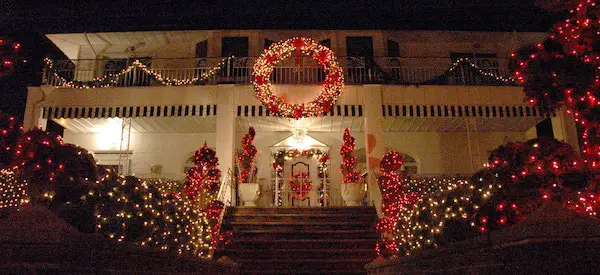 Throughout December, check out A Slice of Brooklyn's Holiday Lights Tour, which goes through Dyker Heights, Brooklyn, a neighborhood full of eye-popping displays. Offered every day except Christmas Day. Stock up on holiday treats and gifts on A Slice of Brooklyn's brand-new Chocolate Tour as well, offered every Monday, Wednesday, and Friday.
Things to Do in New York in December: Shows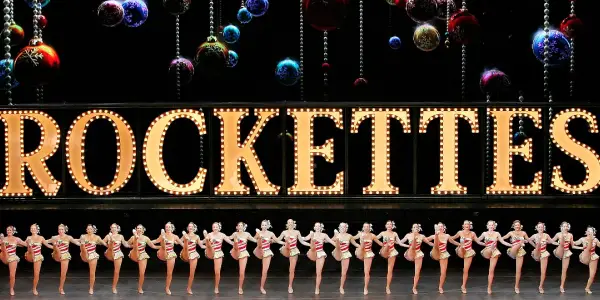 (11/10/17-1/1/18) The NYC perennial holiday favorite Christmas Spectacular Starring The Radio City Rockettes® returns. Fan favorites include "New York at Christmas," where the Rockettes® board a real double-decker bus, and the high-energy tap number "Twelve Days of Christmas." Of course, beloved classics like "The Parade of the Wooden Soldiers" and "The Living Nativity" will also be back. rockettes.com/christmas
Photo credit: © Paul Kolnik
(11/24-12/31) Dreams come to life when Tschaikovsky's iconic melodies begin to play. As the clock chimes midnight, a brave young girl turns the tide in a battle between toy soldiers and mischievous mice, and a blizzard of ballerinas reveal a wonderful world of confection. This holiday season, be swept away by the magic of George Balanchine's The Nutcracker®, performed by the world-renowned New York City Ballet. The New York Times says, "Balanchine's classic production felt like coming home." David H. Koch Theater, 20 Lincoln Center, nycballet.com/nutcracker
Things to Do in New York in December: Ongoing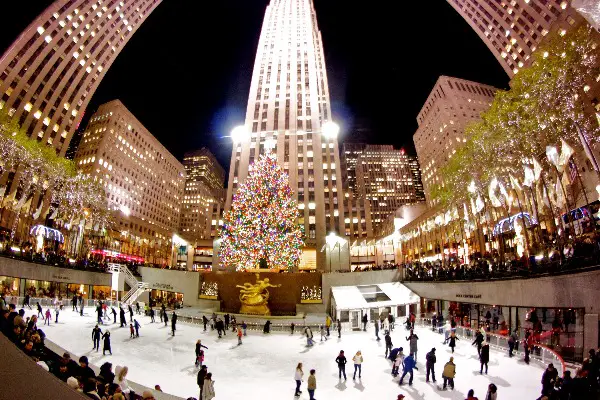 The iconic Rockefeller Center Ice Skating Rink, now in its 81st year, is the most famous patch of ice in the world. Take advantage of a package deal, like Apres Skate (appetizers and drinks) or a Starlight Skate on the night's last session.
Things to Do in New York in December: New Year's Eve

December 31st, 2017. New Year's Eve is New York's biggest celebration. Times Square is the most famous destination, although the sheer number of participants can make it a bit of a headache (you need to get there hours early and there's no alcohol allowed). There are many, many alternatives.
(12/30-1/1) Spirit of New York is offering a 20% discount on their New Years Eve Family Lunch (from $52.90) Eve of the Eve Dinner Cruises (from $111.90), or New Years Eve Fireworks Cruise, from $279.90 per person, 10pm-1am. New Year's Day Lunch and Dinner cruises also available, $59.90-$104.90 All ages welcome, bar, 21+. For discount, must book by 11/15. spiritofnewyork.com
(12/31) NYRR Midnight Run 2017 Kick off the New Year at the Midnight Run! Join the fun and celebrate with music and dancing (starting at 10:00 p.m.) as 2017 comes to a close. With a countdown to midnight beginning at 11:59 p.m., the four-mile run will begin on the stroke of midnight, as will a spectacular fireworks display to light up the night and the start of 2018. nyrr.org
(12/31) St. John the Divine's New Year's Eve Concert for Peace. Founded by Leonard Bernstein in 1984, the annual New Year's Eve Concert for Peace is a signature Cathedral event, gathering old friends and new for more than a quarter of a century. The music, the candles, and the spirit of peace send audiences out into the chill January night with renewed hope for the world we share. This year's concert, hosted by Harry Smith, features Cathedral Artist in Residence Judy Collins. 7pm. General admission free, tickets required.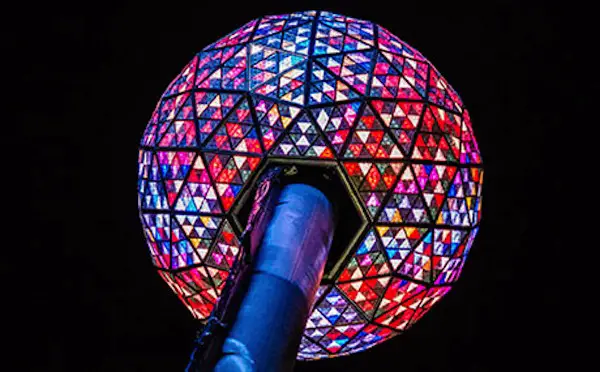 (12/31) The clock will strike midnight, the ball will drop, kisses will be exchanged, and the promise of a New Year will light up the night sky. If there's any town that can be trusted to get New Year's right, it's New York City, where the Times Square New Year's Eve Celebration and Ball Drop provides a focal point for the entire world. Get there hours early if you want to be close to the center of the action as the city counts down to 2017. newyearseve.nyc
Every year, at 11:59pm on December 31st, people from all over the world are focused on the Times Square New Year's Eve Ball. Millions of voices unite to count down the final seconds of the old year and celebrate the beginning of the new. Now you can get up close and personal with the Times Square New Year's Eve Ball at Ripley's Believe It or Not—Times Square any day of the year! Press the button yourself and ring in the New Year. A home to rare artifacts and thrilling interactive exhibits, Ripley's is for anyone who wants to immerse themselves in the unexpected and the unbelievable. Here's a coupon.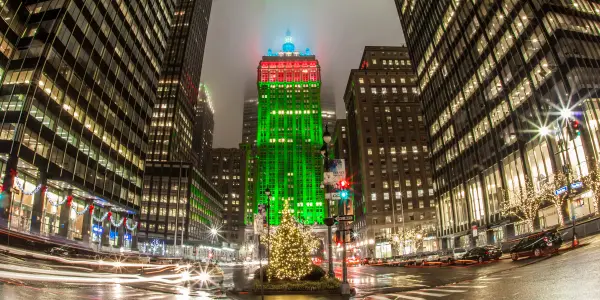 Image: Anthony Quintano/Flickr
New York Weather in December
Winter solstice in New York takes place on December 21st, 2017, but the last three weeks of autumn leading up to the season change tend to be pretty brisk. Days have gotten short, with the 21st roughly coinciding with the longest night of the year. Lows average around 32 degrees Fahrenheit, with average highs around 43. You can expect some outlier days, warmer or colder, with extremes of weather (wind, snow, sleet, freezing rain) becoming more likely as the month goes on. You will want to pack your heaviest jacket, as well as gloves, hats, scarves, and maybe a (stylish) pair of boots, too. A white Christmas? The chance for an inch of snowfall on December 25th is exactly 10%.
Looking for Free Group Planning Services?
Get free advice on planning your group's trip to New York.
RESTAURANTS

Vida Verde brings the tastes, colors, sounds, and scents of ...

THEATER

Gaston Leroux's famous period thriller is now one of Broadwa...

SHOPPING

The sweetest experience in Times Square!...

SIGHTSEEING

CitySights' hop-on, hop-off bus tours are operated on a flee...