Spring is a great season to be in New York. The city thaws out and the sidewalks fill with the latest in spring fashions. Contrary to reputation, New York is not a concrete jungle—in fact, it's home to more than 1,700 parks, playgrounds, and other open spaces—and come the spring these patches of green fill with blossoms and flowers. In addition to the most essential New York parks, we've got a rundown of the city's must-see spots for history, art, culture, and entertainment. Read on for the best things to do in New York City in spring 2017.
Spring in NYC: Brooklyn Botanic Garden & Brooklyn Museum
Cherry Esplanade, photo by Mike Ratliff
Just minutes outside of Manhattan via the 2/3 trains, the Brooklyn Botanic Garden was founded in 1910 with 39 acres along Prospect Park. In the springtime, the garden's Cherry Esplanade is one of Brooklyn's most popular spots. The Sakura Matsuri weekend festival (this year, 4/29-4/30) invites visitors to experience a riot of cherry blossoms along with Japanese culture through dance, food, arts, and music. Next door is the beautiful Brooklyn Museum, where you can catch a great exhibit on Georgia O'Keeffe: Living Modern, running through 7/23. bbg.org (And psst, if you're still in Brooklyn and love soccer, the NY Cosmos begin playing games in their new Coney Island home beginning April 1. 

Spring in NYC: Central Park 
Spread across a whopping 843 acres, Central Park is the most visited urban park in the United States, seeing more than 40 million people every year. Stroll through the park, bring the kids to the Carousel or the Central Park Zoo, visit John Lennon's Strawberry Fields, have lunch at The Loeb Boathouse, purchase artwork from the artists who set up inside the park and along Fifth Avenue, enjoy a horse and carriage ride, or just sit on a bench with a friend and savor the breathtaking views. In the summertime, Central Park hosts SummerStage concerts. The nearby Conservatory Garden is a favorite for weddings (you can click here to find more secret spots in Central Park). If you're a film buff, On Location Tours will show you where all of your favorite film and television show moments were shot in Central Park. centralpark.com
Spring in NYC: Flushing Meadows-Corona Park 
About a 20 minute ride via the 7 train from 42nd Street, Flushing Meadows-Corona Park served as the site for the 1939 and 1964 World's Fairs. It's home today to several great institutions: the children-friendly, interactive New York Hall of Science, and the Queens Museum of Art. With baseball season just around the corner, nearby Citi Field will be welcoming back its home team, the 2015 National League Pennant winners The New York Mets.  Their first game will be home 4/3, vs. Atlanta Braves. If you're a fan of beer and bacon (and really, who isn't?), check out The Bacon and Beer Classic at Citi Field 4/29-4/30. nycgovparks.org
Spring in NYC: Intrepid, Sea, Air & Space Museum
Way over on the west side in midtown, the Intrepid Sea, Air & Space Museum takes visitors on an interactive journey through history. The Intrepid served three tours in Vietnam, which is explored in the exhibit On The Line: The Intrepid and the Vietnam War, which continues through 10/17. The museum also holds a special Space Shuttle Pavilion, home to Enterprise, the world's first space shuttle, which paved the way for America's successful shuttle program. Warmer temperatures will let you step onto the flight deck and enjoy 27 authentically restored aircraft, including the Lockheed A-12 Blackbird, the world's fastest military jet and spy plane, and the British Airways Concorde, the fastest commercial aircraft to ever cross the Atlantic. Looking ahead to summer, the Intrepid will be welcoming a new exhibit opening 5/10, Drones: Is the Sky the Limit?,the first major museum, large-scale exhibition on pilotless aircraft to open in the US. The exhibit will include Volantis, the world's first flying dress, designed and worn by global superstar Lady Gaga. Take $3 off your next visit to the Intrepid.  intrepidmuseum.org
Spring in NYC: Lincoln Center for the Performing Arts
Image by Chun-Hung Eric Cheng/Flickr
Lincoln Center is one of New York City's landmark hubs for dance, film, The Metropolitan Opera, theater, classical music, and jazz. It offers a massive 5,000 programs every year, spread across an impressive selection of 46 venues. In the springtime, the American Songbook Series is rich with performers renowned for popular song; this year's lineup so far includes Tony winner and star of Younger Sutton Foster (4/14) and Rhiannon Giddens (5/13). Must-see operas this spring include Don Giovanni, Eugene Onegin, Fidelio, Rigoletto, and La Traviata. By summertime Lincoln Center takes it outside with, well, Lincoln Center Out of Doors, a wonderful program combining outdoor dance lessons at dusk and live bands. lincolncenter.org

Spring in NYC: New York Botanical Garden

Just minutes away from Grand Central Terminal via the Metro North train, the New York Botanical Garden's 250 glorious acres are home to some of the city's most exquisite floral collections, including the annual crowd-pleasing exhibit the Orchid Show: Thailand (this year on through 4/9) (there are few Orchid Evening events left, too (3/25, 3/31-LGBT Night,  4/1, 4/7, 4/8). If antiquing is your thing, there will be an Antique Furniture & Garden Fair at NYBG 5/5-5/7. It's also a great place to get married. nybg.org
Spring in NYC: Statue of Liberty
Locals and visitors alike can appreciate the Statue of Liberty, the most iconic symbol of New York. She was given to the United States by France on Oct. 28, 1886, as a symbol of freedom and democracy. Reopened after Hurricane Sandy in 2013, Lady Liberty is accessed exclusively by Statue Cruises, based in Battery Park. Choose from options for crown, monument,  grounds-only, and Ellis Island combo tickets. Wear sneakers—if you opt for the crown, you'll be doing a lot of stair-climbing. statuecruises.com
Spring in NYC: Washington Square Park
Washington Square Park's iconic marble arch (a replica of L'Arc de Triomphe, but created as a centennial celebration of George Washington's inauguration) greets you at its entrance. Anchoring the heart of Greenwich Village, the park has long been a place where students (the NYU campus is right here), master chess players, street musicians (this was a pivotal music spot during the NYC folk music movement in the 1960s), young lovers, and old friends can congregate. In 2014, a three-phase $30 million restoration was completed, designed by NYC Parks' Landscape Architect, George Vellonakis. The new layout includes an additional patch of lawn space, comfort stations, and a run for large dogs. You might even spot a celebrity or two—the park was a favorite of the late, great David Bowie. nycgovparks.org
Spring in NYC: Yankee Stadium Tours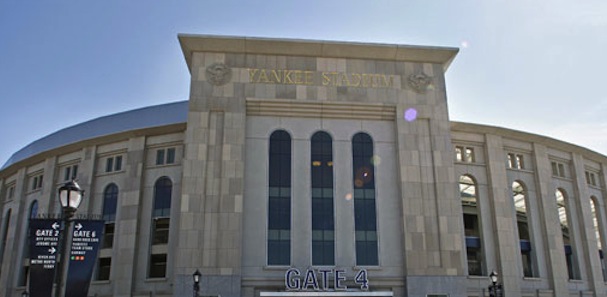 The New York Yankees are the most successful team in baseball history, with a record 27 World Series victories. The 2017 season begins on 4/2, with a home game 4/10 at 1:05 vs. Tampa Bay. Tickets will be hard to come by, but if you want an insider look at the home of the Bronx Bombers, you can get it from Yankee Stadium Tours, which begin this year 4/11. The stadium is a fantastic destination for all ages, and group and family tours are available during both the season and the off-season. You can actually hold Babe Ruth's bat in your hand! Catch a glimpse of World Series trophies, rings, and baseball artifacts in the Yankees Museum Presented by Bank of America, or combine a tour with lunch at the Hard Rock Café. yankees.mlb.com
---
Spring in NYC: Cruises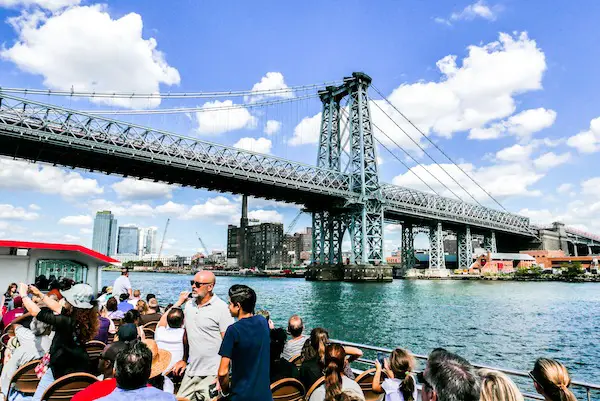 Day or night, the Manhattan skyline is a sight to behold. Circle Line Sightseeing sails year-round and has cruises of varying interests and lengths, including a 3-hour Best of NYC Cruise, a 2-hour Landmark Cruise, and a Harbor Lights Cruise for a romantic spring evening. Last year, Circle Line added its popular Landmarks & Brooklyn Cruise. Onboard, guests can purchase food and beverages from a variety of BK vendors, including Brooklyn Brewery, Coney Island Brewery, Brooklyn Cupcake, Blue Marble ice cream, Brooklyn Cured, and Junior's Cheesecake. circleline42.com
Bateaux New York's regal all-glass vessels are the perfect way to celebrate a special family event or holiday in style. This year Easter Sunday falls on 4/16 and Bateaux is offering a variety of champagne brunch and dinner cruise options throughout the weekend. bateauxnewyork.com
Reserve a trip with the family aboard Spirit Cruises for special Easter cruises, or enjoy a Hot Latin Moonlight Cruise with a special someone. Spirit departs from Chelsea Piers, also offers a variety of dinner and lunch cruises. spiritofnewyork.com
Love exhibits? Jewelry? Don't miss Museum of Art and Design's LOOT: Jewelry as An Art Form. And yes, you can shop, too!  Don't blink or you'll miss it though; it only runs 4/4-4/8. 
---
Looking for more to do in spring in NYC? Check out our guide to the Best Things to Do in NYC in April.