If you're wondering what's open during COVID in NYC, we've got the latest on restaurants, bars, museums, and attractions. We have all the latest procedures and protocols for the city's responses to COVID-19 here. Visitors to the city should look for the Stay Well NYC Pledge seal posted in venues and on their websites. Both guests and businesses are asked to participate, committing to some basic common sense ways of dealing with the pandemic that include masks, hand washing, maintaining social distancing, and staying home when you're not feeling well. The latest news is Governor Cuomo's okay that shopping malls can reopen as of Wednesday, September 9th, and indoor dining will return on Wednesday, September 30th.
SIGHTSEEING
SAFE REOPENING NYC: TOP OF THE ROCK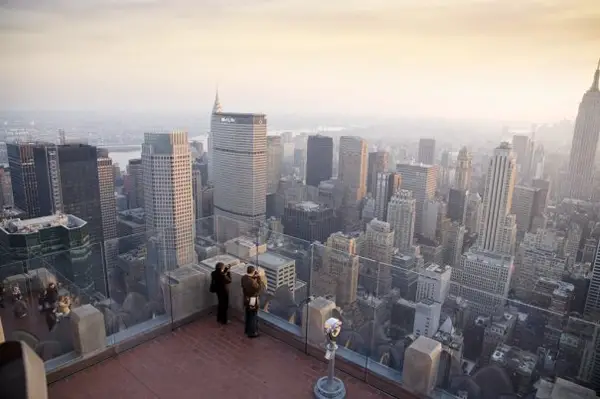 Top of the Rock, a stunning perch atop Rockefeller Center, offers wholly unobstructed views of the city's most iconic landmarks, including the Statue of Liberty, the Empire State Building, the Chrysler Building, the rivers, and all of Central Park (its size can only truly be appreciated when seen from above). The Grand Viewing Deck on the 69th floor offers unparalleled views of the city and the 70th Floor is an open-air perch with completely unobstructed views—no glass or anything. Top of the Rock reopens to the pubic on Thursday, August 6th. Social distancing will be easier here: Top of the Rock has more open-air viewing space than any other observation deck in New York City. New hours for the Observation Deck are daily 1-9pm; guests will enter from West 50th Street, between Fifth and Sixth Aves., and proceed with timed tickets to the glass stairs upon entry. Visitors without a pre-purchased ticket will be directed to the box office.  Capacity will be limited, masks are required, and hand sanitizer is available throughout the attraction. Note that kids 12 and under will get in free with the purchase of an adult ticket through Labor Day. 30 Rockefeller Ctr., 212-698-2000, topoftherocknyc.com
SAFE REOPENING NYC: EMPIRE STATE BUILDING

Ever since its 1931 completion, the Empire State Building has been the most famous skyscraper in the world. It remains a vital part of NYC and an inspiration to the millions of visitors who ascend to the ESB observation deck in every season. Even before the COVID-19 city shutdown, the Empire State Building had installed state-of-the-art ventilation systems. Adding to the safety of a visit here will be contactless temperature checks, face coverings required, and automatic settings fro some interactive exhibits. In addition, only 20% of visitor capacity will be used. Hours will be trimmed to 8am-11pm. Tickets for set visit times can be purchased in advance. 20 W. 34th St., 212-736-3100, esbnyc.com
SAFE REOPENING NYC: EDGE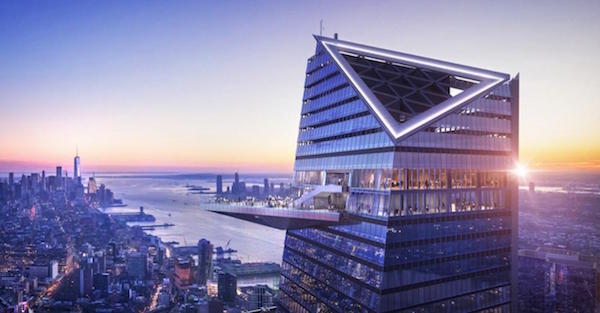 EDGE, the Western Hemisphere's highest outdoor observation deck, opened in March 2020. After several months on pause, it's open to the public again, from noon to 8pm daily. Stand 100 floors above the ground and see miles and miles in every direction: the deck offers 360-degree views with jaw-dropping glimpses of the Empire State Building, One World Trade Center, the Hudson River, and much more. In addition to now being a touchless experience, Edge is taking a number of steps to ensure visitor safety. You can learn more about them here. Level 4 inside The Shops & Restaurants at Hudson Yards, 332-204-8500, edgenyc.com
SAFE REOPENING NYC: STATUE CRUISES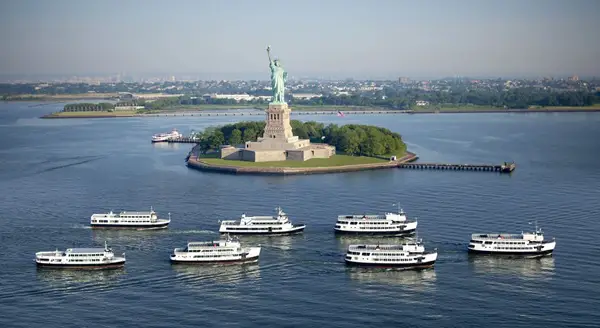 As of August 24th, the Statue of Liberty Museum and Ellis Island have reopened and Statue Cruises is once again out and about in New York Harbor. Sixty-minute tours, complete with history and stunning views, can now be booked, with a focus on safety. Statue Cruises is following social distancing guidelines, including face mask requirements for crews and guests, deep cleaning, vessel capacity cut in half, and contactless payment. Tours run four times daily out of the Battery Park departure point in Lower Manhattan at 10am, 11:30am, 1pm, and 2:30pm. Statue Cruises is the exclusive provider of ferry service for the National Park Service to the two landmarks. Tickets are $26/adult, $19/seniors, $14/child and free for children three years and under. Tickets may be purchased in advance (strongly encouraged) from the Statue Cruises website or at Gangway 5 in Battery Park. statuecruises.com
SAFE REOPENING NYC: HORNBLOWER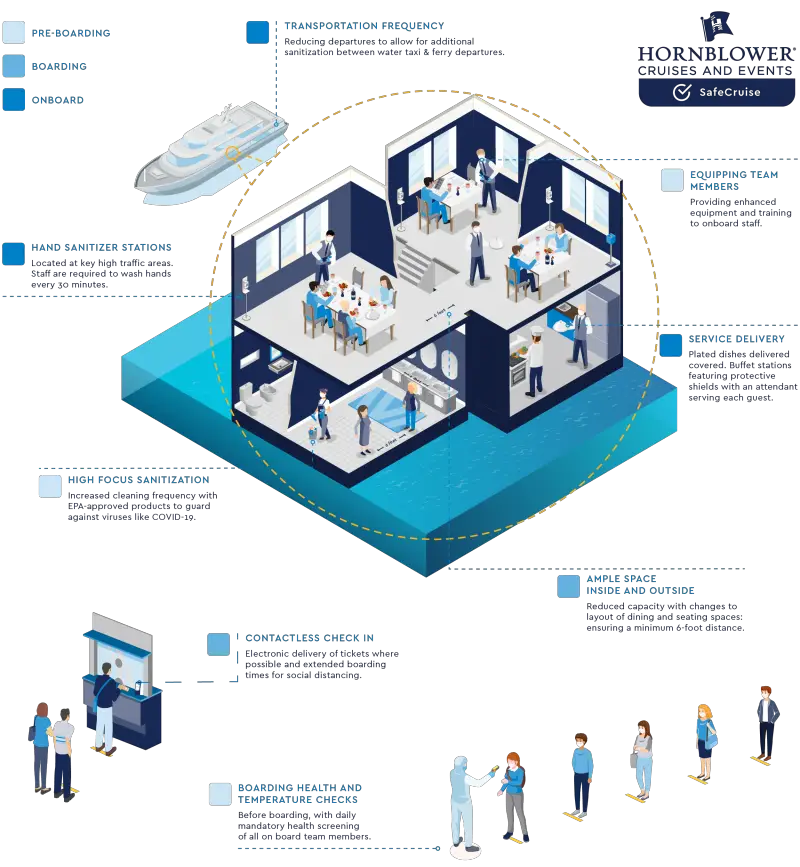 Take in unparalleled skyline views from the water aboard one of Hornblower Cruises and Events's breathtaking sightseeing cruises. On the path to reopening, Hornblower has updated its industry-defining "SafeCruise by Hornblower" program to deliver an even higher standard of onboard cleanliness. Established cleaning processes address a broad spectrum of viruses. SafeCruise by Hornblower follows the most up-to-date FDA, CDC, and PHAC guidelines and introduces more health-driven measures at every touchpoint, as seen in the graphic above. Procedures will be kept in place for the foreseeable future, in conjunction with updates from the Centers for Disease Control and Prevention (CDC), the Public Health Agency of Canada (PHAC), and the World Health Organization (WHO). Pier 40, 353 West St., 212-206-7522, hornblower.com/safecruise
SAFE REOPENING NYC: SPIRIT CRUISES

Credit: Hornblower Cruises and Events.
You can enjoy the city skyline from entry points in both New York City and New Jersey with Spirit Cruises. A regular program of outdoor dining experiences will be available from Saturday, July 11 onwards aboard the Spirit of New Jersey, which has a fabulous rooftop experience, sailing from its home port of Lincoln Harbor Marina in Weehawken. Delicious cuisine and a full array of drinks are equalled only by unbeatable views of the Empire State Building, Brooklyn Bridge, and Statue of Liberty. Prices start at $69 for lunch and $120 for dinner and and include a multi-course menu of freshly prepared entrees, salads, and desserts. Vessels offer expansive decks, providing plentiful space and fresh air, ensuring more than enough room on board for everyone to stay safely apart. For more on SafeCruise by Hornblower's industry-defining standards for health, safety, and security, see above or read more at hornblower.com/safecruise. Spirit of New York: Chelsea Piers, 212-727-2789; Spirit of New Jersey: Lincoln Harbor, 201-333-8600; spiritcruises.com
SAFE REOPENING NYC: CIRCLE LINE CRUISES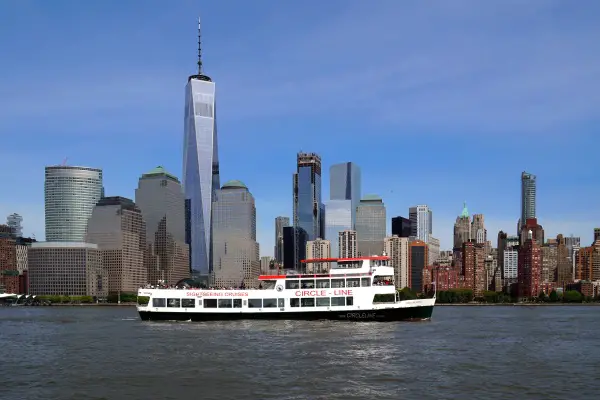 For 75 years, Circle Line has been showing off the city from its fleet of ships. This popular service also offers the only cruise that goes all the way around Manhattan: Circle Line's Best of NYC Cruise. One trip will show off five boroughs, three rivers, and more than 20 bridges on the way to 101 New York City sights. Boats run again as of Monday, July 20th! Cruises will depart every day except Tuesday with many new procedures to ensure safety. Every employee will be screened for COVID-19 symptoms every day at the start of their shift; face coverings will be required for staff and guests as they board and disembark (masks are also recommended while on board for guests); ticketing will be contactless where possible, with mobile devices encouraged; seating will be controlled and limited to half capacity; lines will make use of social distancing; frequent sanitizing will be done through the day, especially on high touch areas; and hand sanitizers will be available at key locations. Cruises depart from Pier 83 in midtown or Pier 16 in The Seaport District, 212-563-3200, circleline.com
SAFE REOPENING NYC: HELICOPTER FLIGHT SERVICES
Experience the city as few ever do: from the ultimate vantage points provided by Helicopter Flight Services Tours. Tours take in all the highlights, from the Statue of Liberty to NY Harbor, the Chrysler Building, Central Park, the George Washington Bridge, and Yankee Stadium. In keeping with new safety guidelines, rides are now given with limited capacity. Helicopters are disinfected before and after each flight. All high touch points such as life preservers, headsets, seat belts, seats, and door handles are thoroughly cleaned. In addition, a deep clean using EPA-approved chemicals is done at the beginning and end of each day. More on the new safety and cleaning protocols can be found here.  Pier 6, 212-355-0801, heliny.com
SAFE REOPENING NYC: THE ZOO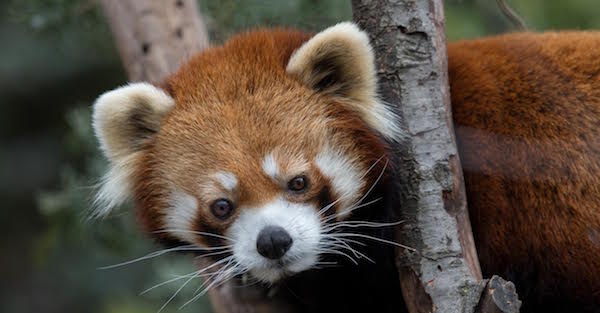 Photo: Julie Larsen Maher © WCS
Friday, July 24th welcomed the return of New York's zoos—the Central Park Zoo, Prospect Park Zoo, Queens Zoo, and the most famous of all, the Bronx Zoo. (Famous for a good reason—there are 8,000 animals there, spread across a habitat that includes 265 acres of hardwood forest). Guest health and safety are the top priority, with social distancing, limited capacity, one-way paths through the park, and touchless interactions. Open exhibits at the Bronx Zoo include the African Plains, African Wild Dogs, American Bison, Baboon Reserve, Big Bears, Birds of Prey, Children's Zoo, Himalayan Highlands, Sea Lion Pool, Tiger Mountain, and the Wild Asia Monorail. Visit the Bronx Zoo's Know Before You Go section to learn more. You'll need to get your ticket in advance (no tickets will be sold at the gates). A touchless entry will let you in, but you must have a face covering, and follow spacing markers to ensure social distancing. bronxzoo.com
SAFE REOPENING NYC: NEW YORK AQUARIUM
Julie Larsen Maher
Thousands of exotic aquatic creatures reside in naturalistic habitats beside the ocean on Brooklyn's Coney Island at the New York Aquarium. The newest draw here is Ocean Wonders: Sharks!, which shows off 100 shark species, teeth bared for all to see. You can also expect sea turtles and cownose rays, in addition to a variety of fish, and even a touch tank. The latest guidance from the governor's office means the aquarium can reopen on Monday, August 24th. You will need to book a ticket for a specific date of arrival in advance. Face coverings and social distancing will be required; the 4-D Theater will remain temporarily closed and there will be limited seating at the Aquatheater. Visit nyaquarium.com/today to see daily available exhibits and amenities. 602 Surf Ave., 718-265-FISH, nyaquarium.com
MUSEUMS & ATTRACTIONS
SAFE REOPENING NYC: BROOKLYN MUSEUM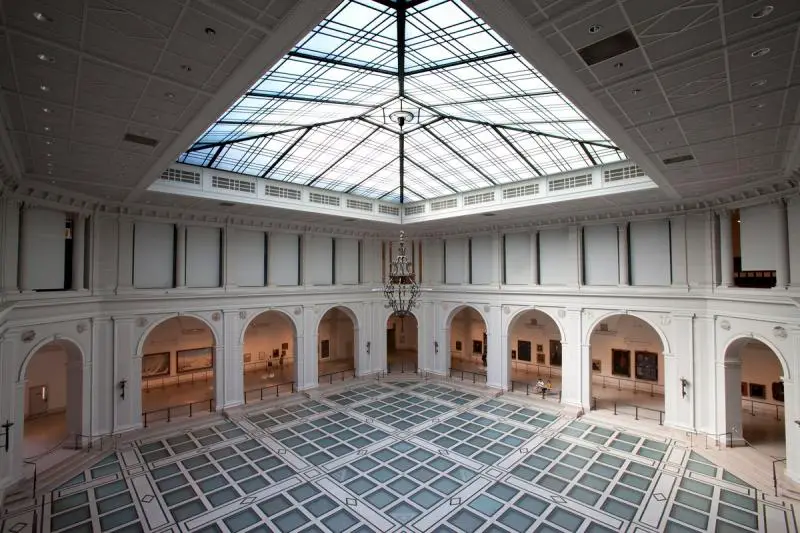 Brooklyn has become a tourist destination to rival Manhattan, complete with its own world-class institution: the Brooklyn Museum. Just 20 minutes from Manhattan you'll find a priceless collection that will surprise you with its range, from ancient Egypt to European masterpieces to a feast of decorative art. The museum reopens on Saturday, September 12th and its celebration of vintage NYC glam, Studio 54: Night Magic, has been extended through November 8th. New hours are Wednesdays, Thursdays, and Sundays, 11 am–6pm and Fridays and Saturdays 11 am–8pm. 200 Eastern Pkwy., 718-638-5000, brooklynmuseum.org
SAFE REOPENING NYC: GUGGENHEIM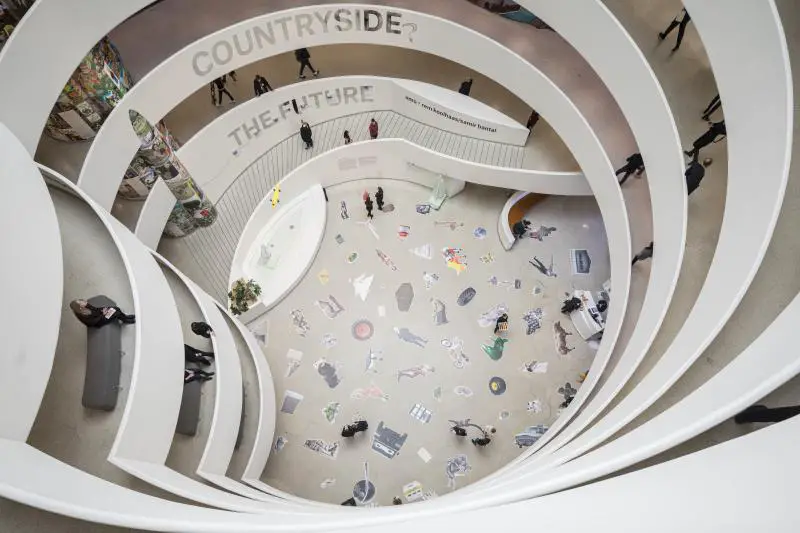 Installation View: Countryside, The Future. Photo: David Heald. © Solomon R. Guggenheim Foundation.
The Guggenheim Museum is Frank Lloyd Wright's masterpiece of modern architecture. Completed in 1959 (after 16 years of construction), the Guggenheim is home to one of the world's finest collections of modern and contemporary art, including works by artists such as Kandinsky, Picasso, and Pollock, plus intriguing special exhibitions. The Guggenheim will return on Saturday, October 3rd, with new hours of 11am-6pm Thursdays through Mondays (closed Tuesday and Wednesday). Countryside, The Future, the massive exhibition now on display, winds from the bottom of the museum all the way to the top and will stay open through February 14th, 2021. Capacity will be limited to 25% with access available through timed-ticket entry only; the new health and safety measures for the Guggenheim are here. The Guggenheim Store will be open during museum hours. 1071 Fifth Ave., 212-423-3500, guggenheim.org
SAFE REOPENING NYC: INTREPID SEA, AIR & SPACE MUSEUM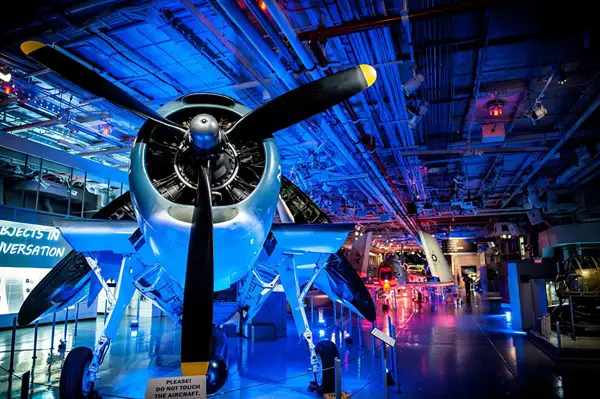 Founded in 1982, the Intrepid Sea, Air & Space Museum takes visitors on an interactive journey through history to learn about American innovation and bravery. The Intrepid Museum includes the Space Shuttle Pavilion, home to Enterprise, the world's first space shuttle, which paved the way for America's successful space shuttle program. Also on display are 27 authentically restored aircraft, including the Lockheed A-12 Blackbird, the world's fastest military jet and spy plane, and the British Airways Concorde, the fastest commercial aircraft to ever cross the Atlantic Ocean. For the safety of both staff and visitors, many new safety procedures have been put in place—you can read about them here. Pier 86, W. 46th St. and 12th Ave., 212-245-0072, intrepidmuseum.org
SAFE REOPENING NYC: COLOR FACTORY

Designed by a wide spectrum of artists, the interactive experience Color Factory tours visitors through 16 rooms devoted to the wonder of color. Color Factory is planning on a phased reopening, with limited capacity and reduced hours of operation. When they come back on Thursday, October 1st, they will implement new measures to provide a safe environment for all visitors and employees. This comprehensive approach includes: increased sanitation and cleanliness procedures, reduced capacity (to ensure proper social distancing), required masks for everyone in the building, newly installed hand sanitizing stations throughout the exhibit, hassle-free ticket rescheduling for anyone who feels sick, and changes to some high-touch exhibits. 251 Spring St., colorfactory.co
SAFE REOPENING NYC: ARTECHOUSE
Head to the historic boiler room of Chelsea Market to experience ARTECHOUSE, a new immersive art space. The venue is being re-inaugurated with "Intangible Forms," a kinetic audio-visual laser performance and installation by Japanese multimedia artist Shohei Fujimoto. ARTECHOUSE NYC will ensure guest safety by limiting capacity and using best practices for health and cleanliness. Art space sessions will be limited to 25% capacity, with split session start times to ensure seamless entry and proper social distancing. Temperature checks will take place upon arrival, professional cleaning and sanitizing will take place prior to each daily opening, and there will be hourly cleaning and sanitizing of the art space. "Intangible Forms" is on view to the public September 3rd through October 14th; opening hours are Monday-Thursday 2-9pm; Friday-Sunday 10am-10pm. For a limited time, all online bookings will receive an automatic $5 discount on tickets purchased. 439 W. 15th St., artechouse.com/nyc
SAFE REOPENING NYC: MUSEUM OF ICE CREAM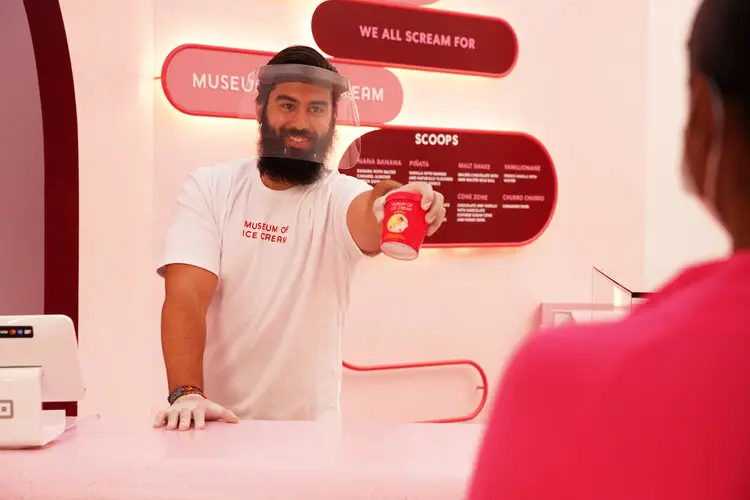 Putting down permanent roots in SoHo last fall, the Museum of Ice Cream NYC features 13 installations like a three-story slide, a hall of gigantic scoops, and the infamous sprinkle-filled pool. As you journey through this "experium," you can try branded Museum of Ice Cream flavors that include Churro Churro, Queen Bee, and PB&P (Peanut Butter & Pretzel). The museum is slated to reopen with reduced hours and advanced tickets required on Saturday, August 29th. Many new cleaning protocols will be in place, including hand sanitizer stations and mandatory face covering. While you wait for a full reopening, you can take advantage of "Sips and Scoops" workshops, which are held Thursdays through Sundays at the museum. You'll be able to create your own ice cream and find the perfect alcohol pairings in a hands-on event. Certified Sundae Professors lead the way, covering the history of ice cream, and facilitating the ice cream making tools, ingredients, and  pairings. 558 Broadway, museumoficecream.com
SAFE REOPENING NYC: NEW-YORK HISTORICAL SOCIETY
A trip to New York wouldn't be complete without a visit to the New-York Historical Society with four centuries of history and art. It hits the spot for anyone craving an offbeat (and often surprising) bite of the city's culture. Reopening for the museum will go in stages, with part one slated to begin on August 14th. A special free outdoor exhibition, Hope Wanted: New York City Under Quarantine, will kick things off with documentation of the experiences of New Yorkers across the five boroughs during the height of the pandemic. On the historic date of September 11th the museum intends to reopen indoors, with safety protocols in place for visitors and staff. Hope Wanted will take place outdoors in New-York Historical's rear courtyard (located at West 76th Street between Central Park West and Columbus Avenue), providing an open-air environment for visitors to view the exhibition and contemplate the impact of COVID-19 on New York City. Admission is free; access will be limited and face coverings will be required for entry, with social distancing enforced through timed-entry tickets and on-site safety measures. 170 Central Park West, 212-873-3400, nyhistory.org
SAFE REOPENING NYC: THE MET MUSEUM

The Met Museum displays some of the greatest cultural treasures in the world, representing every category of art from just about every country from every time period from the Stone Age to the present. The museum is reopen as of August 29th with new social distancing guidelines. "The safety of our staff and visitors remains our greatest concern," said Daniel H. Weiss, President and CEO of The Met, in a statement. "We are eagerly awaiting our reopening as, perhaps now more than ever, the museum can serve as a reminder of the power of the human spirit and the capacity of art to bring comfort, inspire resilience, and help us better understand each other and the world around us." All tours, talks, concerts, events, and the Met Gala are canceled for 2020. The Costume Institute's About Time: Fashion and Duration exhibition is scheduled to open on October 29th, 2020. New hours for The Met will be Thursday and Friday, noon-7pm, and Saturday, Sunday, and Monday 10am-5pm. The Met's medieval annex uptown, the Cloisters, is scheduled to open September 12th. Find a full accounting of The Met's new safety procedures and policies here. 1000 Fifth Ave., 212-535-7710, metmuseum.org
SAFE REOPENING NYC: CATHEDRAL OF ST. JOHN THE DIVINE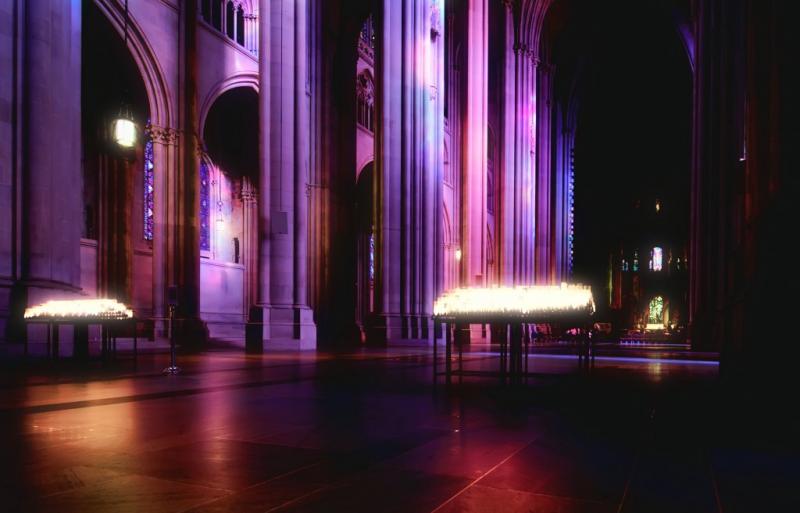 Image: Steven Kelley/Flickr
For the safety of parishioners and neighbors, in-person services and events will be cancelled through the end of 2020 at the Upper West Side's magnificent Cathedral of St. John the Divine. The cathedral is now open, however, for individual prayer, reflection, and meditation. The hours are daily 7:30am to 1pm, with safety measures in effect. Health screenings are administered upon entrance, and masks and physical distancing are mandatory. Visitors' cell phone numbers and email addresses will be collected for contact tracing and communication purposes. Small funeral and memorial services are also anticipated to resume beginning July 21. Streamed worship will continue to be offered each Sunday at 11am via the cathedral website (stjohndivine.org), along with daily Morning Prayer, Monday-Saturday at 8:30am; Evening Prayer, Monday-Saturday at 5:30pm; and Night Prayer (Compline), Wednesdays at 8:30pm. The Cathedral of St. John the Divine is the Cathedral of the Episcopal Diocese of New York. It is chartered as a house of prayer for all people and a unifying center of intellectual light and leadership. 1047 Amsterdam Ave., stjohndivine.org
SAFE REOPENING NYC: AKC MUSEUM OF THE DOG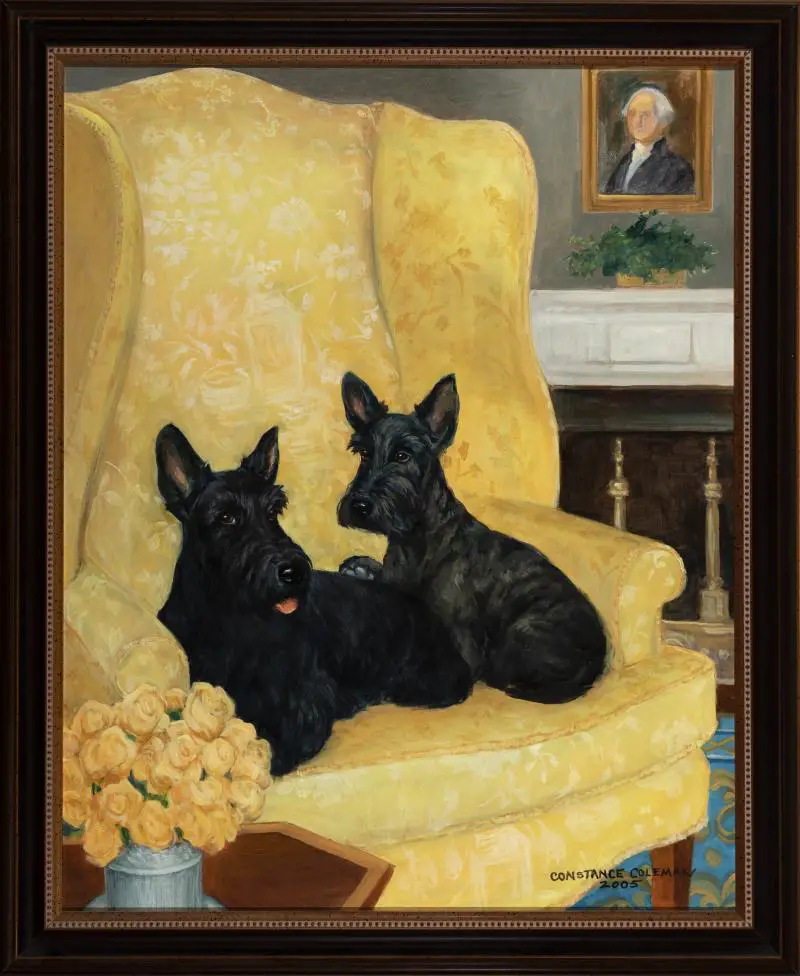 The Museum of the Dog was founded by the American Kennel Club in 1982. After a stint in St. Louis, the museum is back in NYC and better than ever, with new exhibits and interactive displays and a deep catalogue of dog-related art. The museum has officially reopened, with 25% visitor capacity being observed. Timed tickets are offered in half-hour blocks to ensure proper social distancing and traffic flow. Hours are now Tuesday-Sunday, 10am-5pm. New to the museum is the exhibition "Presidential Dogs," which opens Tuesday, September 8th, and continues through January 3, 2021. The exhibit will look back at the breeds that have lived at the White House and their influence on the American public. Specific presidential dogs will be highlighted, from George Washington's Foxhounds all the way to Bo and Sunny the Portuguese Water Dogs. 101 Park Ave., 212-696-8360, museumofthedog.org
SAFE REOPENING NYC: THE RUBIN MUSEUM OF ART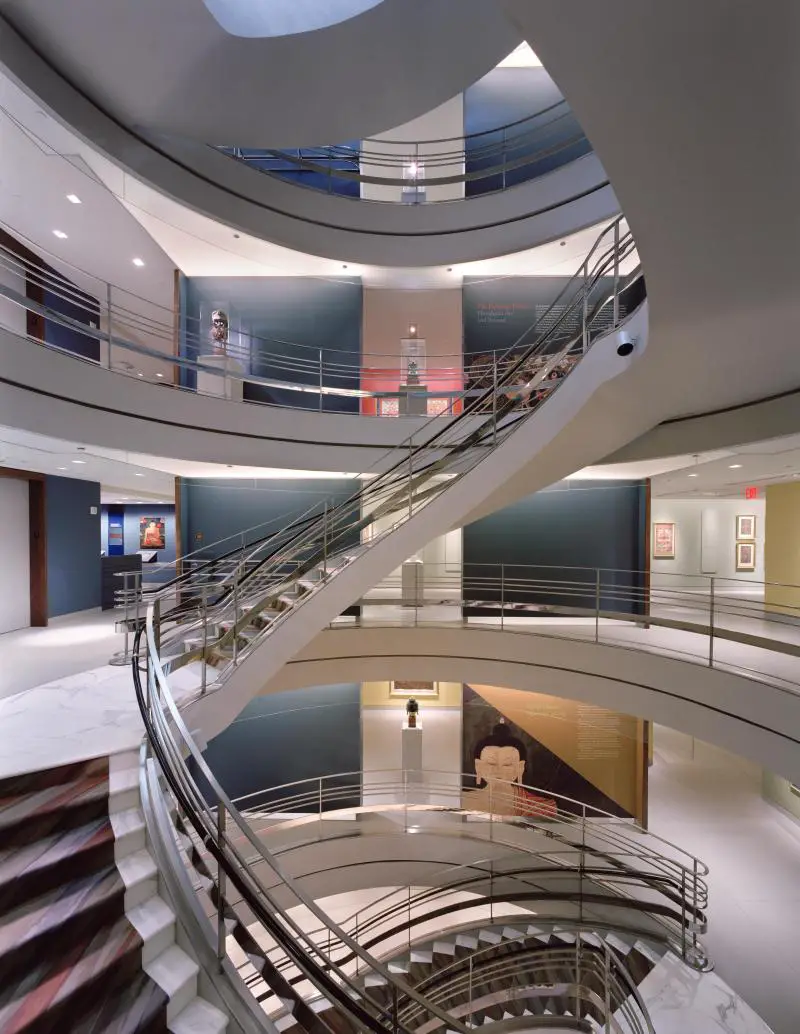 Photo: Peter Aaron/Esto.
Chelsea's Rubin Museum of Art provides a uniquely meditative look at the art of the Himalayan region. You can follow a spiral staircase through a wondrous six floors of galleries meant to inspire and open your mind more than strictly educate. The Rubin reopens to the public on Saturday, September 12th, following its regular hours. All of the exhibitions on view before the museum closed in March have been extended. A new installation, The Lotus Effect, greets visitors in the lobby, featuring folded origami lotuses submitted by the public during the museum's temporary closure. (You can bring your own lotus to participate.) In addition, The Tibetan Buddhist Shrine Room will be open, with a limited capacity of 2 people at a time in 10-minute allotments, providing a private space for contemplation and stillness. Timed entry tickets are now available for visits through September 26th. 150 W. 17th St., 212-620-5000, rubinmuseum.org
SAFE REOPENING NYC: MUSEUM OF MODERN ART (MoMA)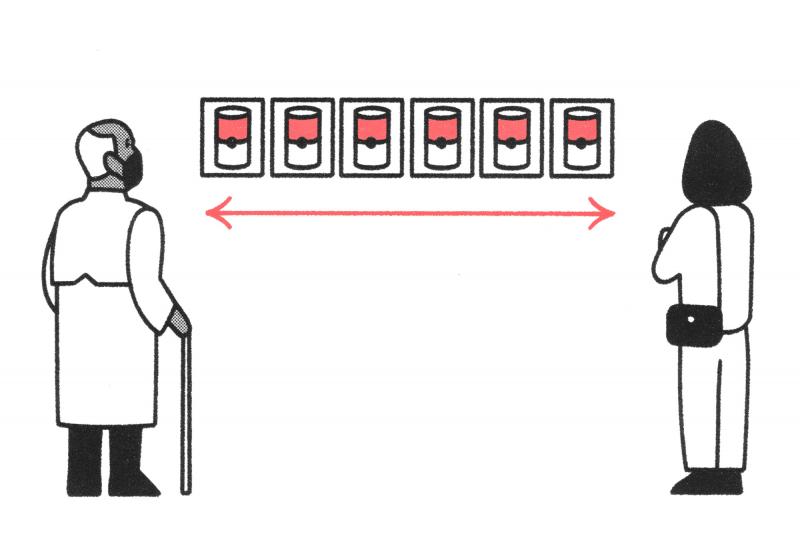 Illustration by Nicolas Ménard.
The newly remodeled Museum of Modern Art covers an immense range of contemporary and modern art, including prints and illustrated books, architecture design and drawings, paintings and sculpture, and photography and video installations. The institution will reopen to the public on Thursday, August 27, with free timed tickets for one month (thanks to UNIQLO). The first month of reopening will see curtailed hours, covering 10:30am-5:30pm through September 27th. The museum will be open to the public Tuesday through Sunday, with Mondays reserved for MoMA members only. MoMA is providing a safe environment for all with new safety protocols that follow CDC, New York State, and New York City guidelines. The Museum's Flagship Store on 53rd Street and the MoMA Design Stores in Midtown and Soho are also open. 11 W. 53rd St., 212-708-9400, moma.org
SAFE REOPENING NYC: AMERICAN FOLK ART MUSEUM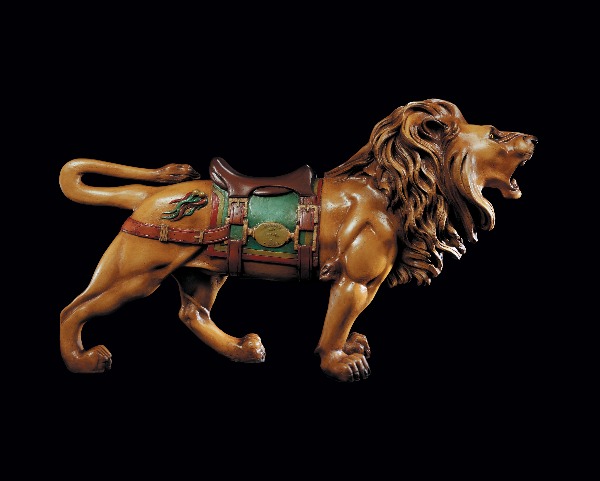 Carousel Lion, Marcus Charles Illions (1865/71–1949), Brooklyn, New York, 1910, paint on wood with glass eyes, 51 x 84 x 20. Collection American Folk Art Museum, New York, gift of Jacqueline Loewe Fowler from the Mary Lawrence and Walter Youree Collection, Oregon. Photo by Paul Foster.
Founded in 1961, the American Folk Art Museum is one of the leading institutions in the country dedicated to traditional and contemporary American folk art, with a collection of more than 5,000 works. Beginning Friday, August 28th, the museum will reopen, with galleries welcoming visitors Wednesdays through Sundays from 11:30am-6pm. The shop will be open, in addition to the exhibitions American Perspectives and Six Decades Collecting Self-Taught Art. All visitors will be required to have a ticket before entering the galleries; you can reserve one here. Admission is always free. The museum has developed comprehensive safety procedures for its staff and visitors, following guidelines issued by the Centers for Disease Control and Prevention (CDC), New York State, and New York City. 2 Lincoln Square, 212-595-9533, folkartmuseum.org
SAFE REOPENING NYC: WHITNEY MUSEUM OF AMERICAN ART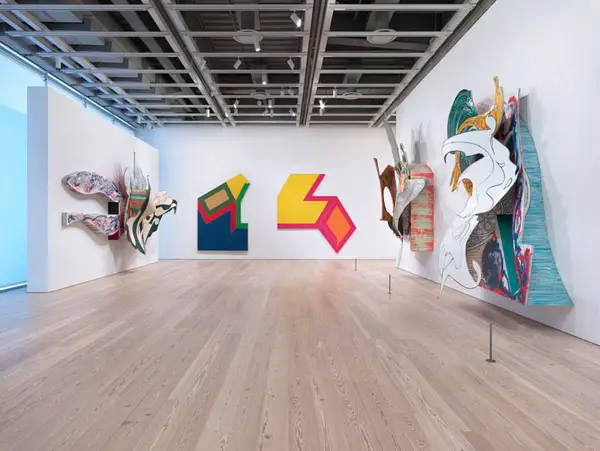 The Whitney Museum of American Art  is home to an impressive display of 20th century and contemporary art from the United States, with specially curated exhibitions of paintings, sculpture, drawings, and films. You can revisit its architecturally intriguing headquarters on the Hudson in the Meatpacking District starting Thursday, September 3rd. Exhibitions that were on view when the city went on pause in March will be available, including Vida Americana: Mexican Muralists Remake American Art, 1925–1945 and Cauleen Smith: Mutualities, which explores experimental works reflecting on memory and Afro-diasporic histories. Both will remain on view through January 31, 2021. A new exhibition, Around Day's End: Downtown New York, 1970–1986, will also be on view. This show will serve in part to set the stage for the completion later this year of David Hammons's Day's End, a much anticipated public art project. Admission will be Pay-What-You-Wish through September 28th. Tickets will be timed; you can find new safety measures here. 99 Gansevoort St., 212-570-3600, whitney.org
SAFE REOPENING NYC: THE MORGAN LIBRARY & MUSEUM

The Morgan Library & Museum began as the private library of financier Pierpont Morgan. Today, the Morgan serves as a museum, research library, musical venue, architectural landmark, and historic site. The museum's public reopening begins with a free opening weekend September 5th and 6th. Entry goes on sale Wednesday, August 26th. Opening hours will be Wednesday through Sunday from 10:30am to 5pm with 10:30am to 11:30am on Wednesdays and Saturdays reserved for Members. The Morgan's popular "Free Fridays" program continues 3-5pm every Friday afternoon. 225 Madison Ave., 212-685-0008, themorgan.org
SAFE REOPENING NYC: EL MUSEO DEL BARRIO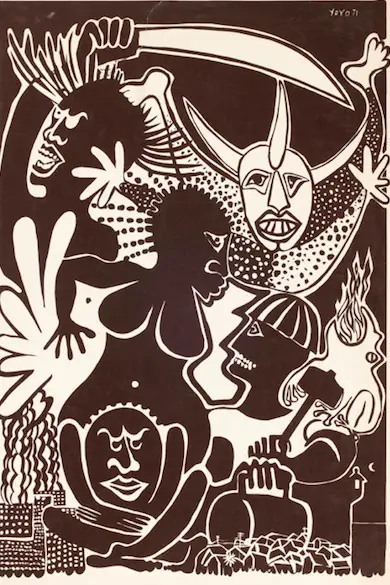 Yoyo Rodriguez, Untitled, 1971, Taller Boricua Puerto Rican Workshop.
Founded in 1969 with Puerto Rican roots, El Museo del Barrio has evolved into New York's leading Latino cultural institution, representing the diversity of art and culture of the Caribbean and Latin America. Starting Saturday, September 12, you can again experience this uptown destination, which will limit its open hours to weekends from noon to 5pm. All visitors will need to wear a face covering at all times; practicing social distancing; and follow signs and instructions from staff. Entry will be limited to 25% capacity. A new exhibition will greet visitors: "Taller Boricua: A Political Print Shop in New York," the first monograph show in three decades dedicated to the East Harlem-based Nuyorican collective workshop and alternative space. 1230 Fifth Ave., 212-831-7272, elmuseo.org
SAFE REOPENING NYC: FOTOGRAFISKA
Image courtesy Fotografiska.
A perfect cultural institution for a photography-obsessed era, Fotografiska New York became the Flatiron's District newest draw last fall. After being closed for several months as part of the city's coronavirus quarantine, this Stockholm-based photography center will welcome guests again on Friday, August 28th. Exhibitions will include four distinct solo exhibitions by acclaimed photographers Martin Schoeller, Cooper & Gorfer, Naima Green, Julie Blackmon, and one group show featuring emerging talent titled New Visions, co-curated with VICE Media Group. For a safe experience, admission will be limited to one-fourth of capacity and tickets will be timed. Special pricing will be in effect for the rest of 2020, $24 general admission; $14 for seniors, students, and military personnel; and free admission for first responders and frontline healthcare providers. Enhanced hygiene and safety measures will also be in effect, including required face coverings, social distancing, and pre-entry temperature checks. Hours will be Wednesday-Sunday, 11am-9pm. 281 Park Avenue So., fotografiska.com/nyc
SAFE REOPENING NYC: POSTER HOUSE
Cultural Revolution Glows by Yang Jiabao & Cai Sheng, 1972.
Poster House is a cultural center new to New York City and the first American museum focused on the history of international poster design. Thursday, September 3rd will be the first day that the galleries are open to the public (the first few days of admissions will be for members only). New hours will be 11am–7pm on Thursdays through Sundays; us their new online ticketing platform for timed admissions. Staff has also been trained in proper PPE usage and state health guidelines. Current exhibitions include The Sleeping Giant: Posters & The Chinese Economy and The Swiss Grid, which explores the International Typographic Style, considered one of the most important movements in graphic design history. 119 W. 23rd St., posterhouse.org
SAFE REOPENING NYC: SPYSCAPE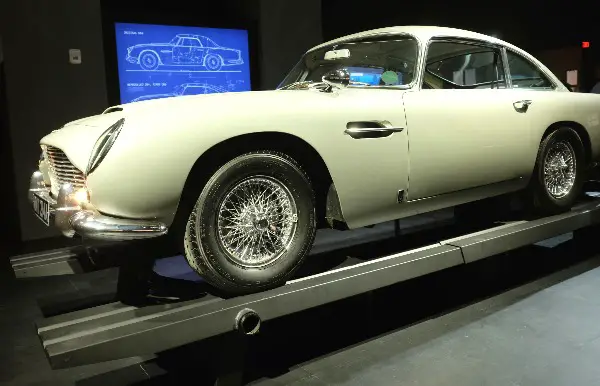 SPYSCAPE is the world's preeminent spy museum and experience. Combining world-class artifacts, storytelling, and personalized experiences, SPYSCAPE allows visitors to explore their own spy skills. Visitors will be welcomed back to the attraction starting Friday, August 28th. Safety enhancements include a new "Touchless Experience" which allows interaction with award-winning immersive content a experiences via smartphone. In addition, there will be a new SPYSCAPE-branded stylus for each visitor. Staff has been trained and equipped to deliver a best-in-class level of service and safety that includes reduced capacity, temperature check, timed-ticketing, one-way visitor flow, hand sanitizers, touchless ticketing, and high-frequency deep cleanings. To celebrate reopening and the new James Bond movie, tickets  include FREE admission (normally $23) to the first official 007 exhibition in the U.S., 007 x SPYSCAPE: Driven. YOU CAN BOOK TICKETS NOW. 928 Eighth Ave., 212-549-1941, spyscape.com
SAFE REOPENING NYC: MADAME TUSSAUDS NEW YORK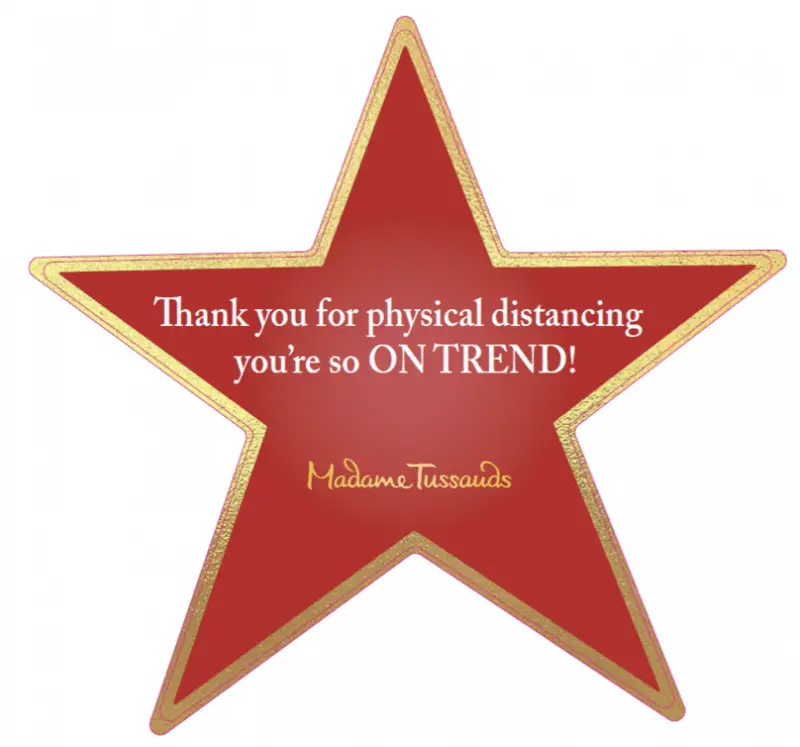 Madame Tussauds New York, in the heart of Times Square, is the only place with no ropes or barriers holding you back from living your best life with your favorite stars. Voted as one of New York's most unique attractions, you'll experience famous moments with the world's most iconic musicians, A-list stars, sports legends, world leaders and more. They've put a lot of thought into how to make the attraction safe in time for a grand reopening on Friday, August 28th. Reopening hours will be 11am-5pm Wednesday through Sunday. Key steps will include elevators limited to one family/group at a time, timed entries, capacity limited to one-fourth regular numbers, interactive areas remaining closed, face coverings required, new signage to help direct guests, regular cleaning throughout the day, and limited hours. 234 W. 42nd St., madametussauds.com/newyork
SAFE REOPENING NYC: NEW MUSEUM
New York's only museum devoted exclusively to contemporary art, the New Museum of Contemporary Art features exhibitions that showcase innovative and experimental work from around the world. Following a six-month closure due to the COVID-19 pandemic, the New Museum returns on Tuesday, September 15th, 2020. Current exhibitions "Peter Saul: Crime and Punishment," "Jordan Casteel: Within Reach," and "Daiga Grantina: What Eats Around Itself," will remain on view through the end of 2020. In addition, to celebrate the reopening, admission will be free to all visitors through Sunday September 27. Normal days and hours return, although entry will be restricted to less than 25% of capacity. Timed tickets will become available August 31st. The cafe will be closed and safety protocols will be in effect. 235 Bowery, 212-219-1222, newmuseum.org
DINING EXCURSIONS, SNACKS, AND BITES
SAFE REOPENING NYC: NORTH RIVER LOBSTER COMPANY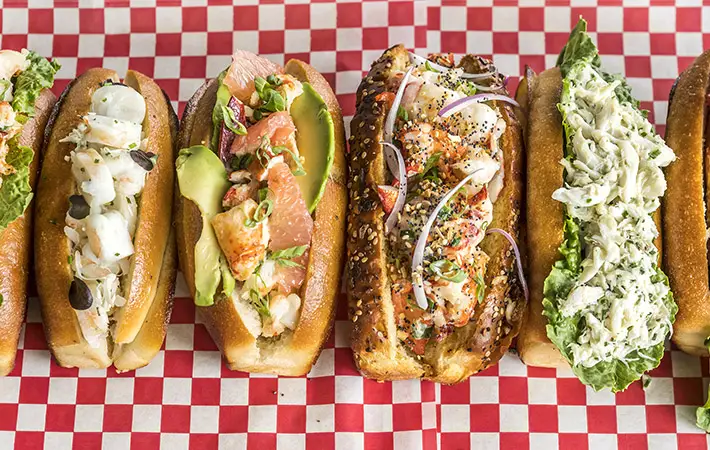 On Thursday, July 16th, lobster boat rides are back! The North River Lobster Company is NYC's only floating lobster shack and this week it returns to summer cruising form. You'll find all kinds of rolls (see above), from the classic signature to specialty rolls like the Lower East Side everything bagel option. There's also clam chowder, a full raw bar, and sangria, frozé, buckets of cold beer, and fishbowl cocktails to match. For safety, the boat will be thoroughly cleaned multiple times a day, all staff and guests will wear face coverings, and admission will be at half capacity to ensure social distancing. Departures from Pier 81 will run 1pm, 3pm, 5pm, 7pm, and 9pm, every Thursday, Friday, Saturday, and Sunday. northriverlobsterco.com
SAFE REOPENING NYC: HERSHEY'S CHOCOLATE WORLD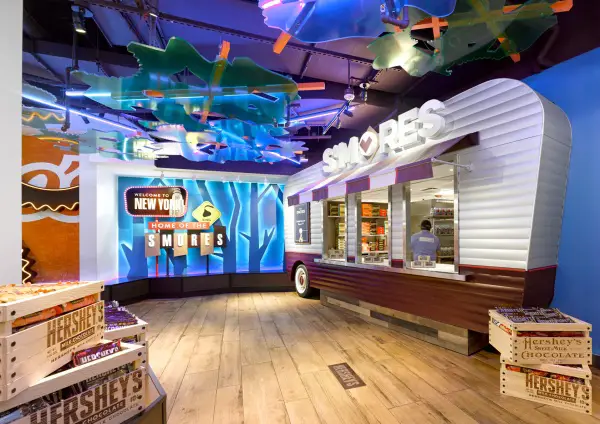 Hershey's Chocolate World is the place to go in NYC when your sweet tooth starts kicking in. Located in the heart of Times Square, the newly reopened store features chocolate experiences for everyone to enjoy. Several changes have been made to ensure safety on a visit (you can read them in detail here). The Hershey's Chocolate World team is thoroughly cleaning the building after-hours and throughout the day; capacity will be reduced and social distancing and face coverings are required; and although food is open, the take-out menu is now "best of," with increased safety measures in effect. Hours have been trimmed as well, to 11am-7pm daily. 20 Times Square building (701 Seventh Ave. on 47th St.), 212-581-9100, hersheys.com
SAFE REOPENING NYC: ROCKEFELLER CENTER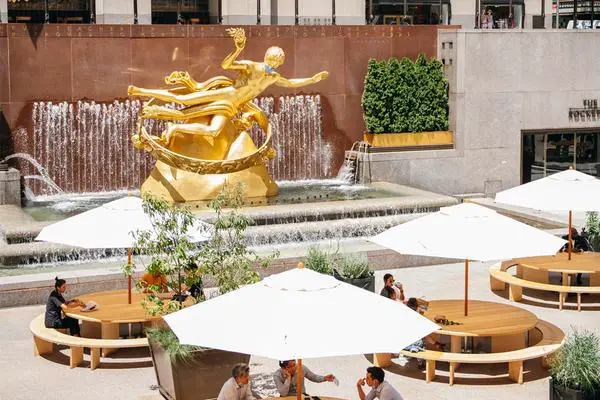 Rockefeller Center is back as well, with a return of retail shopping and great open-air dining courtesy of Summer at The Rink. The world-famous skate spot has shifted to warm weather duty, with oversized tables making social distancing easy. Enjoy decadent summer bites and specialty drinks to-go from favorites like Rainbow Room, Alidoro, City Winery, and Ethiopian standout Makina. rockefellercenter.com
Rainbow Room
Monday-Friday, 11:30am-3pm (The Rink) | See the menu 
Alidoro
Monday-Friday, 11am-3pm (The Rink) | See the menu
City Winery
Monday-Friday, 1pm-9pm (North Plaza)
Makina Truck
Monday-Sunday, 11am-7pm (North Plaza) | See the menu
SAFE REOPENING NYC: STARBUCKS RESERVE ROASTERY

The Starbucks Reserve® Roastery New York in the Meatpacking District is a place to experience Starbucks like never before. This 23,000-square-foot plant contains not only retail space but also an operating coffee roastery. Back open and welcoming visitors again, you can enjoy a variety of coffee classics and roastery creations—each drink is handcrafted with Starbucks's rarest coffees, roasted on site. In addition, there are Princi Italian pastries made fresh daily, and "Family Meals" that you can enjoy at home. Among the reopening precautions now in place here: enhanced cleaning measures (elevated cleaning and sanitizing protocols that meet or exceed public health guidelines); prior to shifts, all partners complete a pre-check, including taking temperatures; partners are required to wear facial coverings during their shifts and continue to frequently wash their hands; customers will follow social distancing and safety protocols and wear facial coverings. 61 Ninth Ave., 212-691-0531, starbucksreserve.com/newyork
SAFE REOPENING NYC:
THE RIBBON

Times Square's newest draw is The Ribbon, a spinoff of the Blue Ribbon empire of fried chicken and sushi fame. Brothers Bruce and Eric Bromberg, hospitality legends with more than 25 years under their belts, have brought the Theater District a winning combination of elegant-yet-approachable environs and perfectly executed elevated comfort food. Although dining rooms are awaiting New York City's Phase 3 to begin, plans are already in place to ensure a safe experience. They'll be using the CLEANSE® portfolio of viral/bacterial fighting UVC solutions to address each of the three critical "PAS" threats to the safety of indoor environments (People, Air, and Surfaces) using the power of UVC light to kill viruses, bacteria, and mold. You'll find these enhanced procedures at the original location of The Ribbon, on the Upper West Side, 20 W. 72nd St., 212-787-5656, theribbonnyc.com; 220 W. 44th St., 212-944-2474, 44.theribbonnyc.com.
SAFE REOPENING NYC:
VERSA ROOFTOP & RESTAURANT

The open-air spot on the fifth floor of the Renaissance New York Midtown Hotel, VERSA Rooftop & Restaurant has reopened with a social-distancing-friendly 8,000 sq. ft. to roam. Enjoy stunning Empire State Building and Hudson Yards views while dining in the sky. VERSA welcomes back guests with new social distancing and health safety protocols, following the city's guidelines. Specifically, you can expect reduced capacity, increased spacing between tables, training and PPE for staff, new contactless technology including the NFC chip and QR code that pops up digital menus on smart phones, regular cleaning and disinfecting of high-touch areas, and much more. There's also a new food and drink menu for summer, with highlights like shishitos, guac, pastrami sliders, lobster rolls, and brisket-blend burgers with bacon and cheddar. The summer's signature cocktails include frosé and spicy cucumber margaritas. 218 W. 35th St., 646-850-2850, versanyc.com
GETTING OUTSIDE
SAFE REOPENING NYC: THE NEW YORK BOTANICAL GARDEN
The New York Botanical Garden sprawls across 250 acres in the Bronx with gardens, collections, an old-growth forest, a natural Bronx River waterfall, a Native Plant Garden, and blossoms that run from daylilies and hydrangeas to water lilies and lotuses. Public access to the garden returns on Tuesday, July 28th, with changes to ensure safety that include enhanced cleaning and disinfecting practices, face coverings required, and only outdoor spaces open, with social distancing in place. In addition, all visitors, including Patrons and Members, will need to reserve a timed ticket in advance (capacity will be reduced). 2900 Southern Blvd., Bronx, 718-817-8700, nybg.org
SAFE REOPENING NYC: BROOKLYN BOTANIC GARDEN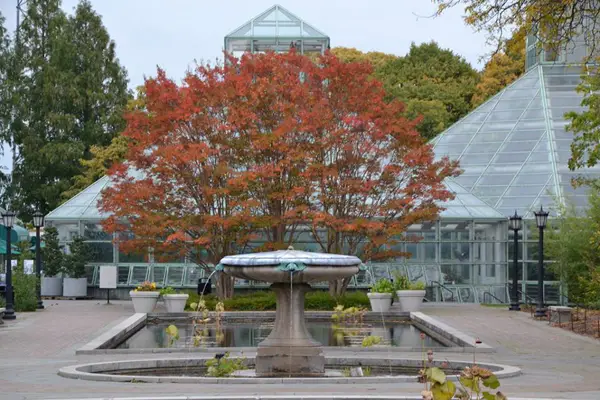 The Brooklyn Botanic Garden was founded in 1910 and has grown to include a Japanese Garden, Rock Garden, Rose Garden, Herb Garden, Lily Pool Terrace, and several indoor pavilions. The garden is reopening to the public on Friday, August 7th, with new safety guidelines and limited capacity. Advance timed-entry tickets will be required for all visitors; ticket reservations open on Monday, July 27. Social distancing and mask wearing will be required for all guests. 445 Flatbush Ave., 718-623-7200, bbg.org
SAFE REOPENING NYC: WAVE HILL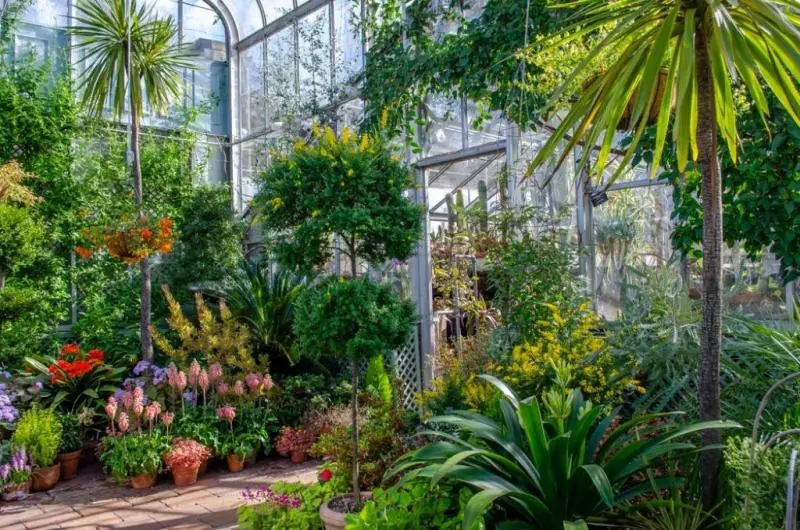 Find a natural contrast to the city amid the exquisite gardens at Wave Hill, perched on a bluff overlooking the Hudson River. The 28 acres of gardens and woodland here were established on the grounds of an 1843 Bronx estate to serve as a respite as well as a showcase for horticulture. The sweeping lawns, stunning views, art gallery, and cafe are well worth the one-hour subway or train ride from midtown Manhattan. After reopening on Thursday, July 30th, new safety restrictions were put in place. Masks are required for entering and exiting the garden, and when using a restroom. Reopening comes in phases, with initial hours Thursday through Sunday, noon to 5:30pm. Visitors will be limited, with admission tickets required in advance. You can reserve online for the following Thursday-Sunday opening every Monday. The visitor parking lot will not be open and shuttle service is temporarily suspended due to social distancing requirements. Courtesy carts and wheelchairs are also temporarily unavailable. Due to COVID-19, the buildings will be closed, but restrooms will be open on the lower level of Glyndor Gallery and at the Perkins Visitor Center. Visitors are welcome to bring water but not food (note that water fountains will be closed.) 4900 Independence Ave., 718-549-3200, wavehill.org
SAFE REOPENING NYC: GOVERNORS ISLAND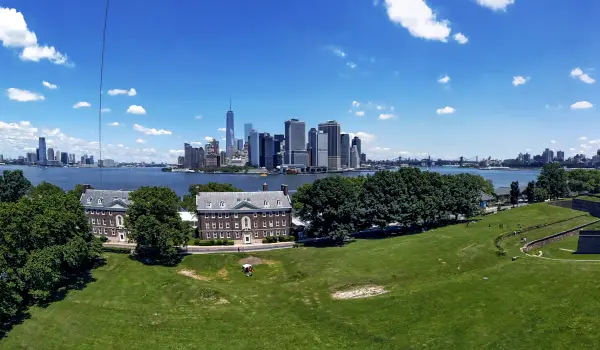 Image: Nestor Rivera Jr/Flickr
Governors Island, a short ferry ride from Brooklyn or downtown Manhattan, is New York's summer playground. A former strategic battle site in the Revolutionary War, the island now hosts visitors during the warm months for outdoor activities. After several weeks of coronavirus shut down, the island is back open for visitors as of Wednesday, July 15th. Hours will be 10am-6pm on the weekdays, extended to 7pm on the weekends. Manhattan ferries run daily from the Battery Maritime Building at 10 South St. There will be Brooklyn access as well, leaving from Atlantic Basin in Red Hook, although they'll be available on the weekends only. (A third way of travel will be a dedicated weekend shuttle from Wall Street/Pier 11 that will run roughly every 30 minutes beginning July 18, ferry.nyc.) Social distancing will be observed on all ferries and the island, with face coverings required for travel. govisland.org
SAFE REOPENING NYC:
THE HIGH LINE
The west side's beloved elevated park, The High Line, reopened on Thursday, July 16th. To accommodate our new normal, capacity at the park is greatly reduced. Reservations for free timed-entry tickets are opened every two weeks on Mondays for the following two weeks. A limited number of walk-up passes are also available at the entrance, but advance planning is recommended. Traffic will only flow in one direction, starting at Gansevoort Street. All visitors must enter at the southern end of the High Line, at Gansevoort Street and Washington Street, and move northwards. In the first reopening phase, the High Line was open only to 23rd Street,  but as of Saturday, September 5th the High Line will expand to 30th Street. You will be able to safely visit from Gansevoort Street, in the Meatpacking District, all the way to the Spur, at 30th Street and 10th Avenue. You will also be able to enter at 23rd Street, in addition to the existing entrance at Gansevoort Street, with northward movement only. City-wide safety protocols also apply here, including the requirement of wearing a mask or face covering and maintaining 6-foot social distancing. thehighline.org
SAFE REOPENING NYC: BROOKLYN BRIDGE PARK
Live events have returned to Brooklyn Bridge Park. Head over to this East River oasis for socially distanced sunrise yoga, kayaking, virtual storytime, and open hours. For safety in the pandemic, all in-person programming will be limited to 25 people on-site at one time. Social distancing and masks are required. Certain programs require advanced registration; you can check out the full event calendar here. 334 Furman St., 718-222-9939, 
brooklynbridgepark.org
HEALTH & BEAUTY
SAFE REOPENING NYC: LINHART DENTISTRY
Since 1981, Linhart Dentistry has been taking care of New York City and their offices are back open to treat patients. Among the new safety measures are three separate, sanitized waiting areas, increased spacing between appointments, pre-screening of patients, in-office testing, medical-grade air purifiers, daily deep cleanings, and staff in PPE. 230 Park Ave., 212-682-5180, drlinhart.com
SAFE REOPENING NYC: DR. RONALD A. PRIMAS
Labeled many things in his career—from a 24-hour urgent care doctor, to Doctor to the Stars, to a travel medicine expert and even "the best in town"—Dr. Ronald A. Primas is an optimal medical resource for both city visitors and the NYC community. Dr. Primas is a board-certified and doubly re-certified internist, a preventive medicine specialist, and is a Fellow in the American College of Physicians and the American College of Preventive Medicine. As New York City emerges from the pandemic, Dr. Primas's office on the Upper East Side is treating active COVID-19 patients, doing real-time COVID-19 viral PCR testing, and antibody testing for immunity. In addition, look to Dr. Primas for hotel and other industry COVID-19 prevention protocols and workplace walkthroughs to ensure employee and hotel guest safety. 952 Fifth Ave., Suite #1D, 212-737-1212, travelmd.com
SHOPPING
SAFE REOPENING NYC: THE MILLS AT JERSEY GARDENS

Located just a half-hour from Midtown, The Mills at Jersey Gardens provides luxury shopping at outlet prices. This Elizabeth, New Jersey mall has outlets for brands like Banana Republic, Timberland, Nike, True Religion, Zales, ALDO, and Coach. You can also find department store brands at Saks Off Fifth and Neiman Marcus Last Call. After a pause for the coronavirus, the mall is back and serving customers again. You can read full coverage of their safety and cleaning measures here. 651 Kapkowski Rd., 908-354-5900, simon.com/mall/the-mills-at-jersey-gardens
SAFE REOPENING NYC: NORDSTROM

Photo courtesy of Nordstrom.
Department store Nordstrom has six NYC locations and they're all back open now, including the new Nordstrom NYC Flagship on West 57th Street. For the new normal, safety precautions include health screenings for employees, face coverings required for both workers and customers, limited capacity to aid in social distancing, and increased cleaning. Hours will be reduced as well. 57th & Broadway, 212-295-2000, shop.nordstrom.com
SAFE REOPENING NYC: SAKS FIFTH AVENUE

Flagship department store Saks Fifth Avenue opened back up for in-store shoppers on June 24th. Social distancing will be a priority, with precautions for cleanliness all through the store. There are 100 hand-sanitizing stations throughout the store and escalators are illuminated by ultraviolet lights that continuously clean the handrails (elevators are reserved for seniors and customers with health issues). Masks are required to shop. Tried-on clothing from the dressing rooms will be set aside for 24 hours and makeovers and spa treatments remain suspended for now. 611 Fifth Ave., 212-753-4000, m.saks.com/locations/s/newyork
SAFE REOPENING NYC: EMPIRE OUTLETS

Empire Outlets is the only outlet mall within the five boroughs of New York City. Located just across New York Harbor from One World Trade Center and the Statue of Liberty, a free 20-minute Staten Island Ferry ride connects you with deals on your favorite brands—and some of the best views of the New York skyline. When it reopens, the nearly four acres of outdoor space here will make it easy to shop and explore safely (the stores are connected by expansive outdoor stretches, unlike with conventional malls). All employees will be trained with CDC COVID-19 safety guidelines, including how to put on, take off, clean, and discard PPE. All employees will be required to wear masks and conduct temperature checks. Stores will operate at reduced capacity and there will be increased use of touch-free transaction technology. Regular enhanced cleaning and disinfecting of high concentration touchpoints including seating, handrails, escalators, elevators, and restrooms—not to mention fitting rooms. There will be hand sanitizing stations throughout the property and social distancing markers in common areas. Revised hours are Monday to Saturday 10am-8pm, and Sundays 11am-7pm. 55 Richmond Terrace, Staten Island, empireoutlets.nyc
SAFE REOPENING NYC: ARTISTS & FLEAS
Artists & Fleas was begun by Amy Abrams and Ronen Glimer, a husband and wife duo with a mission to bring together emerging artists, indie designers, and vintage collectors. The vibrant market has a prime space inside Chelsea Market, directly beneath the High Line in Chelsea, in addition to a Williamsburg, Brooklyn location. As part of a post-coronavirus reopening, look for safety protocols like masks required and sanitizer stations and contactless checkouts to help keep hands clean. A couple of etiquette suggestions as well: please refrain from trying on something you don't plan on buying, and if someone is already at a booth that you're interested in, give them a little space before diving in (if you're tight for time you can always grab a business card from the vendor). New hours are Thursday to Sunday 11am-7pm in Chelsea and Saturday to Sunday 11am-7pm in Brooklyn. Chelsea, 88 Tenth Ave. at W. 15th St., 917-488-0044; Brooklyn, 70 N. 7th St., 917-488-4203, artistsandfleas.com
SAFE REOPENING NYC: FEDERICO SALON & SPA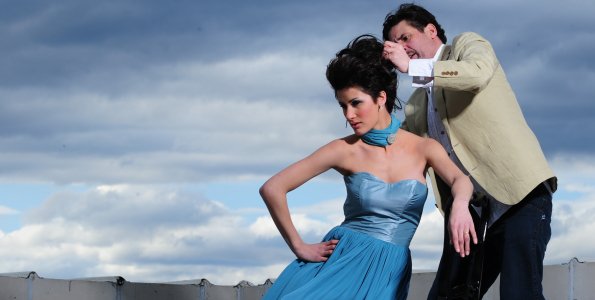 Celebrity hairstylist Federico Calce is reopening his Federico Salon & Spa with great care to keep his staff and clientele safe.  Federico and his staff all wear hazmat suits and, of course, masks.  Customers are taken at the exact time of their appointment and are not allowed to wait in the lounge.  When customers arrive they must be wearing a mask, and they are sprayed with disinfectant. Even the soles of their shoes are sprayed. Their temperatures are taken and their purses and other personal possessions are placed in a tote bag for them to carry. Chairs are blocked off to keep social distancing. Clients are happy knowing they will leave looking their best and staying healthy while doing so! 57 W. 58th St., Second Floor, 212-262-3027, federicosalon.com
SAFE REOPENING NYC: OASIS DAY SPA
Oasis Day Spa, with locations in New York City and Westchester County, is a national award-winning day spa that combines peaceful, beautiful environments with a superior, friendly, highly trained staff. They'll be back open again starting Monday, July 6th. The options offered will include massage, waxing, and hydro services. 1 Park Ave., 212-254-7722, oasisdayspanyc.com
SAFE REOPENING NYC: ASTOR PLACE HAIRSTYLISTS

New Yorkers have been getting haircuts at Astor Place for some 70 years now. This subterranean bastion of city authenticity is back open for Phase 2. Among the safety procedures now undertaken: every staff member will be tested before taking on clients; will have daily temperature checks; wear mask and gloves; will disinfect all tools, chairs, and surfaces between clients; and will wash hands between every cut. In addition, cuts are now by appointment only, there are no shaves or beard trims, and there are partitions between chairs, which are socially distant. New hours are daily 7am to 7pm, closing at 6pm on Sundays. 2 Astor Pl., 212-475-9854, astorplacehairnyc.com
SAFE REOPENING NYC: GYMS
New York State's infection rate has been below 1 percent positive for ten consecutive days and accordingly, the state will permit local elected officials to allow gyms to reopen. Starting August 24th, gyms and fitness centers can reopen at 33 percent capacity while enforcing rigorous safety protocols, including requiring masks be worn at all times. Read New York's full guidance on gym reopening here. Note that in New York City, inspections will be required for gyms to open and the current priority is getting schools ready to open first.  Also, the guidelines mean indoor fitness classes and indoor pools are not currently scheduled for reopening.
SAFE REOPENING NYC: AMTRAK

Photo credit: Amtrak.
With car rental rates peaking during the busy summer season, Amtrak offers affordable and convenient transportation on Acela for leisure travel to NYC, connecting with the Northeast Corridor. For post-coronavirus safety, Amtrak offers cashless service and they'll be waiving change or cancellation fees for reservations made by August 31st. Bookings are limited on most trains to allow for social distancing in seating areas; if you're traveling alone you can put belongings on the seat next to you. Families and friends can easily get seats together. Amtrak is also upgrading its cleaning protocols in stations and onboard. For a video of the enhanced safety and cleaning measures, see here. Acela offers comfortable seating with more space and legroom than a typical vehicle. Onboard the high-speed train, customers have access to WiFi, electrical outlets at their seats, and complimentary food and beverages. Additionally, passengers can travel across the East coast on Northeast Regional, and enjoy the scenic landscapes onboard the Adirondack and Vermonter routes. A full list of Northeast routes can be viewed here. 
---
EVERYTHING TO DO NYC

Want free advice on what to do and see in New York? Join our Facebook group Everything to Do NYC, a place for people to ask questions and get tips on how to make the most of the city.