(10/25-10/27) Looking for what to do in New York? We've got the latest on all the goings-on in NYC this weekend, from concerts to museum exhibitions to comedy to the best in city sightseeing. Halloween festivities for all ages get underway this weekend, plus find an immersive Arctic experience, Sunnyside's Restaurant Week, lots of great exhibits, and more! 
THE BIG EVENT
Many Halloween parties are taking place this weekend, what are your plans? Halloween in NYC 2019: Scary Good Times can give you some ideas!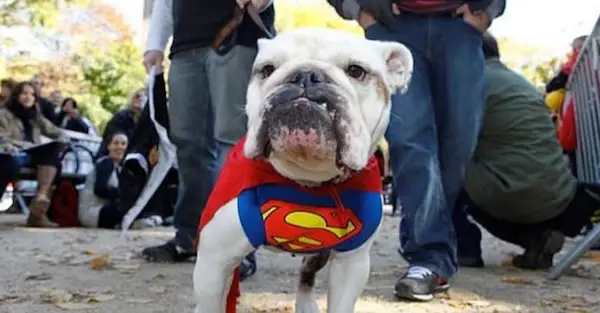 (10/26) Pooches let their alter-egos shine, putting on some of the cutest and most creative costumes you've ever seen at the 21st annual Great PUPkin Dog Costume Contest in Fort Greene Park. Festivities begin at 11:30am. Suggested $5 donation. fortgreenepups.org
PLUS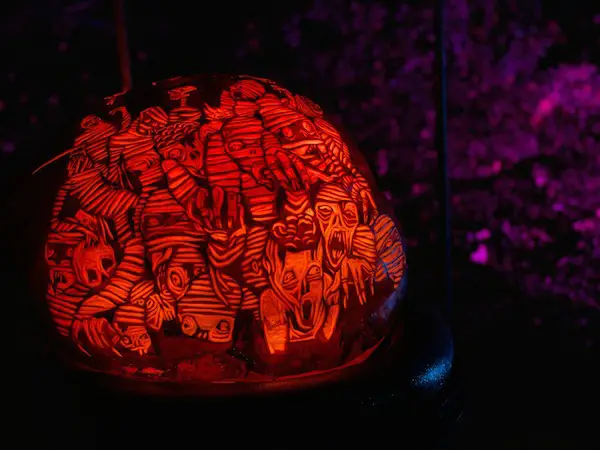 (10/24-10/27 ) Night of 1,000 Jack O'Lanterns at 10 South Street. Come see more than 1,000 jack o'lanterns carved by artists from around the tri-state area and staged along an illuminated tree-lined pathway in the South Street Seaport District. Centuries-old buildings make the perfect backdrop in the heart of the Big Pumpkin, er, Big Apple.

(10/24-10/27) Arctic Refuge Experience in Williamsburg. Powered by a mix of breathtaking film, 4D technology, and immersive sensations, this one-of-a-kind art installation will allow you to experience a year in the Arctic National Wildlife Refuge. Prepare to be awed by America's last great wilderness as you get up close and personal with herds of caribou, Arctic foxes, migratory birds, and polar bears. With over 66 million pixels of projected video, 20 channels of sound, custom scents, atmospheric elements, and tactile sensations, you'll be transported to the Arctic Refuge without ever leaving Brooklyn.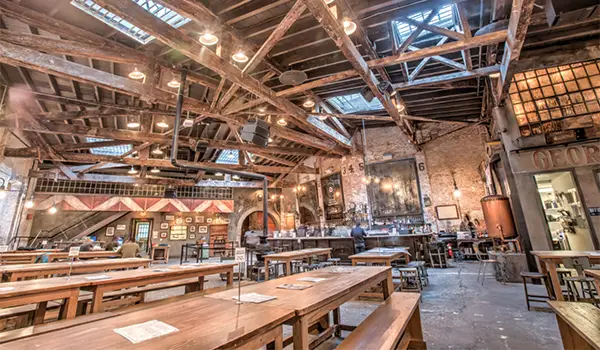 (10/26) Houston Hall Halloween Bash. Join the downtown beer hall on Saturday for a raucous night of scary fun. Look for an all-night DJ, costume contest with big prizes, and classic horror movies playing on the big screen. Specialty beers like Oktoberfest Lager and Pumpkin Ale are on tap to quench your All Hallows' Eve thirst.
(10/26) Met Museum's World Culture Festival Dance! Discover how artists from around the world find inspiration through movement. Enjoy interactive activities for all ages, including artist-led workshops, special performances, and more. 12pm-5pm. Free with admission. metmuseum.org/MetFest2019 
(10/27) Trick or Treat the Terminal. Grand Central Terminal celebrates Halloween with trick or treating and family activities. Nine locations will be distributing candy and kids can meet famous children's characters and enjoy spooky music from three live acts. There's also a pumpkin-carving station, photo ops, prizes, and complimentary "Trick or Treat" tote bags. Updated information can be found here.
(10/27) Scary Bazaar. Every Sunday on the Upper West Side you can find Grand Bazaar NYC, the city's largest curated market—and most distinctive! You'll find one-of-a-kind fashion, crafts, collectibles, and handmade jewelry. The Sunday before Halloween you'll also find creepy crawly decorations, 140+ spooky vendors—many in costume—and a fantastic selection of scary sweet treats from artisanal food vendors.
EXHIBITION OF THE WEEK
(Ongoing) For a brief few years, fine art, folk art, Hollywood, and Pentecostal fervor all came together in hand-painted advertisements for VHS screenings in Ghana. Now open at Poster House in Chelsea, Baptized By Beefcake: The Golden Age of Hand-Painted Movie Posters from Ghana features colorful takes on vintage horror and action flicks, seen through a localized religious lens. It's amazing any of this even survived—painted on recycled rice sacks and meant for short-term use, the show reflects a remarkable effort of preservation, holding up an uncanny mirror to '80s and '90s America. posterhouse.org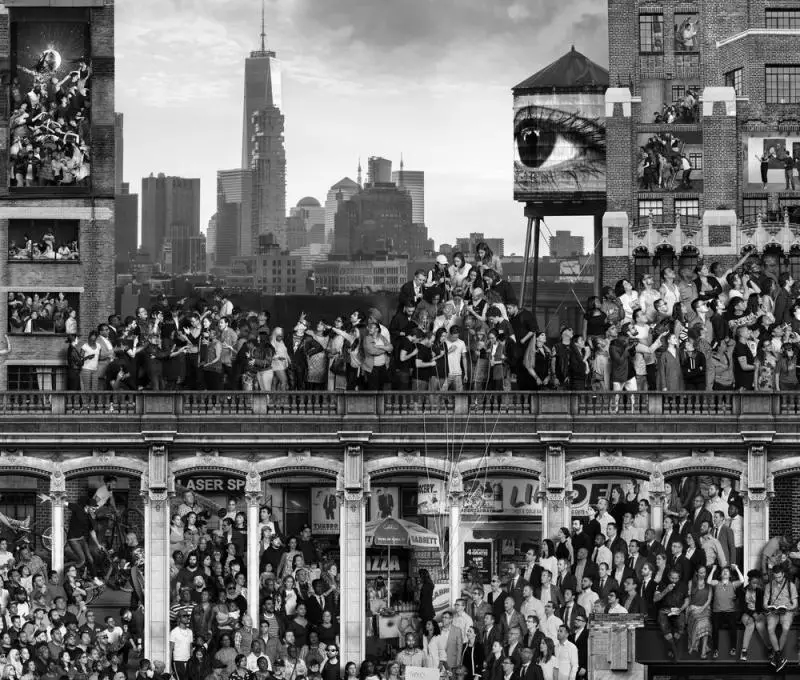 JR (French, born 1983). The Chronicles of New York City, 2018–19 (detail). © JR-ART.NET.
(Ongoing) JR is a consummate 21st-century artist. As a young man, he began taking pictures of his fellow street-artist friends and posting them around his native France. Later, his photography projects expanded in scope and deepened in tone without losing their populist flair. Now, this celebrated artist will receive the first major North American retrospective of his work, JR: Chronicles at the Brooklyn Museum. The exhibition, named after the artist's new mural of New York City, debuted October 4. The mural itself, The Chronicles of New York City, portrays over one thousand New Yorkers that the artist interviewed and photographed in summer of 2018.
(Ongoing) Tickets now on sale for the return of the Museum of Ice Cream.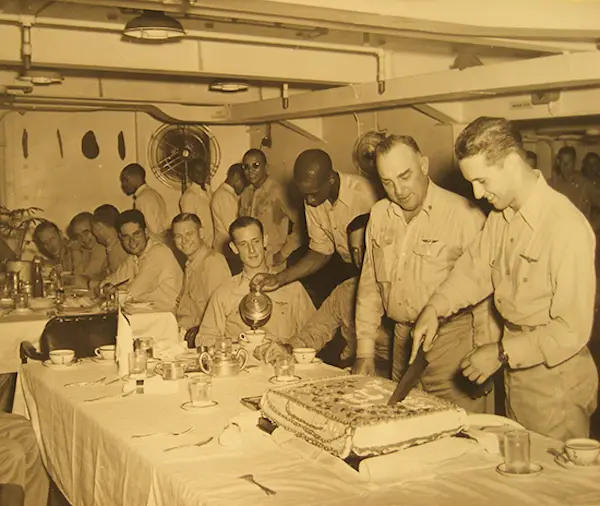 Dinner and cake in Intrepid's wardroom in October 1944. Photo from National Archives and Records Administration.
(New!) Making a beautiful cake is pretty challenging, but what if you had to make it on a Navy ship, for a crew of thousands? The Intrepid Sea, Air & Space Museum's new exhibition, Navy Cakes: A Slice of History, explores the history of naval personnel and their incredible cakes.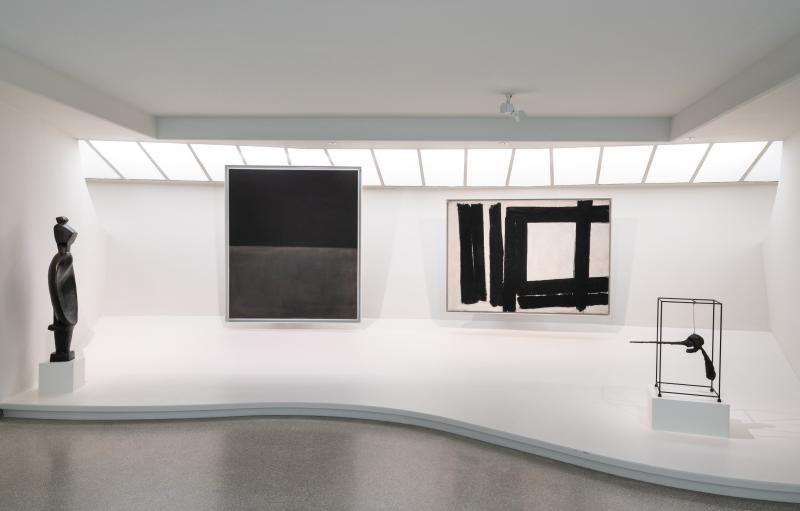 Installation View: Artistic License: Six Takes on the Guggenheim Collection, Solomon R. Guggenheim Museum. Photo: David Heald. © Solomon R. Guggenheim Foundation.
(Ongoing) For the first time in its history, the Solomon R. Guggenheim Museum has invited artists to serve as curators, creating Artistic License: Six Takes on the Guggenheim Collection. Drawing on the institution's vast collection of fine art, the show is a fitting complement to the 60th anniversary of the Guggenheim's iconic Frank Lloyd Wright-designed home. The six artists are Cai Guo-Qiang, Paul Chan, Jenny Holzer, Julie Mehretu, Richard Prince, and Carrie Mae Weems, all major figures in the contemporary art world. On Monday, October 21st, head to museum for an all-day event commemorating the building's 60th Anniversary . Museumgoers can enjoy live jazz, cupcakes, tours, and conversations, and any visitor with an October 21 birthday will be given free entry.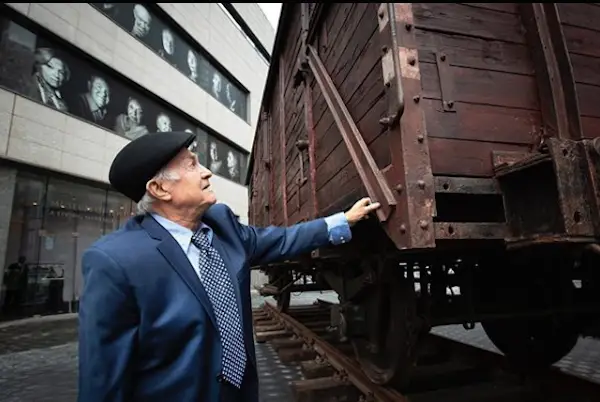 (Now-8/30/20) The most significant site of the Holocaust, Auschwitz was not a single entity, but a complex of 48 concentration, forced labor, and extermination camps, at which 1 million Jews—and tens of thousands of others—were murdered. Auschwitz. Not long ago. Not far away., a new exhibition at the Museum of Jewish Heritage—A Living Memorial to the Holocaust, explores the legacy of history's deadliest mass murder site. More than 700 original objects and 400 photographs are on display, many for the first time in North America. Among the artifacts: personal possessions, fragments of a barrack, a gas mask used by the SS, and an original German-made Model 2 freight wagon used for the deportation of Jews to the ghettos and extermination camps in occupied Poland. mjhnyc.org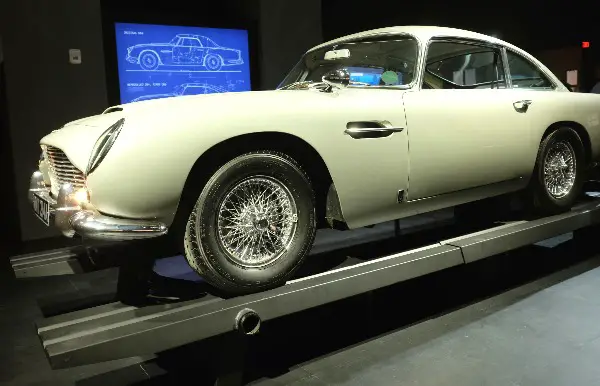 (Ongoing) You can experience the world of history's most famous spy at Driven: 007 x SPYSCAPE, a new exhibition inside New York's spy museum, SPYSCAPE. This immersive exhibition brings you into the Bond universe with sets, props, and insights about the creation of the ageless secret agent. Among the highlights: an Aston Martin DB5, the lab of Quartermaster (or Q), M16's gadget master, concept art from Oscar-winning production designer Sir Ken Adams, and an exploration of 2012 Bond film Skyfall's unforgettable final scene.
COMEDY
(10/25-10/26) MTV Teen Wolf star Orny Adams at Gotham Comedy Club. 
PLUS
(10/23-10/25) Stuff You Should Know at The Bell House. Josh Clark and Chuck Bryant are the hosts of "Stuff You Should Know," the research-based, award-winning general knowledge podcast loved around the world. Since 2008, the pair have produced more than 1,200 episodes and SYSK was the first podcast to hit 500 million downloads on Apple Podcasts as well as the first to reach a billion downloads globally.
(10/25) David Cross: Shootin the S--- (And Seeing What Sticks) at Union Hall. 
(Ongoing) See great new comedic talent daily at the LOL Times Square Comedy Club. Use this coupon and get half off admission!
Click here for more "Comedy Shows in NYC This Weekend."
KIDS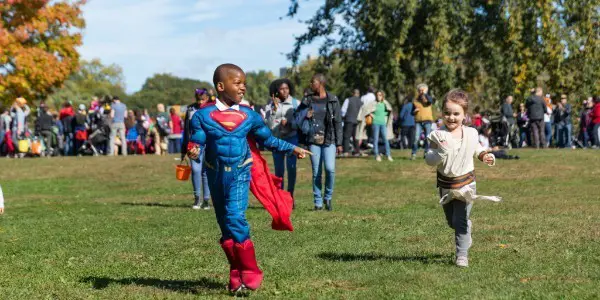 (10/26) Prospect Park Alliance invites all local ghosts and ghouls to the 40th Annual Halloween Haunted Walk and Fair! Thousands of families come out for free, ghastly fun in Prospect Park. 
PLUS
(10/27) Children's Halloween Festival at Queens Farm. Dress in costume, boogie down to live country western music, take an autumn hayride, visit a Haunted House, enjoy pony rides and a seasonal petting zoo, find your way out of The Amazing Maize Maze, and more! 11am-4pm. $20. queensfarm.org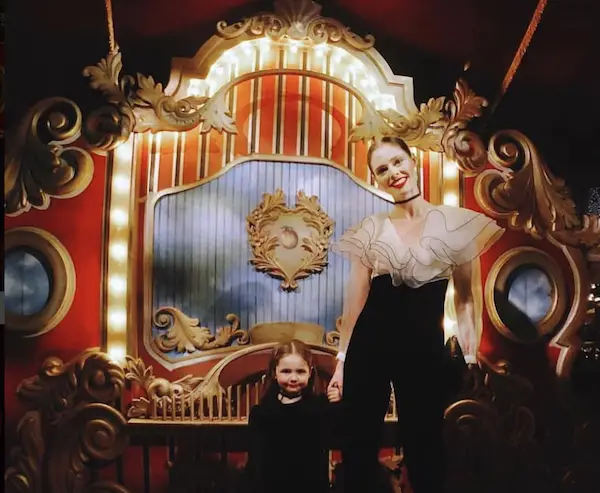 (Now-2/2/20) Big Apple Circus at Lincoln Center's Damrosch Park is back, and while it's still appealing for kids, it's gotten a makeover, making a concerted effort to appeal to young and old alike, with a selection of high end cocktails now on sale, a VIP tent, new performers, and more. bigapplecircus.com
(Now-11/3) Kids of all ages will want to check out the new Bronx Zoo Dinosaur Safari. It's the biggest, most realistic dinosaur safari ride in America. Travel back in time on a guided tour to learn about dinos of the past and descendent animals of the present. The experience will take riders through 2 acres of woods, in which they will meet animatronic dinosaurs, including two 40-foot-long T. rexes, a 60-foot-long herbivore called Omeisaurus, and the Spinosaurus, one of the largest carnivorous dinosaurs to ever exist. For even more kids activities, and to learn more about the brand new Bronx Zoo Dinosaur Safari, check out our sister site nymetroparents.com!
(Now-Nov. 30) Just extended! Color Factory, a massive interactive art space, began in August 2017 in San Francisco. Wildly popular, the project has set up shop in SoHo and is sure to inspire lines as long as the cronut did at nearby Dominique Ansel Bakery. Designed by a wide spectrum of artists, Color Factory walks visitors through 16 rooms devoted to the wonder of color. You're invited to compliment someone using color words, discover your signature color, and read wishes for the world written by NYC school children on varicolored balloons. Each room is equipped with a camera that can take a picture of you and send it to your phone: the better to post with!  251 Spring St., support@colorfactory.co,colorfactory.co, @colorfactoryco
(Ongoing) "Here Be Dragons," a new interactive scavenger hunt in the American Museum of Natural History offered by Fable & Lark: Storied Adventures, draws from the menageries of creatures in both Fantastic Beasts and Fantastic Beasts: Crimes of Grindelwald. Participants will explore galleries throughout the museum as they answer questions, solve clues, engage in creative activities, and track down the origins of some of the creatures from both the Fantastic Beasts stories as well as other classic myths and tales. Grab your nifflers and join! Advance registration required. fableandlark.com
Updated! Read about more Instagrammable pop-up exhibits in NYC here.
(Ongoing) Exhilarating Family Fun at Stomp NYC. Special discount packages available!
Click here for more "Things to Do with Kids in NYC This Weekend."
For more kids activities, check out our sister site nymetroparents.com!
SIGHTSEEING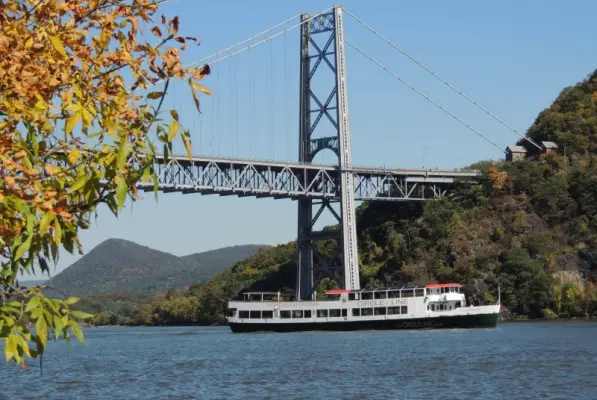 (Weekends through 11/10 ) Circle Line's Bear Mountain Cruise is back! Take a cruise up the Hudson River on weekends to Bear Mountain State park, while enjoying the autumnal sights and our on-board Oktoberfest with live oom-pah music, and German food and beer (available for purchase). Bear Mountain State Park features 50+ hiking and biking trails, a stunning lake with paddle boats, a zoo, museum and The Bear Mountain Inn restaurant (reservations recommended!). There's a 30 minute walk up a winding path to access these facilities. Adults from $65+, kids 5-12, $52+.
Bring a loved one to take in the breathtaking view at Top of the Rock. 
PLUS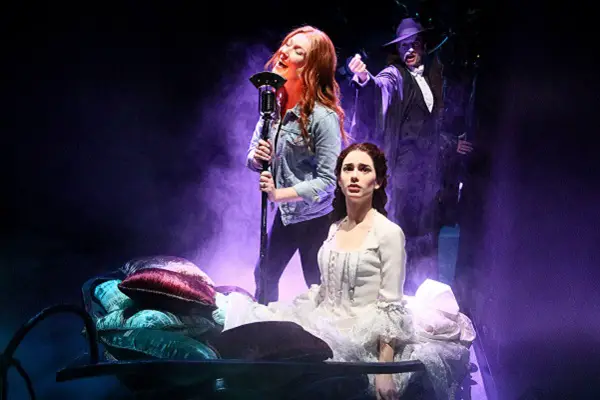 (New!) Madame Tussauds New York Presents Broadway. Take a magical journey starting with a cocktail at the Broadway Bar, and then traveling through a kaleidoscope of your favorite musicals.  Enter the world of Andrew Lloyd Webber's Phantom of the Opera, Joseph and the Amazing Technicolor Dreamcoat, Evita, Sunset Boulevard, and Cats. You can sing "Memory" with Grizabella the "Glamour Cat" and wear the Dreamcoat yourself as you become a Broadway star. The Phantom of the Opera will also guide you through this dazzling backstage experience, and perhaps do a little singing himself along the way. Live actors will be on hand to enhance the rush both on- and offstage.
(Ongoing) Get the full stadium experience with Yankee Stadium Tours, which offers exclusive access to New York Yankee historic spots like Monument Park, The Great Hall, and even down to the dugout. The daily tours also bring you close to baseball artifacts like Babe Ruth's bat, Lou Gehrig's jersey, and rings and trophies representing the Yankees' 27 world championships. Here is a $5 off coupon!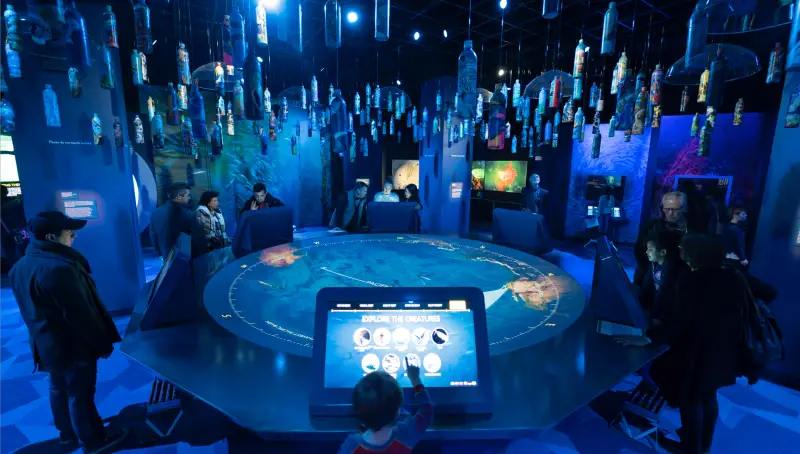 (10/25-10/31) National Geographic Encounter: Ocean Odyssey in Times Square is a new immersive adventure that provides a virtual take on life under the seas. Groundbreaking technology uses stunning photo-realistic animation to convey rarely witnessed moments. To celebrate the Halloween season, kids who arrive in a sea-themed costume get in free with the purchase of an adult ticket, from Friday, October 25 to Thursday, October 31!
(Ongoing) Part show. Part tour. All entertainment. THE RIDE is a one-of-a-kind experience that turns the streets of New York into a stage. Journey through Times Square and midtown Manhattan as the city's landmarks unfold before your very eyes. THE RIDE's theatres-on-wheels also tour lower Manhattan, with THE DOWNTOWN EXPERIENCE Powered by THE RIDE, which lets visitors re-live iconic moments in New York history through the magic of TimeLooper Virtual Reality Headsets. Use our coupon and save $10 off!
FOOD, MUSIC, AND NIGHTLIFE
(10/24-10/31) Mr. Purple at Hotel Indigo Lower East Side is hosting a ghostly pirate-themed Halloween party. Join your favorite rooftop bar on a frightful Halloween adventure with DJ Verse spinning all night and breathtaking moonlit 360 degree views of the city. Scallywag-worthy attire is strongly encouraged; landlubbers also welcome. 10pm. Free admission. Reservations: email info@mrpurplenyc.com or call 212-237-1790.
PLUS
(10/23-10/28) The 7th Annual Sunnyside Restaurant Week. Three course dinners for $25, presented by Sunnyside Shines. Sunnyside Restaurant Week features more than three dozen delicious and diverse local restaurants! Each restaurant serves a 3-course dinner menu for $25, and some have opted to create a special lunch menu. Sunnyside Restaurant Week features delicious dining options from the neighborhood's most diverse restaurants—try everything from Paraguayan to Italian, Colombian to Japanese, and Irish to Tibetan. 
(10/24-10/31) FEARnyc, NYC's biggest Horror Film Festival, features more than 60 films and events at Film Noir Cinema in Greenpoint, Brooklyn. 
(10/25-10/27) Better known for their session work, the members of The Immediate Family have performed on some 5,000 albums, including some of the most famous productions in rock history. Begun as a studio band, head to The Iridium this weekend to hear Danny Kortchmar (author of Jackson Brown's "Somebody's Baby", and Don Henley's "Dirty Laundry") joined by Waddy Wachtel (Stevie Nicks, Keith Richards, Warren Zevon) on guitar and vocals and Leland Sklar on bass and Russ Kunkel on drums.
(10/25-10/27) Empire Outlets, the city's first outlet mall just steps from the ferry on Staten Island, presents a Spotlight Repertory Theatre production of Newsies, The Musical, in its Empire Theater on the waterfront. Get tickets here.
(10/25-10/26, 10/31) House of Yes's Halloween Horrorextravaganza always brings the outrageousness, and this Halloween will be no exception. Come witness this Brooklyn hot spot's night of horror-themed whimsy featuring a range of performers. There's a splash zone for audience members who don't mind a little water and three nights of fun this Halloween season for the curious and the costumed alike. Tickets are $20-$100 for ages 21 and up. eventbrite.com
(10/25) Billy Joel at Madison Square Garden.
(Now-10/26) BRIC Brooklyn Jazz Fest.
(10/27) Of Montreal at The Bell House.
(Ongoing) Just extended! It's rosé all day once again. Rosé Mansion offers tastings of 8 different pink wines as you travel through a champagne ball pit, a mini-theme park called Roséland, and a tree house! There are also two rosé wine bars where you can hang out, plus grub from Taco Dumbo. rosewinemansion.com, @rosewinemansion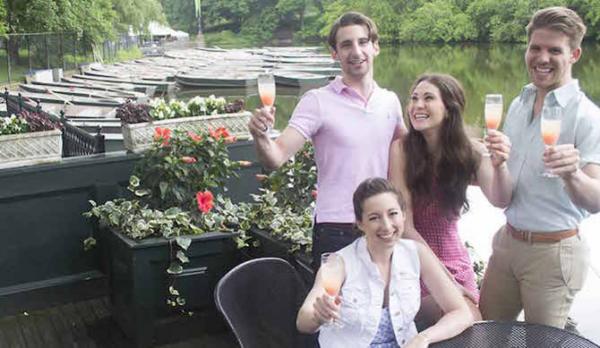 (Ongoing) Drink, laugh, and save! Summer Savings on The Imbible: A Spirited History of Drinking! Choose from the evening show or Day Drinking: The Brunch Musical.  Sit back and enjoy music and three cocktails, while the cast of The Imbible give insight into the history and science behind alcoholic beverages, tracing their economic and political impact on our cultural development. They'll also conduct live demonstrations of brewing beer and distilling spirits. Save $15 off admission with City Guide's coupon.
Click here for more "Nightlife in NYC This Weekend."
For more LGBTQ-friendly events, visit our brother site at metrosource.com! 
Click here for more information on The Best Things to do in NYC in October. We've got November covered, too! 
---
EVERYTHING TO DO NYC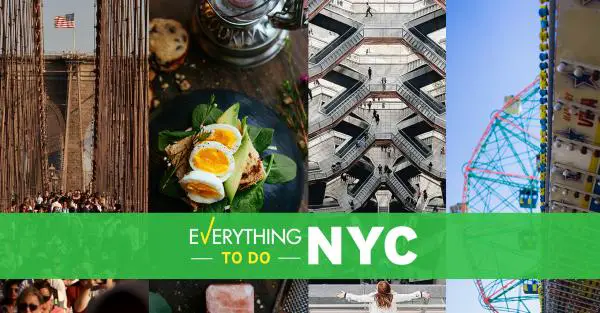 Want free advice on what to do and see in New York? Join our Facebook group Everything to Do NYC, a place for people to ask questions and get tips on how to make the most of the city.