(9/27-9/29) Looking for what to do in New York? We've got the latest on all the goings-on in NYC, from concerts to museum exhibitions to comedy to the best in city sightseeing. This weekend we're stoked for the Brooklyn Botanic Garden's popular Chile Pepper Festival, the Global Citizen Concert in Central Park, the Cloisters Medieval Festival, and much more! 
THE BIG EVENT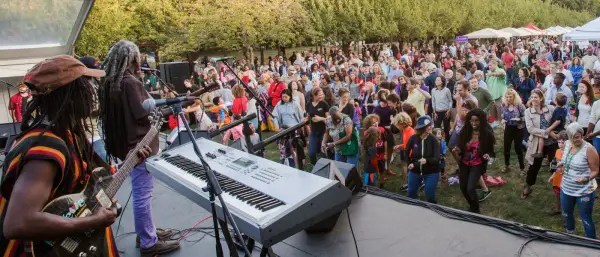 (9/28) The Chile Pepper Festival 2019 at Brooklyn Botanic Garden. Save the date for New York's spiciest fall tradition! Brooklyn's end-of-summer blowout sets the garden ablaze with scorching bands from around the world, dozens of fiery food artisans, and hours of chile-chocolate debauchery. This year's celebration finishes up with an all-new evening concert featuring living legends of New Orleans music John "Papa" Gros, blues master Walter "Wolfman'' Washington, Big Chief Monk Boudreaux, and the Soul Queen of New Orleans, Irma Thomas.
PLUS
(9/27) FREE admission Friday night at the Intrepid Sea, Air & Space Museum. Hear from innovators who are leading the transformation of New York State into a booming hub in the new space economy. Talk begins at 7:30pm. Beer and wine available for purchase with valid ID. Spanish-language tours and activities are also available. 
(9/27) Giddyup for the Annual FREE Square Dance in Bryant Park.
(9/27) The Great Dumbo Drop. In addition to a herd of toy elephants parading onto the streets, find a massive Brooklyn block party complete with beer gardens, a bedazzling contest, live performances, activities for kids and grown ups, A Taste of Dumbo, and an Archway afterparty.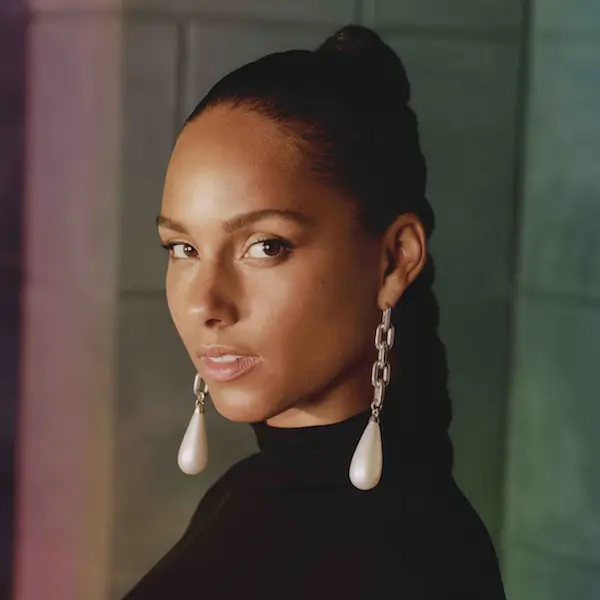 (9/28) Global Citizen Festival at Central Park. This year's concert will feature acts including Queen fronted by Adam Lambert, Pharrell Williams, Alicia Keys, OneRepublic, H.E.R., and Carole King. Tickets are free, but one must engage in specific activist actions in the realms of health, gender equality, the environment, and/or education in order to get a ticket. Learn more at globalcitizen.org.
(9/28) Indulge in Grand Central Oyster Bar's Oyster Frenzy! 
(9/29) Every Sunday on the Upper West Side you can check out Grand Bazaar NYC, the city's largest curated market—and most distinctive! This Sunday you'll also find the fall edition of the NY Handmade Collective Pop-Up. Shop directly from 40 of the best makers of the local artisan community formerly known as the Etsy NY Street Team. Come hungry! There are artisanal food entrepreneurs here as well. 10am-5:20pm.
(9/29) The 44th Annual Atlantic Antic is the largest street festival in NYC, taking place along Atlantic Avenue in Brooklyn. atlanticave.org
EXHIBITION OF THE WEEK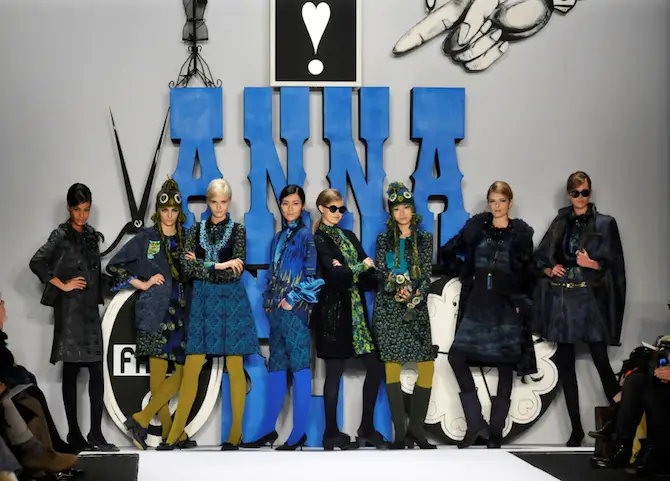 Photograph by Thomas Lau, courtesy of Anna Sui.
(Now-2/23/2020) The World of Anna Sui celebrates one of the country's top designers at the Museum of Arts and Design. The 75 fashion looks on display showcase Anna Sui's decades-long career, beginning with the groundbreaking fashion show in 1991 that introduced the world to her one-of-a-kind eclectic aesthetic. 
PLUS
(Through 1/5/20)  Experience the past, present, and future of fashion all at once at the Brooklyn Museum this summer. Pierre Cardin: Future Fashion celebrates the French designer who embodied the Space Age and futuristic concepts in his designs. A living legend at 97, this is the first retrospective of Cardin's work hosted in New York for 40 years. It holds over 170 objects, dynamically displayed, collected from the Pierre Cardin archive, including recent work that feels every bit as vital as Cardin's historic designs. The show also shows how Cardin designed outside the realm of fashion, crafting "couture furniture," lighting, and even cars. Don't miss the fashion that literally lights up, arranged in the exhibit's back room. brooklynmuseum.org
For the duration of the exhibition, house restaurant The Norm has been rebranded as Maxim's at The Norm.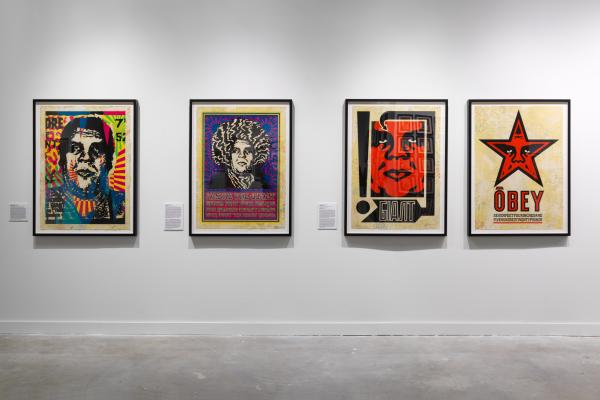 Pieces from Shepard Fairey's Obey Giant series, part of his 30th anniversary collection. Photo: Dan Bradica, courtesy of Beyond the Streets.  
(Now-9/29) Final weekend! Beyond the Streets at the space Twenty Five Kent in Williamsburg, Brooklyn celebrates some of the biggest names in graffiti, including work from NYC legends Tats Cru, Lady Pink, Keith Haring, Jean-Michel Basquiat, as well as Shepard Fairey, Invader, Brooklyn duo FAILE, artifacts from NYC's beloved Beastie Boys, street photographer Martha Cooper, and much more. Open Thursday, September 26 through Sunday, September 29th, the critically acclaimed exhibition will host a final weekend of surprises including giveaways of adidas Originals and gift shop merchandise (while supplies last), meet and greets with leading graffiti and street artists, live music, temporary tattoos from Magic Shop Tattoo and more. On closing day (Sunday, 9/29), visitors can take home a piece of the exhibition by picking a flower, or even creating a colorful bouquet, from the vibrant, immersive DABSMYLA floral installation.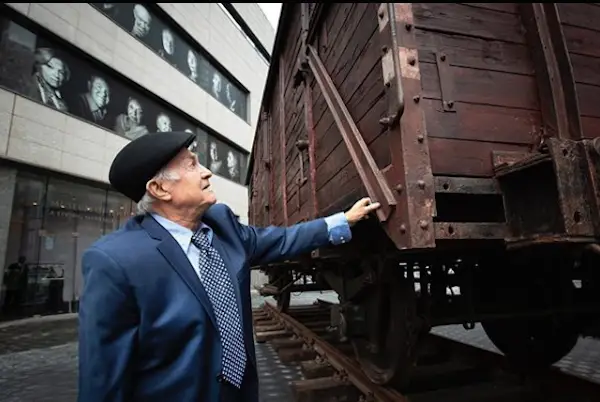 (Now-1/3/20) The most significant site of the Holocaust, Auschwitz was not a single entity, but a complex of 48 concentration, forced labor, and extermination camps, at which 1 million Jews—and tens of thousands of others—were murdered. Auschwitz. Not long ago. Not far away., a new exhibition at the Museum of Jewish Heritage—A Living Memorial to the Holocaust, explores the legacy of history's deadliest mass murder site. More than 700 original objects and 400 photographs are on display, many for the first time in North America. Among the artifacts: personal possessions, fragments of a barrack, a gas mask used by the SS, and an original German-made Model 2 freight wagon used for the deportation of Jews to the ghettos and extermination camps in occupied Poland. 36 Battery Pl. (1st Pl.), 646-437-4202,;mjhnyc.org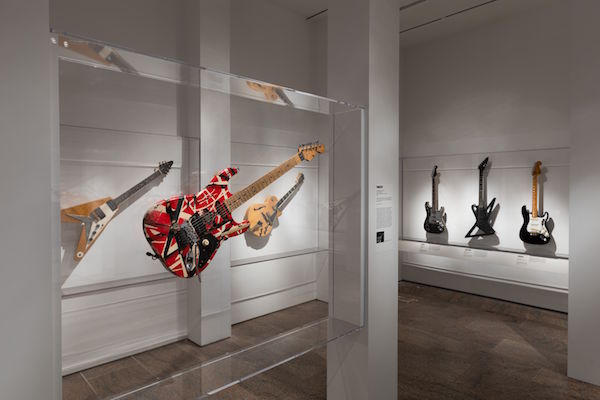 (Now-10/1) Final week! When you see the sheer volume (some 130) of mind-blowing instruments that have been played by a broad cross-section of iconic musicians, all tucked into one space, you'll understand why the sprawling Metropolitan Museum of Art is the appropriate place for the new show, Play It Loud: Instruments of Rock & Roll. It's the first time a music exhibit of this magnitude has been presented, with guitars alone including the white Fender that Jimi Hendrix played at Woodstock, Prince's 1993 "Love Symbol" guitar, and one of Pete Townshend's smashed Gibsons encased in Lucite.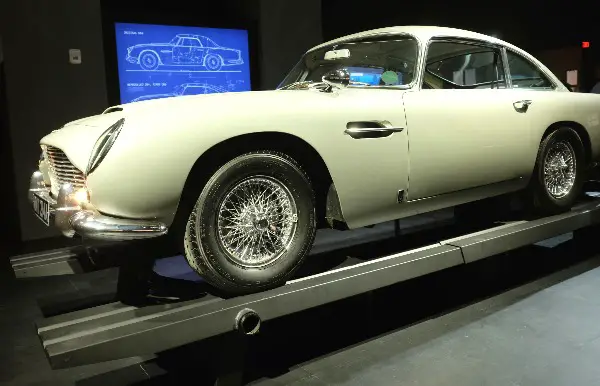 (Ongoing) You can experience the world of history's most famous spy at Driven: 007 x SPYSCAPE, a new exhibition inside New York's spy museum, SPYSCAPE. This immersive exhibition brings you into the Bond universe with sets, props, and insights about the creation of the ageless secret agent. Among the highlights: an Aston Martin DB5, the lab of Quartermaster (or Q), M16's gadget master, concept art from Oscar-winning production designer Sir Ken Adams, and an exploration of 2012 Bond film Skyfall's unforgettable final scene.
COMEDY
(9/26-9/27) Paul Virzi at Gotham Comedy Club.
PLUS
(9/27) Schtick A Pole In It: Comedy & Pole Dancing - DROM.
(9/28) Judah Friedlander at Carolines.
(Ongoing) See great new comedic talent daily at the LOL Times Square Comedy Club. Use this coupon and get half off admission!
Click here for more "Comedy Shows in NYC This Weekend."
KIDS
(9/28) Warner Bros. Consumer Products, in partnership with world-famous FAO Schwarz, continue the yearlong celebration of the 80th anniversary of Batman in New York (Gotham City). Fans of all ages are invited to shop limited-edition toys and collectibles at the iconic toy store all month long with special events every Saturday.  This Saturday, families can stop by the FAO Schwarz flagship store to purchase and build their own Lego Batmobile. Lego Master Builders will be on hand to help and chat all things Lego and Batman!
(9/29) Cloisters Medieval Festival in Fort Tryon Park. The Medieval Festival brings to life the customs and spirit of the Middle Ages. Manhattan's Fort Tryon Park is transformed into a medieval market town decorated with bright banners and processional flags. Performers, guests, and festival goers dress in medieval costume.
PLUS
(Now-11/3) Kids of all ages will want to check out the new Bronx Zoo Dinosaur Safari. It's the biggest, most realistic dinosaur safari ride in America. Travel back in time on a guided tour to learn about dinos of the past and descendent animals of the present. The experience will take riders through 2 acres of woods, in which they will meet animatronic dinosaurs, including two 40-foot-long T. rexes, a 60-foot-long herbivore called Omeisaurus, and the Spinosaurus, one of the largest carnivorous dinosaurs to ever exist. For even more kids activities, and to learn more about the brand new Bronx Zoo Dinosaur Safari, check out our sister site nymetroparents.com!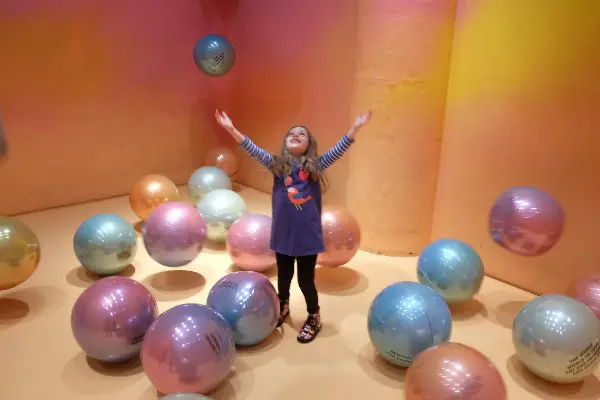 (Now-Nov. 30) Just extended! Color Factory, a massive interactive art space, began in August 2017 in San Francisco. Wildly popular, the project has set up shop in SoHo and is sure to inspire lines as long as the cronut did at nearby Dominique Ansel Bakery. Designed by a wide spectrum of artists, Color Factory walks visitors through 16 rooms devoted to the wonder of color. You're invited to compliment someone using color words, discover your signature color, and read wishes for the world written by NYC school children on varicolored balloons. Each room is equipped with a camera that can take a picture of you and send it to your phone: the better to post with!  251 Spring St., support@colorfactory.co,colorfactory.co, @colorfactoryco
(Ongoing) "Here Be Dragons," a new interactive scavenger hunt in the American Museum of Natural History offered by Fable & Lark: Storied Adventures, draws from the menageries of creatures in both Fantastic Beasts and Fantastic Beasts: Crimes of Grindelwald. Participants will explore galleries throughout the museum as they answer questions, solve clues, engage in creative activities, and track down the origins of some of the creatures from both the Fantastic Beasts stories as well as other classic myths and tales. Grab your nifflers and join! Advance registration required. fableandlark.com
Updated! Read about more Instagrammable pop-up exhibits in NYC here.
(Ongoing) Exhilarating Family Fun at Stomp NYC. Special discount packages available!
Click here for more "Things to Do with Kids in NYC This Weekend."
For more kids activities, check out our sister site nymetroparents.com!
SIGHTSEEING
(9/28-11/10) Circle Line's Bear Mountain Cruise is back! Take a cruise up the Hudson River on weekends to Bear Mountain State park, while enjoying the autumnal sights and our on-board Oktoberfest with live oom-pah music, and German food and beer (available for purchase). Bear Mountain State Park features 50+ hiking and biking trails, a stunning lake with paddle boats, a zoo, museum and The Bear Mountain Inn restaurant (reservations recommended!). There's a 30 minute walk up a winding path to access these facilities. Adults from $65+, kids 5-12, $52+.
PLUS
(Ongoing) Feelin' the need for speed? The BEAST Speedboat zooms past the Statue of Liberty at a heart-racing 45 mph! Throughout September, all tickets for THE BEAST are only $20!!!
Bring a loved one to take in the breathtaking view at Top of the Rock.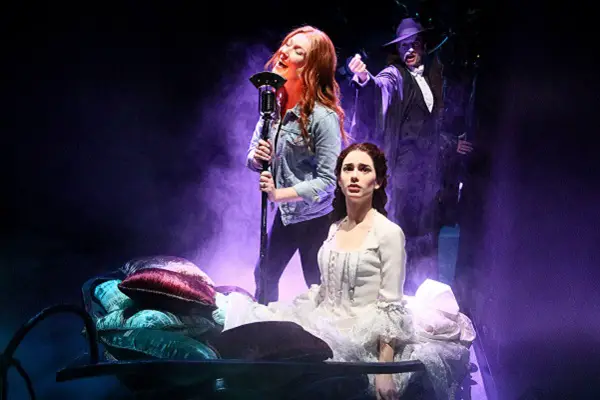 (New!) Madame Tussauds New York Presents Broadway. Take a magical journey starting with a cocktail at the Broadway Bar, and then traveling through a kaleidoscope of your favorite musicals.  Enter the world of Andrew Lloyd Webber's Phantom of the Opera, Joseph and the Amazing Technicolor Dreamcoat, Evita, Sunset Boulevard, and Cats. You can sing "Memory" with Grizabella the "Glamour Cat" and wear the Dreamcoat yourself as you become a Broadway star. The Phantom of the Opera will also guide you through this dazzling backstage experience, and perhaps do a little singing himself along the way. Live actors will be on hand to enhance the rush both on- and offstage.
(Ongoing) Get the full stadium experience with Yankee Stadium Tours, which offers exclusive access to New York Yankee historic spots like Monument Park, The Great Hall, and even down to the dugout. The daily tours also bring you close to baseball artifacts like Babe Ruth's bat, Lou Gehrig's jersey, and rings and trophies representing the Yankees' 27 world championships. Here is a $5 off coupon!
(Ongoing) For more than 70 years, Circle Line has been showing visitors the city, including the only cruise that goes all the way around Manhattan: Circle Line's Best of NYC Cruise. One trip will show off five boroughs, three rivers, and more than 20 bridges on the way to 101 New York City sights. State-of-the-art Empire Class ships have recently launched, providing quieter rides, better sound for the personable onboard guides, bigger windows, improved climate control, and more outdoor deck space. (For dining and entertainment, take a ride on Hudson's, a three-story "floating rooftop" that's a Circle Line sibling.)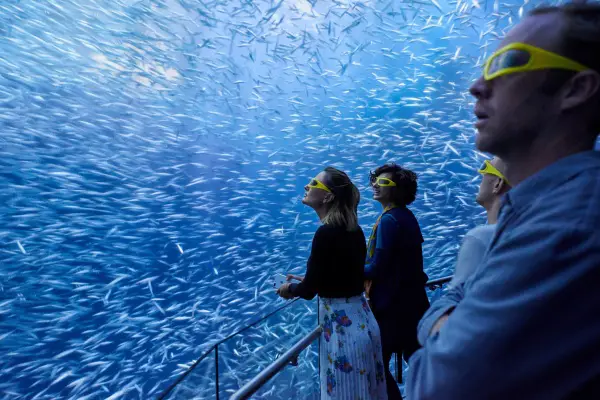 Immerse yourself in the deep, dark depths of the ocean, where Humboldt squid fight to the death and 50-foot whales ride overhead. Play with virtual sea lions, navigate a kelp maze, and more at National Geographic Encounter: Ocean Odyssey! Here's a $10 off coupon! 
(Ongoing) Part show. Part tour. All entertainment. THE RIDE is a one-of-a-kind experience that turns the streets of New York into a stage. Journey through Times Square and midtown Manhattan as the city's landmarks unfold before your very eyes. THE RIDE's theatres-on-wheels also tour lower Manhattan, with THE DOWNTOWN EXPERIENCE Powered by THE RIDE, which lets visitors re-live iconic moments in New York history through the magic of TimeLooper Virtual Reality Headsets. Use our coupon and save $10 off!
FOOD, MUSIC, AND NIGHTLIFE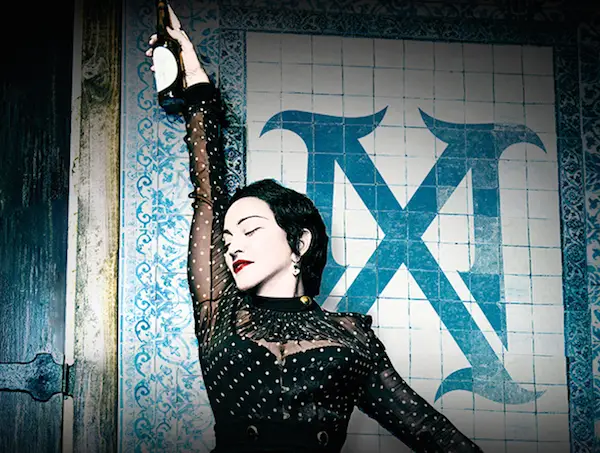 (Now-10/12) Madonna: Madame X Tour does an intimate residency at the Brooklyn Academy of Music (BAM). Limited tickets still available.
(9/26-9/29) The 17th Annual New York Burlesque Festival returns with events at The Bell House, Brooklyn Bowl, Sony Hall, and more. 
(9/28) New York Vegandale Food & Drink Festival at Randall's Island. Back for a second year (originating out of Toronto), this time bringing a full schedule of food, drinks, music, and art. vegandalefest.com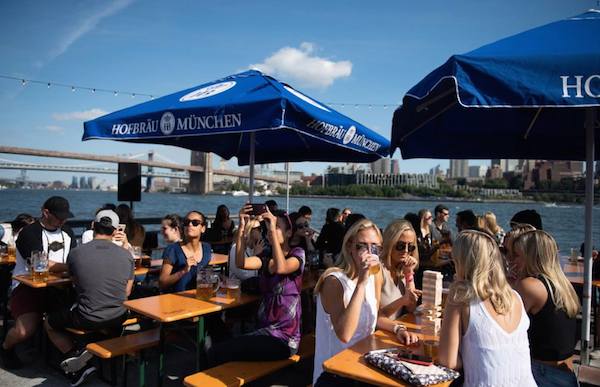 (9/28-9/29, 10/5-10/6, 10/12-10/13, 10/19-10/20) Oktoberfest is in full gear at Watermark on South Street. 11am-midnight. Prost! 
Final weekend! In commemoration of the 50th anniversary of Woodstock, find a celebration of the Summer of Love at Arlo Hotel in SoHo. The pop-up will play host to special acoustic performances, screenings of footage from the famous festival, natural dye workshops, and more. There will also be a full Summer of Love menu available, with Whistle Pig Whiskey cocktails. 
(Now-11/4) Just extended! It's rosé all day once again. Rosé Mansion is back for another summer residency in NYC after a successful run last year. The designs in all 14 rooms will be brand-new, and the mansion will be twice the size of last year's iteration. You'll get tastings of 8 different pink wines as you travel through a champagne ball pit, a mini-theme park called Roséland, and a tree house! There will also be two different rosé wine bars where you can hang out, plus grub from Taco Dumbo on hand.
rosewinemansion.com, @rosewinemansion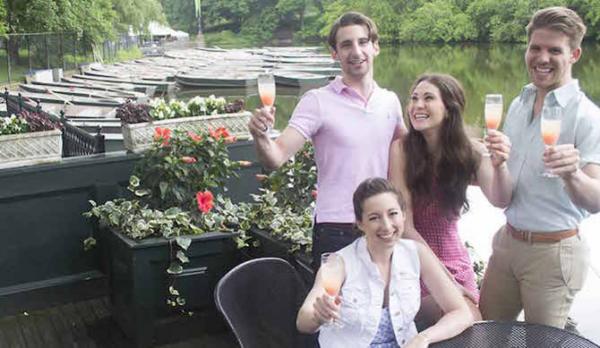 (Ongoing) Drink, laugh, and save! Summer Savings on The Imbible: A Spirited History of Drinking! Choose from the evening show or Day Drinking: The Brunch Musical.  Sit back and enjoy music and three cocktails, while the cast of The Imbible give insight into the history and science behind alcoholic beverages, tracing their economic and political impact on our cultural development. They'll also conduct live demonstrations of brewing beer and distilling spirits. Save $15 off admission with City Guide's coupon.
Want to see Blue Man Group live? Save $20 off admission with our Blue Man Group discount here.
Click here for more "Nightlife in NYC This Weekend."
Click here for "Where to See Drag Shows in NYC."
For more LGBT friendly events, visit our brother site at metrosource.com! Click here for more information on The Best Things to Do in September in NYC. We've got October covered, too! 
---
EVERYTHING TO DO NYC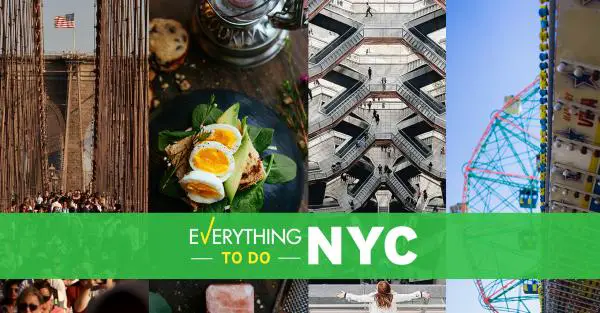 Want free advice on what to do and see in New York? Join our Facebook group Everything to Do NYC, a place for people to ask questions and get tips on how to make the most of the city.