(5/17-5/19) Looking for what to do in New York this weekend? We've got the latest on all the goings-on, from concerts to museum exhibitions to comedy to the best in city sightseeing. This weekend, we're looking forward to food festivals galore, with Harlem EatUp!, the NYC Vegetarian Food Festival at the Metropolitan Pavilion, the Ninth Avenue International Food Festival, the World's Fare at Citi Field, and the Taste of the Upper West Side all going off in the city!
THE BIG EVENT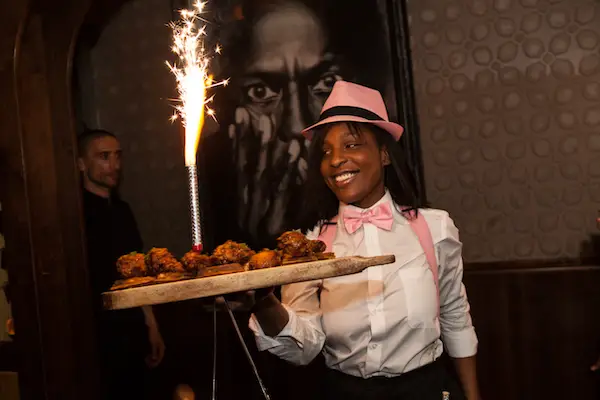 (5/13-5/19) The 2019 Harlem EatUp! Now in its fifth year, the festival offers a sampling of Harlem's sights, flavors, and sounds.harlemeatup.com
PLUS
(5/16) The Statue of Liberty Museum opens!
(5/18) Dance Parade. On this 13th annual year, the celebration will begin at 12:35pm at 21st Street & Broadway with a Ceremonial Native American Circle Dance, led by Grand Marshal Louis Mofsie of the Thunderbird American Indian Dancers. Joining Mofsie as Grand Marshals are Bill T. Jones, Baayork Lee, and DJDara.The parade of approximately 10,000 dancers representing over 100 styles of dance will then dance its way down Broadway and through Union Square to Astor Place, where some of the groups will perform in front of a grandstand.All will continue east on St. Marks Place and settle in Tompkins Square Park. From approximately 3 to 7pm, activities in the Park will include performances by many of the companies on 5 stages, along with free lessons.
(5/17-5/19) Swamp in the City. This Cajun/Creole music festival in Brooklyn celebrates the traditional music, culture, and cooking of Southwest Louisiana. The festival features a dozen+ Louisiana dancehall bands, Cajun & Zydeco music, musical instrument workshops led by Grammy-winning artists, backyard jam sessions, a Sunday family dance, libations, and Cajun/Creole food. Jalopy Theatre and Tavern in Red Hook, Brooklyn.
(5/19) Quattro Mani: A Neapolitan Pizza Guest Chef Series. Eataly NYC Downtown will be welcoming local Neapolitan pizzaioli (pizza chefs) to cook up their finest Napoli-style pizzas. On Sunday (and next Wednesday and Thursday as well), for one night only, each guest pizzaiolo will prepare their creation behind the counters at La Pizza & La Pasta restaurant. Then, throughout the evening, they'll serve a mini version of their pizza alongside a special mini pizza made by Eataly pizza partners Rossopomodoro. Sunday's pie: Chef Anthony Mangieri  of Una Pizza Napoletana, from 5-8pm, serving a "Concetta Pizza" with San Marzano tomatoes, Piennolo tomatoes, Corbarino tomatoes, sun-dried tomatoes from Campania, Sicilian EVOO, Sicilian sea salt, breadcrumbs, parsley, and Pecorino Romano DOP. Accompanying is Rossopomodoro's "Prosciutto Tonnato" (above) with mozzarella di Bufala, Rovagnati Prosciutto Cotto Gran Biscotto, tonnato sauce, and crispy capers.
(Through 5/22) Design Pavilion in Times Square. Explore the future at this free annual public design happening. Design Pavilion serves as the public hub for NYCxDESIGN, New York City's annual celebration of international design. Open daily 11am-9pm between West 42nd and West 47th, bounded by Broadway and Seventh Avenue, highlights of the Design Pavilion include a 50,000 pound yacht, an interactive tiny house sculpture, FutureHAUS (the world's best solar home), and a sound and vision exhibition.
EXHIBITION OF THE WEEK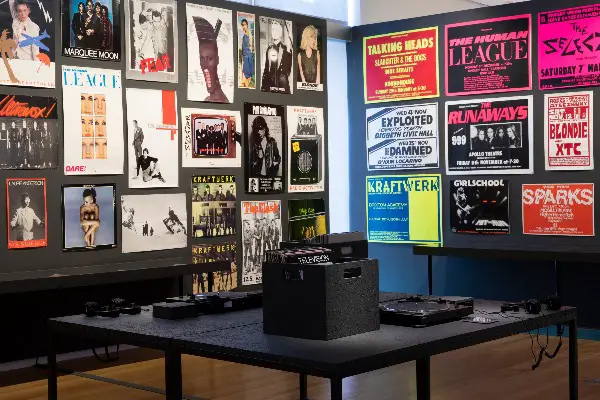 Installation view of Too Fast to Live, Too Young to Die: Punk Graphics, 1976-1986 at the Museum of Arts and Design. Photo by Jenna Bascom.
(Ongoing) Too Fast to Live, Too Young to Die: Punk Graphics, 1976-1986 at the Museum of Arts and Design. More than 40 years after punk exploded onto the music scenes of New York and London, its impact on the larger culture is still being felt. Born in a period of economic malaise, punk's energy coalesced into a powerful subcultural phenomenon that transcended music to affect other fields, and especially graphic design.Too Fast to Live, Too Young to Die explores the visual language of punk through hundreds of its most memorable graphics, from the shocking remixes of expropriated images and texts to the DIY zines and flyers that challenged the commercial slickness of the mainstream media. #PunkGraphics
PLUS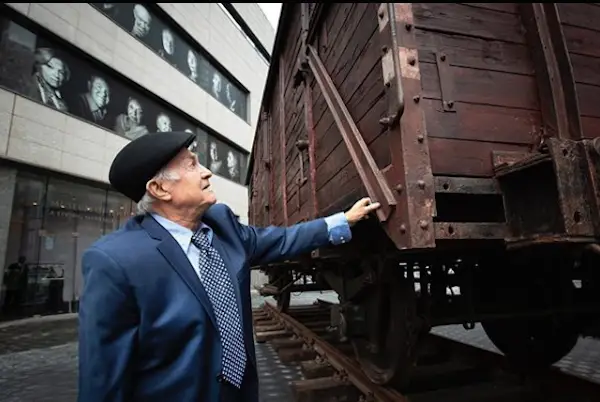 (Now-1/3/20) The most significant site of the Holocaust, Auschwitz was not a single entity, but a complex of 48 concentration, forced labor, and extermination camps, at which 1 million Jews—and tens of thousands of others—were murdered. Auschwitz. Not long ago. Not far away., a new exhibition at the Museum of Jewish Heritage—A Living Memorial to the Holocaust, explores the legacy of history's deadliest mass murder site. More than 700 original objects and 400 photographs are on display, many for the first time in North America. Among the artifacts: personal possessions, fragments of a barrack, a gas mask used by the SS, and an original German-made Model 2 freight wagon used for the deportation of Jews to the ghettos and extermination camps in occupied Poland. 36 Battery Pl. (1st Pl.), 646-437-4202, mjhnyc.org 
(Now-9/8) Leonard Cohen: A Crack in Everything at The Jewish Museum is the first exhibition entirely devoted to the legacy of the influential singer/songwriter, man of letters, and global icon from Montreal. The exhibition includes commissioned works by international artists inspired by Cohen's style and themes, a video projection showcasing Cohen's own drawings, and an innovative multimedia gallery where visitors can hear covers of Cohen's songs by musicians like Lou Doillon, Feist, Moby, and The National with Sufjan Stevens, Ragnar Kjartansson, and Richard Reed Parry.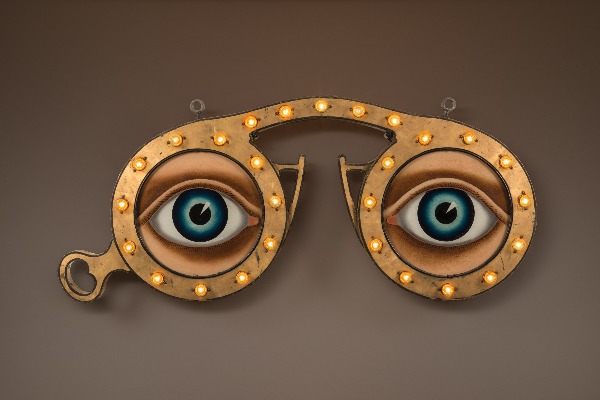 Optician's Trade Sign, E. G. Washburne & Co. 207 Fulton Street, New York City, c. 1915. Paint and gold leaf on zinc and iron, with glass and light bulbs 26 x 54 x 4". Collection of Penny and Allan Katz. Photo by Gavin Ashworth, New York.
(New!) Folk art may seem like something that flourishes best in isolated areas, but it's been a vibrant tradition in the heart of New York City for centuries. In fact, many objects associated with the heartland were originally manufactured by artisans here. A new show at the American Folk Art Museum, Made in New York City: The Business of Folk Art, uses some 100 works by self-taught artists to tell the story of how New York became the commercial and financial capital of the country, as seen through the lens of the folk art that was made here. From stoneware cast in the West Village to advertising figures made on Canal Street to weathervanes forged in the Bronx to carousel animals carved on Coney Island, see how New York City was the center of it all.
(5/17) It's the Best of the Boroughs: Bronx Day at the American Folk Art Museum, With artist talks, activities, Free Music Friday performances, and more! FREE!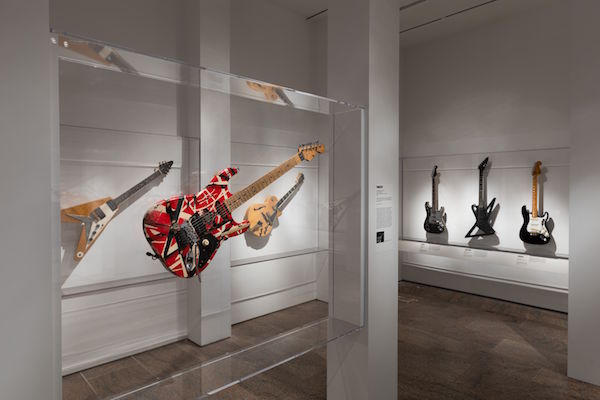 (Now-10/1) When you see the sheer volume (some 130) of mind-blowing instruments that have been played by a broad cross-section of iconic musicians, all tucked into one space, you'll understand why the sprawling Metropolitan Museum of Art is the appropriate place for the new show, Play It Loud: Instruments of Rock & Roll. It's the first time a music exhibit of this magnitude has been presented, with guitars alone including the white Fender that Jimi Hendrix played at Woodstock, Prince's 1993 "Love Symbol" guitar, and one of Pete Townshend's smashed Gibsons encased in Lucite.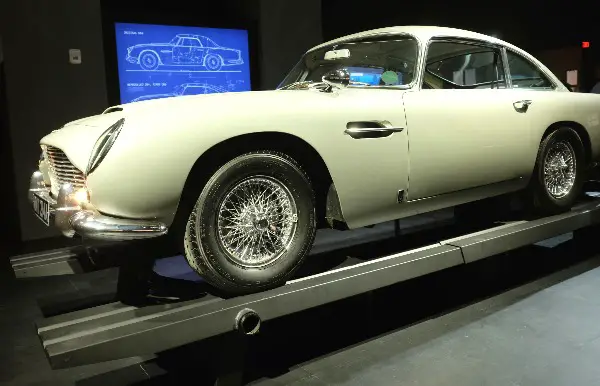 (New!) You can experience the world of history's most famous spy at 007 x SPYSCAPE: Driven, a brand-new exhibition inside New York's spy museum, SPYSCAPE. This immersive exhibition brings you into the Bond universe with sets, props, and insights about the creation of the ageless secret agent. Among the highlights: an Aston Martin DB5, the lab of Quartermaster (or Q), M16's gadget master, concept art from Oscar-winning production designer Sir Ken Adams, and an exploration of 2012 Bond film Skyfall's unforgettable final scene.
(Now-7/10) Photographer Robert Mapplethorpe, who died 30 years ago of complications from AIDS, is the subject of Implicit Tensions: Mapplethorpe Now, now displaying the first installment of a two-part retrospective at The Solomon R. Guggenheim Museum.  Mapplethorpe is known not just for his images, but for the controversies they incited. In 1989, after his death, his work became the centerpiece of a national debate about artistic censorship and what kinds of works public funds should cover (ironically, it was the debate that led to his widespread fame). Many of the images are graphic and retain the ability to cause discomfort, but time has lessened the shock; it has also brought to the forefront Mapplethorpe's technical proficiency and his ability to capture deeply insightful looks at his subjects.
Photo: Jin Lee
(Ongoing) Sports in America provided a unique form of solace after the seismic losses of the terrorist attacks of September 11th, 2001. Comeback Season: Sports After 9/11, a special exhibition at the National September 11  Memorial & Museum, delves into uplifting moments at games in the aftermath of the attacks. Explore the stories of Mike Piazza's home run during a New York Mets home game, President George W. Bush's first pitch at a World Series game at Yankee Stadium, and the New York City Marathon on November 4th, 2001. Video, artifacts, and moving images help provide context for a nation coming back together. Open Monday.
COMEDY
(5/16-5/18) Aziz Ansari's Road to Nowhere tour stops at the Brooklyn Academy of Music.
PLUS
(5/16-5/19) Jay Oakerson, host of SiriXM's The Bonfire, at Carolines. 
(5/17-5/18) Vladimir Camaano at Gotham Comedy Club, featuring Gary Cannon and Ian Lara. 
(5/18) Luis de Alba at Gotham Comedy Club. 
(Ongoing) Check out great comedic talent every night at Broadway Comedy Club! Use our coupon and pay only $5 for admission!
Click here for more comedy shows in NYC this weekend.
KIDS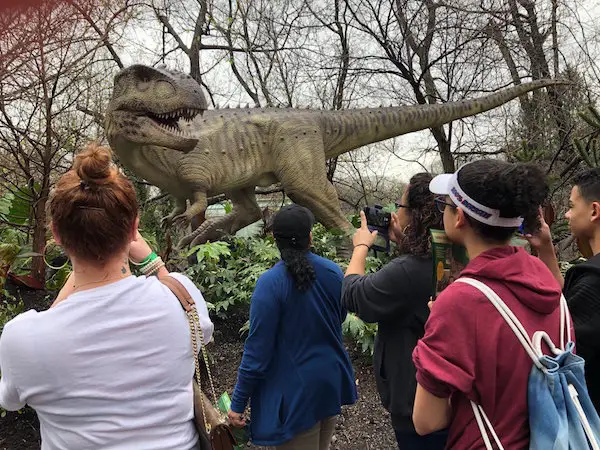 (Now-11/3) Kids of all ages will want to check out the new Bronx Zoo Dinosaur Safari.  It's the biggest, most realistic dinosaur safari ride in America. Travel back in time on a guided tour to learn about dinos of the past and descendent animals of the present. The experience will take riders through 2 acres of woods, in which they will meet animatronic dinosaurs, including two 40-foot-long T. rexes, a 60-foot-long herbivore called Omeisaurus, and the Spinosaurus, one of the largest carnivorous dinosaurs to ever exist. 
PLUS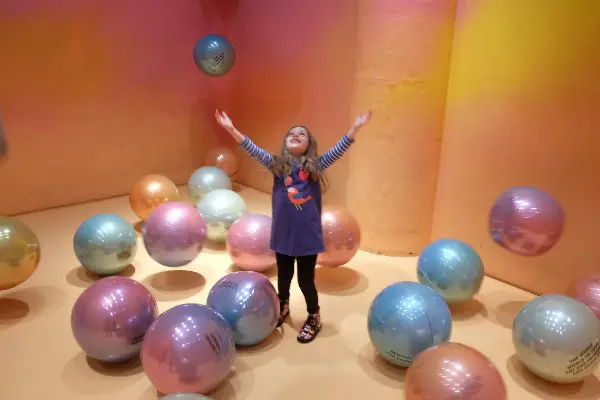 (Ongoing) Color Factory, a massive interactive art space, began in August 2017 in San Francisco. Wildly popular, the project has set up shop in SoHo and is sure to inspire lines as long as the cronut did at nearby Dominique Ansel Bakery. Designed by a wide spectrum of artists, Color Factory walks visitors through 16 rooms devoted to the wonder of color. You're invited to compliment someone using color words, discover your signature color, and read wishes for the world written by NYC school children on varicolored balloons. Each room is equipped with a camera that can take a picture of you and send it to your phone: the better to post with! On view now through August, 2019. 251 Spring St., support@colorfactory.co, colorfactory.co, @colorfactoryco
Updated!! Read about more Instagrammable pop-up exhibits in NYC here.
(Ongoing) A 7D experience at Madame Tussauds New York, Mission: Undead, tasks you with killing more zombies than your friends! Prevent the zombie apocalypse and survive your first night of work on the force at this state-of-the-art Times Square attraction (13+). 
(Ongoing) Exhilarating Family Fun at Stomp NYC. Special discount packages available!
Click here for more events to do with kids this weekend.
For even more kids activities, learn more about the brand new Bronx Zoo Dinosaur Safari, check out our sister site nymetroparents.com!
SIGHTSEEING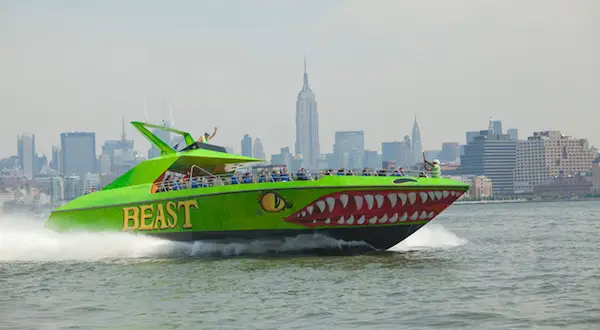 (Ongoing) Feelin' the need for speed? The BEAST Speedboat Ride is back!  Zoom past the Statue of Liberty at a heart-racing 45 mph! 
PLUS
(Ongoing) It's baseball season, and the New York Yankees are back! Game tickets may be scarce, but it's easy to get the full stadium experience with Yankee Stadium Tours, which offers exclusive access to historic spots like Monument Park, The Great Hall, and even down to the dugout. The daily tours also bring you close to baseball artifacts like Babe Ruth's bat, Lou Gehrig's jersey, and rings and trophies representing the Yankees' 27 world championships.
(Ongoing) For more than 70 years, Circle Line has been showing visitors the city, including the only cruise that goes all the way around Manhattan: Circle Line's Best of NYC Cruise. One trip will show off five boroughs, three rivers, and more than 20 bridges on the way to 101 New York City sights. State-of-the-art Empire Class ships have recently launched, providing quieter rides, better sound for the personable onboard guides, bigger windows, improved climate control, and more outdoor deck space. (For dining and entertainment, take a ride on Hudson's, a three-story "floating rooftop" that's a Circle Line sibling.) 
(Ongoing) Part show. Part tour. All entertainment. THE RIDE is a one-of-a-kind experience that turns the streets of New York into a stage. Journey through Times Square and midtown Manhattan as the city's landmarks unfold before your very eyes. THE RIDE's theatres-on-wheels also tour lower Manhattan, with THE DOWNTOWN EXPERIENCE Powered by THE RIDE, which lets visitors re-live iconic moments in New York history through the magic of TimeLooper Virtual Reality Headsets. Use our coupon and save $10 off!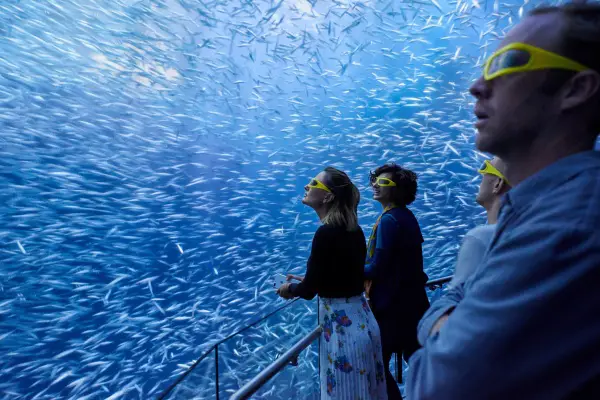 Immerse yourself in the deep, dark depths of the ocean, where Humboldt squid fight to the death and 50-foot whales ride overhead. Play with virtual sea lions, navigate a kelp maze, and more at National Geographic Encounter: Ocean Odyssey! Here's a $10 off coupon! 
Sip 'n Sea Fridays are back, 4-10pm, and Sip 'n Sea Sundays, 4-9pm.
Bring a loved one to take in the breathtaking view at Top of the Rock. 
(Ongoing) Get all of the best of NYC with the SightSeeing Pass NYC, from CitySightseeing. You can mix and match your way to a complete New York experience, with more than 100 attractions and special discounts to choose from. This is the only pass that includes options for five double-decker loops, Woodbury Common shopping, a horse and carriage ride, or entry to One World Observatory. You can even save on lunch: the pass includes prix fixe meals and other discounts. For amazing water vantages, CitySightseeing offers a Hop-On, Hop-Off ferry tour. Passes are available in digital or physical format and available for one to seven days; check the website for complete details. sightseeingpass.com
FOOD, MUSIC, AND NIGHTLIFE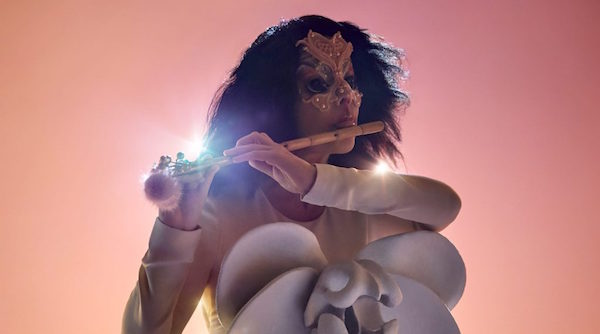 Photo: Warren Du Preez & Nick Thornton Jones.
(5/16, 5/22, 5/25, 5/28, 6/1) Bjork: Cornucopia continues to dazzle at the new Hudson Yards venue The Shed.
(New!) Based on Carl Reiner's semi-autobiographical novel, the hilariously tuneful Enter Laughing: The Musical careens through the misadventures of star-struck, stage-struck, woman-struck teenager David Kolowitz, who pratfalls his way into manhood via the theatre in 1930s New York City. As Jerry Seinfeld put it, "You can't pack more laughter and fun into a finite space and time!" Catch its limited engagement with the York Theatre Company. 
(5/16-5/19) 11th Annual Urban Bear NYC, a large series of events for the bear and bear-friendly gay community. It's the largest event of its kind on the East Coast, with bar crawls, invasions, wellness, a disco cruise, and more.
For information on LGBTQ nightlife, visit our brother site metrosource.com! Planning on being in New York in June for WorldPride? We've got all the WorldPride 2019 info you need right here.
(Ongoing) The Imbible: A Spirited History of Drinking sweeps audiences on a 10,000-year journey across the globe, accompanied by three complimentary craft cocktails and world-class a cappella music. This groundbreaking show at New World Stages pours through the history and science behind drinks, traces their economic and political impact, conducts live demonstrations, and keeps you laughing all the way. If you're looking for a quintessential NYC brunch experience, check out weekend matinee edition Day Drinking: The Brunch Musical, where your ticket includes a create-your-own Bloody Mary Bar, authentic Irish coffee, and a seasonal Bellini. You'll also learn about the history of brunch and, more importantly, brunch cocktails. 
(5/17-5/18) Taste of the Upper West Side. 
(5/18) The Marvelous Mrs. Maisel's Alex Borstein & The Amstergang at Union Hall. 
(5/18-5/19) World's Fare 2019 food fest returns to Citi Field. 12pm-8pm. Get tickets here. 
(5/18-5/19) The Ninth Avenue International Food Festival. 
(5/18-5/19) NYC Vegetarian Food Festival at Metropolitan Pavilion. Get tickets here.
(5/18-5/19) K-pop sensation BTS bring their Love Yourself: Speak Yourself Tour to NJ's MetLife Stadium. 
Click here for more "Nightlife in NYC This Weekend."
(Ongoing) Who will rule the Seven Kingdoms? Visit the HBO Shop to get the latest GOT gear. Use our coupon and save! #Forthethrone
---
Like what you see? Click here for more ideas on The Best Things to Do in May. We've got June covered, too!  Going to be in town this summer? Read more about Where to Find Outdoor Concerts This Summer in NYC. 

Want free advice on what to do and see in New York? Join our Facebook group Everything to Do NYC, a place for people to ask questions and get tips on how to make the most of the city.