Things to Do in NYC This Week (Wednesday, Oct. 11-Wednesday, Oct. 18)
October 11, 2017 - by City Guide News Desk
Looking for what to do in New York? We've got the latest on all the goings-on in NYC, from concerts to museum exhibitions to comedy to the best in city sightseeing. This week, look for the New York Coffee Festival, the New York City Wine and Food Festival, a new exhibit on mummies at the Brooklyn Museum, Open House New York, Bill Murray singing, and more!
Halloween is creeping closer! Check out our roundup of ghoulish events!
THE BIG EVENT
(10/14) The Synchrony Financial Rock 'n' Roll Brooklyn Half Marathon takes place Saturday, debuting a new 5-mile race, in addition to the half marathon. The scenic courses start outside the Brooklyn Museum and finish in Prospect Park. Runners can expect live music and entertainment all along the course with the finish line festival at the end and the post-race Toyota Rock 'n' Roll Concert Series. (A two-day Health & Fitness Expo kicks off race weekend on Thursday, October 12 and Friday, October 13 at the Jacob K. Javits Convention Center. The Expo is free and open to the public and will feature the latest in running apparel and nutrition products.)
PLUS
(10/13-10/15) Perk up!! The New York Coffee Festival is back this year, at Metropolitan Pavilion! Working with Project Waterfall, proceeds will go help ensure clean drinking water to coffee-drinking communities around the world!
(Now-10/15) The 55th New York Film Festival at The Film Society of Lincoln Center, featuring 25 films from around the globe.
(10/12-10/15) New York City Wine and Food Festival (NYCWFF) begins the 12th; explore some 80+ events. Venues vary, tickets limited.
(10/15) Join NYC Artisanal Sweet Treats Bazaar, organized by Upper West Side Sunday market Grand Bazaar NYC and featuring NYC's most talented sweet makers and more! Discover the city's best artisanal macaroons, experimental donuts, ice cream sandwiches, spiced pumpkin pies, freshly baked cupcakes and scones, and the most mouthwatering truffles and chocolates you ever had. 10am-5:30pm.
(now-10/31) Throughout October, it's Haunted Hollywood at Planet Hollywood. Enjoy a spooktacular exhibition of authentic Hollywood horror film memorabilia—Freddy Krueger's glove from A Nightmare on Elm Street, the Fluffy mask from Creepshow, the Book of Spells from Hocus Pocus, the Lament Configuration Box from Hellraiser, Leatherface's chainsaw from The Texas Chainsaw Massacre, and more!!!
(New! Now-1/21/18) In the ancient burial ground at Saqqara, Egypt, one animal cemetery alone has yielded over four million ibis mummies. The dog cemetery nearby has over seven million, and similar sites are found throughout Egypt. Despite its prominence, this unusual practice of ancient Egyptian culture has remained largely a mystery. The new Brooklyn Museum exhibition Soulful Creatures: Animal Mummies in Ancient Egypt sheds light on the religious purpose of these mummies, how they were made, and why there are so many. Animals were central to the ancient Egyptian worldview. Most animals had connections to a particular deity. After death, mummified animals' souls could carry a message to a god. Drawn from the museum's extensive collection, the exhibition features choice examples of mummies of birds, cats, dogs, snakes, and other animals. The show also reveals corruption beneath the surface: CT scans displayed in the exhibition uncover empty wrappings, double mummies, and misleading packaging among some of the mummies that the priests sold to worshippers.
PLUS
(Now-1/28/18) Items: Is Fashion Modern? at MoMA explores the present, past—and sometimes the future—of 111 items of clothing and accessories that have had a strong impact on the world in the 20th and 21st centuries and continue to hold currency today. Among them are pieces as well-known and transformative as the Levi's 501s, the Breton shirt, and the Little Black Dress, and as ancient and culturally charged as the sari, the pearl necklace, the kippah, and the keffiyeh. Items will also invite designers, engineers, and manufacturers to respond to some of these indispensable items with pioneering materials, approaches, and techniques—extending this conversation into the near and distant futures, and connecting the history of these garments with their present recombination and use.
(Now-5/18) The Butterfly Conservatory returns to AMNH. This is one of the museum's most popular annual seasonal exhibitions. Butterflies and moths make up a large group of insects known as the Order Lepidoptera (lep-i-DOP-ter-ah). The name—from the Greek lepido, "scale," and ptera, "wings"—refers to a prominent feature of adult butterflies and moths, the tiny scales that cover the wings and the rest of the body. Great exhibit to visit, especially as the days get cooler!
(Now-10/29) CHIHULY at the The New York Botanical Garden features nearly two dozen breathtaking works of art by world-renowned artist Dale Chihuly at NYBG in his first major garden exhibition in more than ten years in New York. *On Thurs-Sat. in Sept-Oct., enjoy cocktails, snacks, live music and more during CHIHULY Nights, when the sculptures are illuminated. 6:30pm-9:30pm.
(Now-1/7/18) The photographs in the new exhibit American Visionary: John F. Kennedy's Life and Times at the New-York Historical Society convey the sensation you've seen them before: JFK in the White House, his kids joyfully playing nearby; JFK with wife Jackie at an event, both of them elegant and assured (in truth, many images here have only rarely been shown). It's part of the famous Kennedy allure, conveying a world that's simultaneously approachable, glittering, and rarefied. This well-curated exhibition charts JFK's trajectory as a politician, as well as the cultural and historical pulse of the times, when photojournalism was at an apex. It's s a wonderful opportunity to observe a world both familiar and lost, and to reflect on where the country was—and is.
(Now-10/31) Bring on Archtober 2017. New York's annual Architecture and Design Month, now in its seventh year, is a celebration of all things architectural. This year's festival features over 150 events, from lectures to activities to exhibitions.
(Now-10/15/17) Final weekend! The Duchess of Carnegie Hall: Photographs by Editta Sherman exhibition at the New-York Historical Society highlights the career of the renowned female photographer, who was also fashion legend Bill Cunningham's friend and the subject of his Facades series. The exhibition features portraits of 65 notable film stars, authors, musicians, and athletes, including actress Kim Hunter, country music star June Carter Cash, actress Tilda Swinton, and authors Betty Smith and Pearl Buck. The New-York Historical Society's Fourth Floor Renovation, now complete, includes a brand new Tiffany Lamps Gallery, in addition to the opening of its Women's History Center.
(New!) At the Museum of the Moving Image, The Jim Henson Exhibition. This permanent exhibition celebrates the life and legacy of the famed Muppet creator, exploring both his prolific career and the enduring effect his work has on pop culture. Visitors will learn more about the creation of such beloved works as The Muppet Show, Sesame Street, Fraggle Rock, The Dark Crystal, and Labryinth, as well as discovering the cutting-edge experimental works Henson made throughout his career.
(Now-10/29) Drones: Is the Sky the Limit? at The Intrepid Sea, Air & Space Museum. It's the first major museum exhibition on pilotless aircraft to open in the U.S. The large-scale exhibition, which will be located in a 6,000-square-foot, custom-designed pavilion on the Museum's Pier 86, will reveal the history of drone technology, from its modern-day origins in World War I and its military development to its current applications in solving complex humanitarian challenges.Take $5 off admission with this coupon now!
(10/14-10/15) This weekend it's Drone On-Plan, program and fly in this Intrepid Adventure. Guests will get a chance to learn how drones work, then use basic programming to plan out the route for a drone in Intrepid's interactive workshop. Registration required.
(Ongoing) The Museum of the City of New York presents NY at Its Core. Ten years in the making, New York at Its Core tells the compelling story of New York's rise from a striving Dutch village to today's "Capital of the World." The exhibition captures the human energy that drove New York to become a city like no other and a subject of fascination the world over. Entertaining, inspiring, important, and at times bemusing, New York City "big personalities," including Alexander Hamilton, Walt Whitman, Boss Tweed, Emma Goldman, JP Morgan, Fiorello La Guardia, Jane Jacobs, Jay-Z, and dozens more, parade through the exhibition. Visitors will also learn the stories of lesser-known New York personalities, like Lenape chieftain Penhawitz and Italian immigrant Susie Rocco. Even animals like the horse, the pig, the beaver, and the oyster, which played pivotal roles in the economy and daily life of New York, get their moment in the historical spotlight. Occupying the entire first floor in three interactive galleries (Port City, 1609-1898, World City, 1898-2012, and Future City Lab) New York at Its Core is shaped by four themes: money, density, diversity, and creativity. Together, they provide a lens for examining the character of the city, and underlie the modern global metropolis we know today. mcny.org
(New) Chocolate aficionado Jacques Torres presents Choco Story New York, the city's first chocolate museum, in SoHo. Admission includes nine premium chocolate tastings of white, milk and dark varieties; original Mayan hot chocolate freshly ground by hand; and handmade chocolate truffles. There's a kids corner, too. $10-$15. 350 Hudson St. mrchocolate.com/museum
(10/12) Comedienne Margaret Cho: Fresh off the Bloat stops at the Gramercy Theatre.
PLUS
(10/11) Colin Quinn Law Abiding Criminals at the Comedy Cellar.
(10/13-10/14) Dov Davidoff at Gotham Comedy Club, featuring Ophira Eisenberg and Dan Naturman!
(10/13) Harrsion Greenbaum, Lynne Koplitz, Keith Robinson, Lenny Marcus, Judah Friedlander, and Greer Barnes at The Comedy Cellar.
(10/13-10/14) Curb Your Enthusiasm's Richard Lewis at Caroline's on Broadaway.
KIDS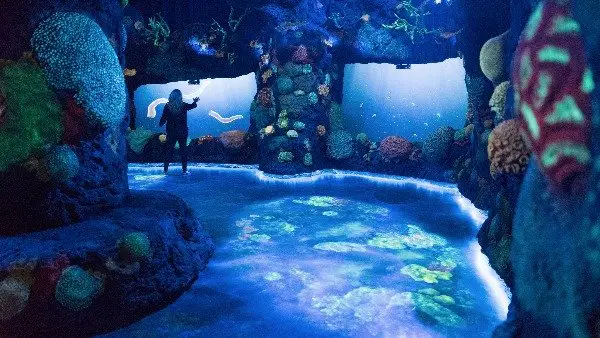 (Now open!) Take a deep dive into an underwater world with New York City's newest attraction, National Geographic Encounter: Ocean Odyssey, in Times Square. This experience lets visitors explore the ocean like never before thanks to state-of-the-art technology and a brilliant team of designers. This is not a museum, exhibit, movie, aquarium, or virtual reality; instead, the producers consulted with dozens of scientists to create a new kind of immersive experience that guests can walk through as they share ocean encounters. Blockbuster new science—some of it not even published yet—was used in its creation. Short of a submarine, you'll be hard pressed to find a better way to experience life as it's lived under the sea.
PLUS
(Ongoing) Bronx Zoo Treetop Adventures. Sure, you can visit the new Bronx Zoo Treetop Adventures at other times of the year, but why not take advantage of great weather, the opportunity to be outside, and that "it's summer feeling" and go now? A new tree-high obstacle course features a variety of ways to test your agility and strength, from the 400-foot-long zip line to an aerial adventure park that features seven different courses, from beginner to expert. Swing, navigate and even skateboard; it'll make a great story to tell in the fall. 7+, 50lbs. and up. Bronx Zoo, 2300 Southern Boulevard, Bronx, Bronxzootreetop.com
(Ongoing) Blue Man Group at Astor Place Theatre. Best known for their wildly popular theatrical shows, Blue Man Group combines music, comedy, and multimedia theatrics to produce a unique form of entertainment. The hour and forty five minute show is fun for the whole family. The show recently celebrated its 25th anniversary.
(Ongoing) Explore the beautiful interactive exhibit Connected Worlds at the New York Hall of Science in Queens.
For more kids activities, check out our sister site nymetroparents.com!
SIGHTSEEING
(10/14-10/15, plus weekends through Nov. 5), take advantage of Circle Line's Bear Mountain Cruise, or as it has come to be known by many, the Oktoberfest Cruise. Peak fall foliage, live bands, craft vendors, and the largest pretzels known to mankind all welcome you to a hoppy universe far away from the daily grind. You can burn off all those beer and brats, plus stock up on fresh air, with a gorgeous three-hour hike along one of the 50 hiking trails in Bear Mountain State Park. $65 adults, $52 kids. Boards 8:30am sharp. Pier 83, W. 42nd St. and 12th Ave., NY, 212-563-3200, circleline42.com
PLUS
(10/14-10/15) It's the 15th anniversary of Open House New York (#OHNY), featuring the architectural gems of the city; more than 250 NYC buildings will be opened to the public this weekend.
(Ongoing) At a time when the planet seems ever more divided, it's amazing to be reminded that we all share one world. Gulliver's Gate is one of the most ambitious attractions to ever land in New York, a $40 million extravaganza that allows visitors to travel the earth without leaving Times Square. Latin America, Asia, the Middle East, Russia, and Europe are all here in incredibly detailed miniature, reflecting craftspeople's work from around the globe. Through the wonder of 3D printing, visitors can also enjoy the thrill of having themselves (and their families) immortalized in 1:87 scale.
(New!) The largest VR entertainment center in the Western Hemisphere is New York's latest attraction: VR World. Get inspired by virtual reality in a diverse space with three floors that bring culture, gaming, and entertainment together. With over 50 experiences to choose from, VR World offers an unforgettable experience that's yours to create! Fight off droids, climb Mt. Kilimanjaro, race Formula One cars against your friends, and create a 3D masterpiece. The adventures are limitless.
(Ongoing) Day or night, the Manhattan skyline is a sight to behold. Circle Line Sightseeing sails year-round and has cruises of varying interests and lengths, including a 3-hour Best of NYC Cruise, a 2-hour Landmark Cruise, and a Harbor Lights Cruise for a romantic spring evening. Last year, Circle Line added its popular Landmark + Brooklyn Cruise. Guests can purchase food and drink from Brooklyn's famed artisanal vendors, including Brooklyn Brewery, Brooklyn Gin, Brooklyn Cupcake, Blue Marble Ice Cream, and cheesecakes from Junior's. circleline42.com
(Ongoing) Giving a shout out to A Slice of Brooklyn Tours, as they celebrate their 12th anniversary. They continue to bring locals and tourists alike the best Brooklyn Pizza, Christmas Lights, Chocolate Tours, and more. Founded by Brooklyn native and travel lover Tony Muia, the company has received Certificates of Excellence from TripAdvisor for the past six years! All tours conveniently depart and return to Union Square! Congratulations! Book your tour today!
(Ongoing)) Take a ride through time and learn about Downtown New York City's rich heritage with THE DOWNTOWN EXPERIENCE Powered by THE RIDE. Enhanced with virtual reality technology (thanks to Timelooper), experience highlight moments in NYC's history like never before! Here's a coupon!
(Ongoing) Read here for more about the Best NYC Hop On Hop Off Bus Tours!
(Ongoing) King Kong has made his way back to New York, the city he once terrorized (at least in the movies!), but this time, it's in wax form. The famed Madame Tussauds New York in Times Square welcomes a wax replica of King Kong's head to its collection, providing visitors not only with a perfect photo op with the notorious gorilla, but an entire KONG: Skull Island experience.
(New) Every year, at 11:59pm on December 31st, people from all over the world are focused on the Times Square New Year's Eve Ball. Millions of voices unite to count down the final seconds of the old year and celebrate the beginning of the new. Now you can get up close and personal with the Times Square New Year's Eve Ball at Ripley's Believe It or Not—Times Square! Press the button yourself and ring in the New Year every day of the year. A home to rare artifacts and thrilling interactive exhibits, Ripley's is for anyone who wants to immerse themselves in the unexpected and the unbelievable. Here is a coupon.
(Ongoing) Grab a date or friend and enjoy the most incredible views of NYC at Top of the Rock.
(Ongoing) Take a one-hour tour of one of the world's most important buildings, the United Nations, now celebrating 71 years. (Tours offered weekdays only.)
MUSIC & NIGHTLIFE
(10/11, 10/15, 10/16) Guns n' Roses: Not in This Lifetime Tour takes over Madison Square Garden.
PLUS
Explore the Magic Hour Rooftop bar atop the brand new Moxy Times Square Hotel. It's NYC's largest rooftop bar!
(10/11) Kate Perry: Witness The Tour with special guest Noah Cyrus at Barclays Center.
(10/12-10/14) Andrea McArdle at Feinstein's/54 Below.
(10/11-10/21) Rita Wilson at the Carlyle.
(10/13) Halsey at Barclays Center.
(10/12-10/15) Betty Buckley: Story Songs #2 at Joe's Pub at the Public Theater.
(Ongoing) Puffs, Or: Seven Increasingly Eventful Years at a Certain School of Magic & Magic at New World Stages. For seven years a certain boy wizard went to Magic School. This, however, is not his story. This is the story of the Puffs…who happened to be there too. Wayne is an average boy from New Mexico who discovers he's a wizard. In this Potter-inspired comedy, he and his new friends try to keep their heads down and get a basic wizarding education while a certain famous boy wizard sets out to make life at school increasingly...eventful.
(Ongoing) don't tell mama can be found on Restaurant Row, smack dab in the middle of all the theater action. The establishment boasts a restaurant, a piano bar, and two cabaret showrooms. The waitstaff and bartenders at the Piano Bar have credits both on and off Broadway, and from 9pm onward (after the live piano music from 5pm to 9pm and happy hour from 4pm to 8pm), the singing waitstaff is there to keep you entertained.
(Through 10/29) Richard Hoehler stars as RJ Bartholomew, an Everyman with answers for those questioning Everything. With humor, dignity, and grace, I of the Storm is a thrilling riches-to-rags story about achieving success by letting everything go. Find it at The Gym at Judson in the Village.
SNEAK PEEK, NEXT WEEK
Photo: Griffin Lipson/BFA.com
(10/16) Bill Murray—veteran comedian, actor, golfer, occasional bartender, and poetry lover—can now (officially) add singer to his resumé. He's joined up with German cellist Jan Vogler, Brazilian pianist Vanessa Perez, and Vogler's wife, violinist Mira Wang, for a performance that combines classical pieces, American standards, and literary readings. Next week the New Worlds: Bill Murray, Jan Vogler & Friends tour stops at Carnegie Hall.
(10/18) Swedish duo First Aid Kit with J.S. Ondara at The Town Hall.
_______________________________________________________________________
Like what you see here? Share it with your friends on Facebook! Find out more about what to do in October. We got November covered, too!
Looking for Free Group Planning Services?
Get free advice on planning your group's trip to New York.
RESTAURANTS

The handsome, 12,000 square foot Times Square location offer...

THEATER

Kander and Ebb's "musical vaudeville" in which Roxie Hart ga...

SHOPPING

Find the right gear for your workout. ...

SIGHTSEEING

Customized, state of the art fleet will get you from the air...