There's no reason to skimp on culture when you're in New York. If you want to see some of the world's great art works and learn fascinating stories from history, take advantage of the many free and cheap museum events throughout the city. Some museums are free to visit, while others allow you to select your own ticket price at the counter. Other big names like the Guggenheim host "Pay-What-You-Wish" hours on a certain day of the week. Check out the over 40 museums listed below, a diverse collection of art and historical institutions welcoming all!
Museums with Free Admission
The following museums, located throughout the NYC boroughs, are always free of charge.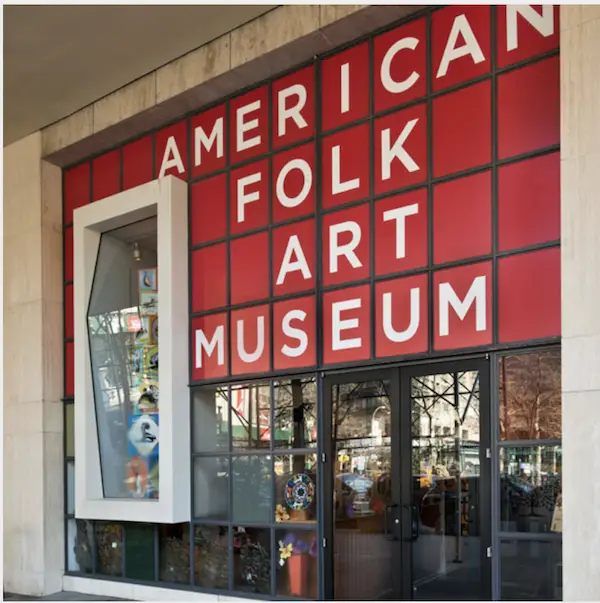 American Folk Art Museum. Upper West Side, 2 Lincoln Sq., 212-595-9533, folkartmuseum.org
BLDG 92. Vinegar Hill, Brooklyn, 63 Flushing Ave., 718-907-5932, brooklynnavyyard.org
BRIC House. Fort Greene, Brooklyn, 647 Fulton St., 718-683-5600, bricartsmedia.org
The Bronx Museum of the Arts. Fleetwood, The Bronx, 1040 Grand Concourse, 718-681-6000, bronxmuseum.org
Hamilton Grange. Harlem, 414 W 141st St., 646-548-2310, nps.gov
Harbor Defense Museum. Bay Ridge, Brooklyn, Ft. Hamilton Pkwy. & 101st St., 718-630-4349
MoMA PS1. After visiting MoMA's Midtown location, present your ticket at PS1 within 14 days for free admission. New York City residents can get in free to MoMA PS1 at all times (it's $10 if you're from out of town). Long Island City, Queens, 22-25 Jackson Ave., 212-708-9400, moma.org
The Museum at FIT. Chelsea, Seventh Avenue at 27th St., 212-217-4558, fitnyc.edu
The National Museum of the American Indian. Financial District, 1 Bowling Green, 212-514-3700, nmai.si.edu
New York Public Library (Main Branch): Stephen A. Schwarzman Building. Midtown West, 476 5th Ave., 917-275-6975, nypl.org
New York Public Library: Schomburg Center for Research in Black Culture. Harlem, 515 Malcolm X Blvd., 212-491-2200, nypl.org
New York Public Library for the Performing Arts. Upper West Side, 40 Lincoln Center Plaza, 917-275-6975, nypl.org
New York Transit Museum Annex & Store. Grand Central Terminal, 212-878-0106, nytransitmuseum.org


Queens County Farm Museum. Floral Park, Queens, 73-50 Little Neck Pkwy., 718-347-3276, queensfarm.org
Swiss Institute of Contemporary Art. East Village, 38 St. Marks Pl., 212-925-2035, swissinstitute.net
Theodore Roosevelt Birthplace. Flatiron, 28 E. 20th St., 212-260-1616, nps.gov
Museums with Suggested Donations
You might see the term "suggested donation" next to admission prices at a few ticket booths. That means the institution is asking for a certain dollar amount but will accept less money in exchange for a ticket. We recommend paying the listed amount if you can, but it's nice to know those with less cash can still get in.
The American Museum of Natural History. Families can take a journey through the awe-inspiring natural world at this Upper West Side institution. Recommended admission is $28 adults, $22 students w/ID & seniors; pay-what-you-wish available at the ticket counter only. Ticketed exhibitions are NOT included in pay-what-you-wish tickets. 200 Central Park W., 212-769-5100, amnh.org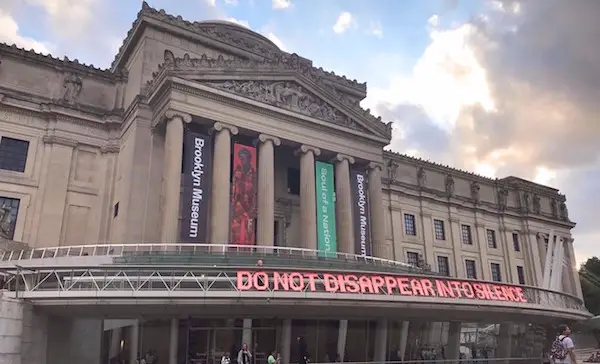 Brooklyn Museum. Brooklyn's crowning cultural institution recommends a $16 ticket price (does NOT included ticketed exhibits). 200 Eastern Pkwy., 718-638-5000, brooklynmuseum.org
El Museo del Barrio. Exploring the rich history of Latinx art and history, El Museo recommends a $9 admission fee for adults, 12 and under free. 1230 5th Ave., 212-831-7272, elmuseo.org
Leslie-Lohman Museum of Gay and Lesbian Art. The world's first museum dedicated to LGBTQ art and artists, Leslie-Lohman is in in Soho and recommends a $9 donation for entry. 26 Wooster St., 212-431-2609, leslielohman.org
Metropolitan Museum of Art. The Met is pay-what-you-wish for residents of New York State (everyone else has to pay full-price with the exception of students from New York, New Jersey, and Connecticut, who also get to set their own entry fee). 1000 Fifth Ave., 212-535-7710, metmuseum.org
MoMA PS1 is the Queens outpost of the Museum of Modern Art in Long Island City, suggesting $10 for entry (free for NYC residents). 22-25 Jackson Ave., 212-708-9400, moma.org
Queens Museum. The Queens Museum, located in a large city park, suggests an $8 ticket price. New York City Building at Flushing Meadows Corona Park, 718-592-9700, queensmuseum.org
Museums with Free & Pay-What-You-Wish Hours
Many famous cultural institutions in NYC lower admission costs on a certain day every week. Some offer free admission during certain hours, while others allow you to select your own ticket price with a "Pay-What-You-Wish" policy. We've arranged these special events by day of the week.
MONDAY
Museum at Eldridge Street. Eldridge Street Synagogue was opened in 1887 in the Lower East Side and remains today as a memorial to Jewish culture. Mondays (and Fridays), visitors can pay whatever they wish and tour the museum for free. 12 Eldridge St., 212-219-0302, eldridgestreet.org
 
TUESDAY
The 9/11 Memorial & Museum. From the former site of the World Trade Center in downtown Manhattan, this museum commemorates the lives lost on September 11, 2001. Tuesdays, free tickets to the museum are distributed on-site on a first come, first served basis, beginning at 4pm. Enter the museum at 5:30pm and stay until closing time at 7pm. 180 Greenwich St, 212-312-8800, 911memorial.org
The Morgan Library & Museum. Financier J.P. Morgan's former home in Midtown East contains work by Rembrandt, Picasso, Dickens, and Hemingway, as well as three Gutenberg Bibles. Admission is free to the McKim rooms on Tuesdays (and Sundays), 3-5pm. That includes Mr. Morgan's Library, the Study, Rotunda, and Librarian's Office. 225 Madison Ave., 212-685-0008, themorgan.org
WEDNESDAY
The Frick Collection. Inside this Gilded Age mansion on the Upper East Side are pieces by Bellini, Rembrandt, Vermeer, Gainsborough, Goya, and Whistler. Pay-What-You-Wish hours are Wednesdays, 2-6pm. 1 E 70th St., 212-288-0700, frick.org
The New York Botanical Garden. Indulge in botanical beauty at a 250-acre green space in the Bronx, free all day on Wednesdays. 10am-6pm. 2900 Southern Boulevard, (718) 817-8700, nybg.org
Van Cortlandt House Museum. This preserved 17th-century structure in the Bronx is free all day, every Wednesday. 10am-4pm. 6035 Broadway, 718-543-3344, vchm.org
THURSDAY
Brooklyn Children's Museum. The world's first children's museum is located in Crown Heights, Brooklyn. Pay As You Wish hours occur every Thursday (2pm to 6pm) and on Sundays (see below). 145 Brooklyn Ave., 718-735-4400, brooklynkids.org
International Center for Photography Museum. On the Lower East Side, ICP Museum engages visitors with fascinating photography exhibitions. Pay-What-You-Wish hours are Thursday nights, 6-9pm. 950 Bowery, 212-857-0000, icp.org
The Jewish Museum. Thursday, 5-8pm, The Jewish Museum provides Pay-What-You-Wish pricing to view a wide range of art and artifacts that reflect the Jewish experience worldwide. 1109 5th Ave., 212-423-3200, thejewishmuseum.org
Museum of Arts and Design. From its location on Columbus Circle, MAD explores contemporary craft and design. Tickets are half price Thursdays (this doesn't include access to certain exhibits, such as Taylor Swift: Storyteller. 2 Columbus Circle, 212-299-7777, madmuseum.org
Museum of Chinese in America. The first Thursday of every month, explore the history of Chinese-American culture during Free First Thursdays, 11am-9pm. 215 Centre St., 855-955-MOCA, mocanyc.org
New Museum. Witness cutting-edge contemporary art at this Lower East Side Museum. Every Thursday evening, Pay-What-You-Wish 7-9pm. 235 Bowery, 212-219-1222, newmuseum.org
FRIDAY
Brooklyn Botanic Garden. Relax in a cherry blossom orchard at BBG, offering free admission Fridays, 10am-12pm; weekdays are also free in winter, Tuesday–Friday, December–February. 445 Flatbush Ave., 718-623-7200, bbg.org
The Frick Collection. On the first Friday of every month, get free admission to The Frick from 6-9pm. 1 E 70th St., 212-288-0700, frick.org
The Morgan Library & Museum. Admission to the Morgan is free on Fridays, 7-9pm. *Reservations are required. 225 Madison Ave., 212-685-0008, themorgan.org
The Museum of Modern Art. Located in Midtown West, MoMA invites *New York residents to view work by Van Gogh, Warhol, and many others for *first Friday of the month, 4-8pm. 11 W 53rd St., 212-708-9400, moma.org
Museum of the Moving Image. Study the history of film and television at this cinephilic institution in Astoria, Queens. Guests get in free Fridays, 4-8pm. 36-01 35th Ave., 718-777-6888, movingimage.us
Neue Galerie. This small German and Austrian museum on Museum Mile hosts First Fridays, offering free admission 6-9pm the first Friday of every month. Upper East Side, 1048 5th Ave., 212-628-6200, neuegalerie.org
New-York Historical Society. NYHS, the city's oldest museum, contains four centuries of history and art specific to New York City. Pay-What-You-Wish Fridays occur weekly, 6-9pm. 170 Central Park West, 212-873-3400, nyhistory.org
Noguchi Museum. Admission is free the first Friday of every month at this museum, dedicated to the sculpture of Isamu Noguchi, in Long Island City, Queens. 9-01 33rd Rd., 718-204-7088, noguchi.org
The Rubin Museum of Art. This museum, highlighting the art and history of the Himalayan region, hosts K2 Friday Nights every week. Enjoy free admission 6-10pm, in addition to music, film, and food and drink specials. 150 W 17th St., 212-620-5000, rubinmuseum.org
The Whitney Museum of American Art. See the work of living artists at this Meatpacking District institution. Pay-What-You-Wish hours are every Friday evening, 7-10pm. These tickets are available for purchase 7-9:30pm at the admissions desk only. 99 Gansevoort St., 212-570-3600, whitney.org
 
SATURDAY
Brooklyn Museum. The first Saturday of every month, the Brooklyn Museum gives free admission from 5 to 11pm as part of Target Free Saturdays. Tour the Brooklyn Museum's wide expanse of art objects, which range from ancient Egyptian artifacts to 20th-century feminist art. First Saturdays also offers live music, dance performances, talks, and other free live entertainment. 200 Eastern Pkwy., 718-638-5000, brooklynmuseum.org
The Jewish Museum. All day Saturday (11am-5:45pm), The Jewish Museum admits visitors free of charge. 1109 5th Ave., 212-423-3200, thejewishmuseum.org
New York Botanical Garden. Have a peaceful hour at NYBG while the city's still asleep. Admission is free on Saturdays from 9-10am. 2900 Southern Blvd., 718-817-8700, nybg.org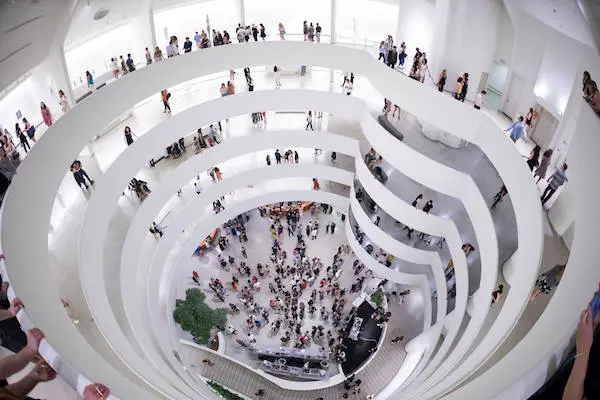 Solomon R. Guggenheim Museum. Walk up the spiral ramp at the Frank Lloyd Wright-designed art museum on Museum Mile. Saturdays are Pay What You Wish, 5-8pm. 1071 5th Ave., 212-423-3500, guggenheim.org
SUNDAY
Brooklyn Children's Museum. Pay As You Wish hours occur every week on Thursday and Sunday, 4pm to 7pm. 145 Brooklyn Ave., 718-735-4400, brooklynkids.org
The Morgan Library & Museum. In addition to free hours on Tuesday and Friday, The Morgan opens up its McKim rooms for free on Sundays, 4-6pm. 225 Madison Ave., 212-685-0008, themorgan.org